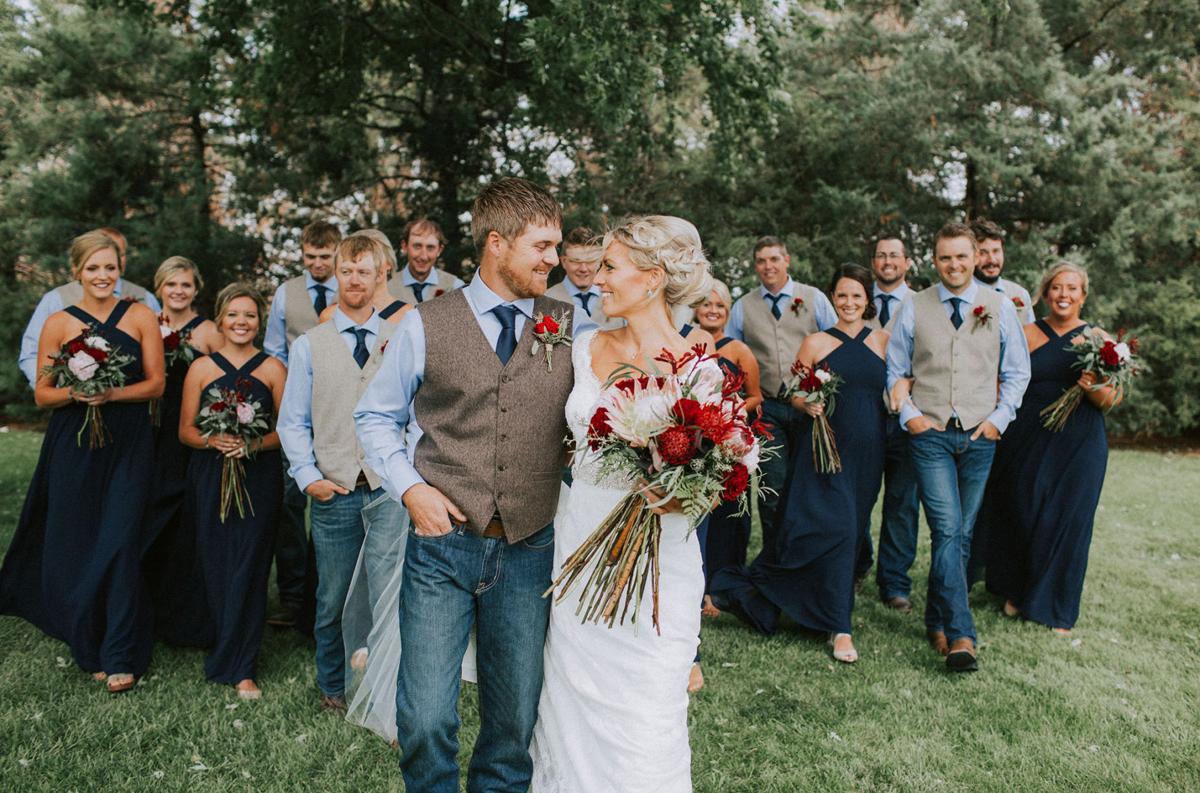 PIVOT PROPOSAL Both the bride and groom have farming backgrounds and a passion for agriculture. So when Gabe asked Miranda for help fixing a pivot, she thought nothing of it. "He told me to open the panel box and press a button,'' Miranda recalls. "Inside the panel box, next to the button was written, 'Will you marry me?' When I turned around, he was down on one knee.''
FARM CHIC Miranda's vision was for a farm-chic wedding with a dash of elegance that reflected who they are as a couple. It wasn't anything she'd ever seen in a magazine. "We incorporated decorations that resonated with our farming backgrounds. For example, we used cowhide for tablecloths on the head table and a chunk from a windmill blade as our guestbook.''
HELP WANTED Miranda's advice: Don't stress over the small things. Instead, put that energy toward enjoying the day with your guests. She recommends following her lead and hiring a wedding planner/coordinator. "They take so much of the stress off you and will be worth every penny.''
SPECIAL VISITOR During their first look on the family farm, a butterfly landed on Miranda's bouquet. "This moment was very sentimental for both of us because it's believed that when a butterfly lands on you, it's a sign that passed loved ones are with you,'' Miranda shares.
DRESS MALFUNCTION Miranda's dad tried to come to the rescue when Miranda needed a last-minute fix as the wedding party started down the aisle. "Bless his heart, but he had no idea what he was doing,'' she says. "I laughed so hard my nerves just went away.''
CLASSIC MOMENT When the pastor talked about love and how it brought the two of them together, Miranda says everyone else faded into the background.
BREAD AND BUTTER Their favorite gift was a breadbox. They hadn't registered for one and thought about returning it before taking a closer look. They found a note stuck to it that read, "What fun is a breadbox with no bread?' Inside, they found cash. "Good thing we didn't return it!"
HAPPY ENDING After the reception festivities, their photographer and videographer took some sunset shots. They both felt relaxed and happy. "The feeling of joy in that moment was indescribable.''
SWEETHEART Gabe says Miranda has a huge heart not only for everyone she meets but for animals. "I've seen her save an entire litter of field mice.'' She says he's genuine and real. "When life gets a little too crazy to handle, he is my calm opposite that gives me balance.'' She appreciates his decorating skills, too.
Miranda & Gabe's Wedding Photo Gallery