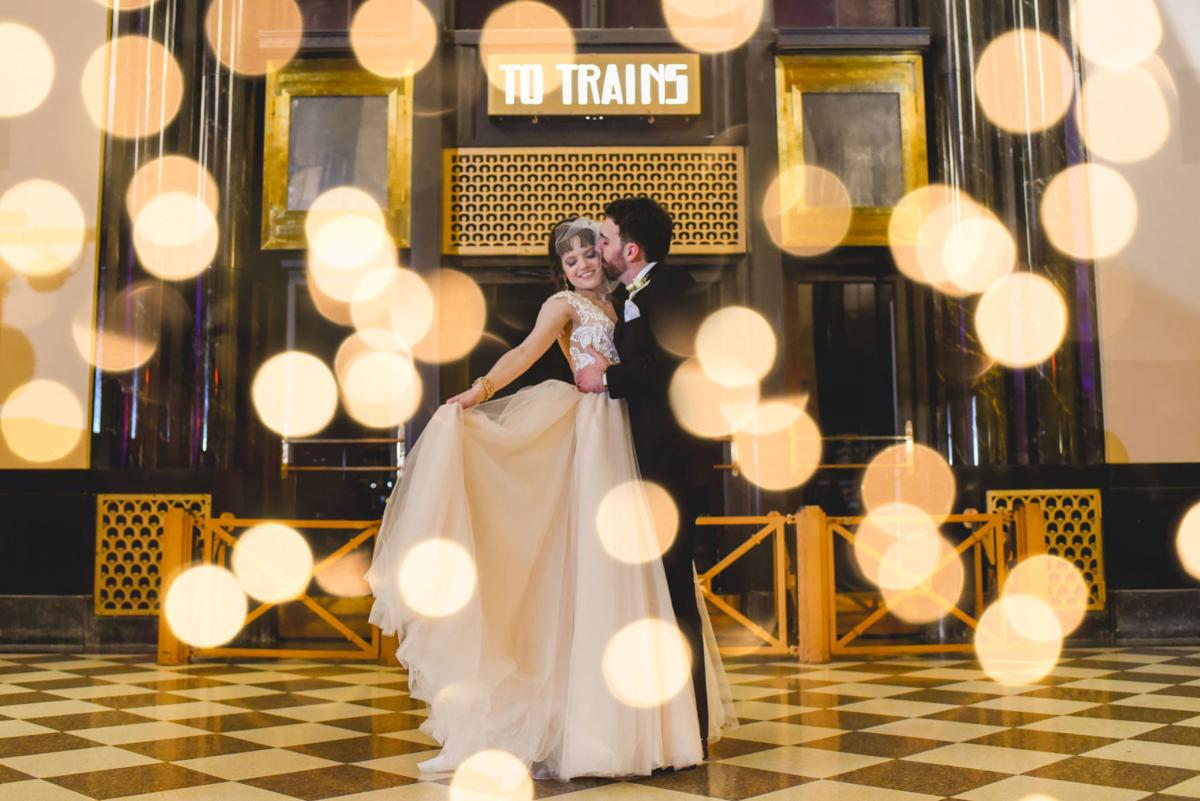 December 29, 2018, The Durham Museum, The Pic Chick Photography
DINNER AND A PROPOSAL Erin Neely and Max Rowe met in 2012 as members of the University of Nebraska-Lincoln's ballroom dance team. They were just friends until reconnecting after graduation. Max proposed right before Christmas 2017 on a "bitterly cold" walk home from dinner at the Flatiron Café. A drunk passerby captured the moment. "The picture is blurry, but we can't help but smile every time we look at it," Erin says.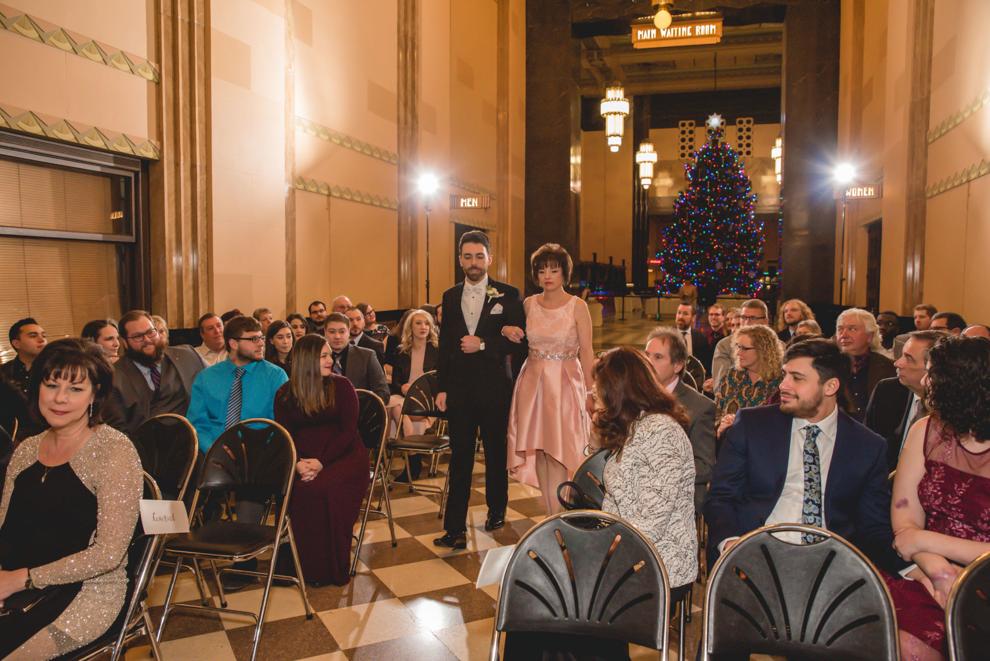 MOST WONDERFUL TIME "We both prefer the cold weather, and I think winter weddings are underrated and so glamorous," the bride says. A date right after Christmas 2018 was booked, and the couple leaned into the season when planning the details of their day, held at the Durham Museum. Their "winter wonderland/holiday sparkle" theme featured a palette of blush, rose gold and champagne. The museum's main hall Christmas tree fit right in to Erin's vision of an elegant, classic winter wedding. The reception was filled with the sounds of the season: "Rather than clink utensils against glasses to get the bride and groom to kiss, we had jingle bells at every table for guests to ring instead."
SPECIAL MOMENTS The sweetest moment came after the ceremony, when Max and Erin took an elevator to the Durham's lower floor for pictures. "It was just the two of us, alone for the first time as husband and wife, trying to process the emotions and the giddiness of everything," the groom says. "It certainly set us up for some good smiles in the pictures we were about to take!" The couple remembers the funniest moment at the reception, when fur wraps that the bride and bridesmaids wore made their way around the dance floor as dance props.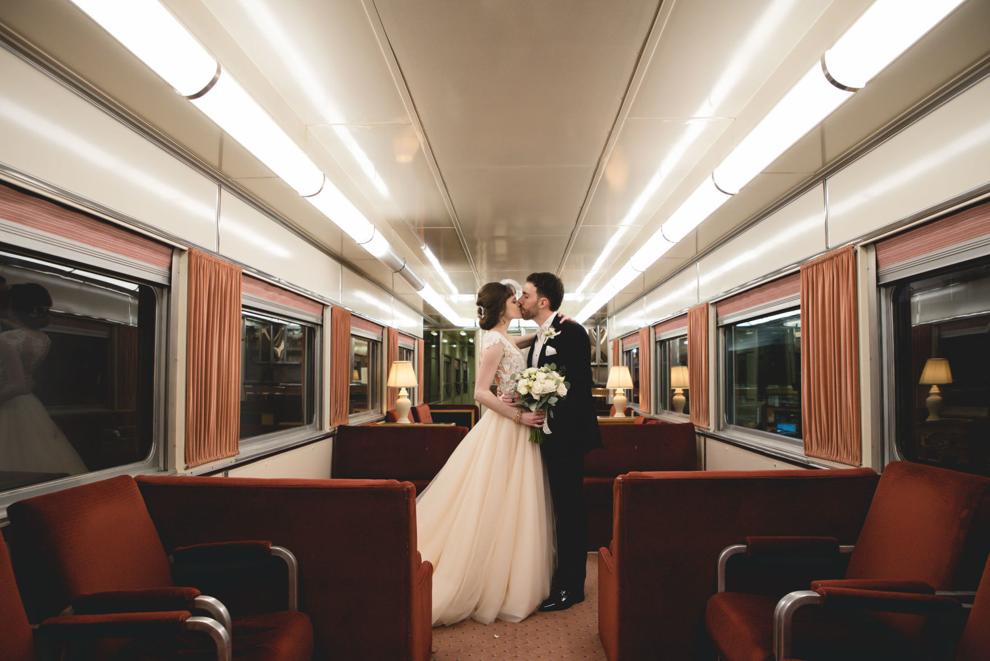 ALL IN THE DETAILS Personalizing their day was important to them as well. Max and his brothers got a special moment when the DJ played a "Teenage Mutant Ninja Turtles" song. "Given we grew up together as big fans of the movies and cartoons, it made the reception just a little more personal and special," he says. They also hired an officiant. "We were able to really personalize our ceremony script," Erin says. Her advice to other brides? "Stay ahead of your to-do list, but keep in mind that not everything may go as planned."
CHEERS The couple loves the bar cart they were gifted for entertaining and making "Mad Men-era" cocktails. The biggest adjustment to married life? "Thinking in terms of 'we' rather than 'me.'"
KEEPING THE MAGIC ALIVE Erin says Max is one of the most easygoing, sweet people she's known. "He is great at remembering the little details and special moments in our lives." He also surprised her with "Magic Mike" dance moves during the garter toss! Max loves Erin's "intense, all-or-nothing passion for the things that move her." He didn't realize how much she would miss wedding planning. "We often hear stories about how much stress everyone was under during their own planning process, but Erin was always on top of and enjoying every minute of ours. She's been celebrating little anniversaries like when we picked out our rings and when we got the marriage license to keep the magic alive."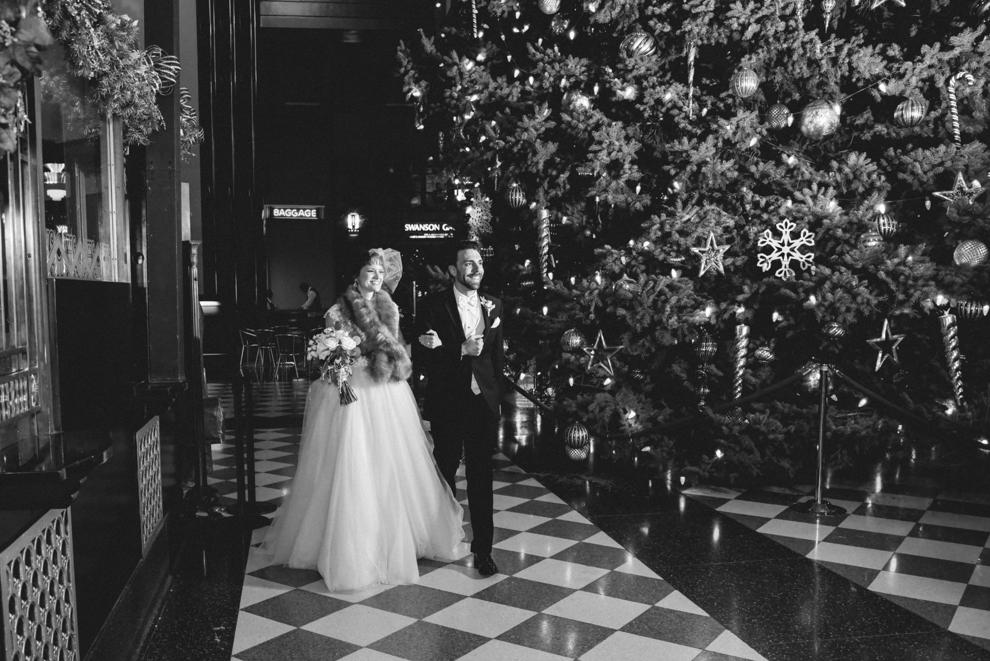 Essential details
THE COUPLE Erin Neely and Max Rowe
PHOTOGRAPHER Ivy Harding/The Pic Chick Photography
WEDDING DATE December 29, 2018
REHEARSAL DINNER LOCATION Upstream Brewing Company
CEREMONY & RECEPTION The Durham Museum
BRIDAL GOWN "Carrie," Made With Love Bridal, Rhylan Lang
ACCESSORIES Veil: Etsy; Hair pins: Amazon; Fur wraps: Francesca's, Amazon
HAIRSTYLISTS Garbo's Salon, Scissors & Scotch
MAKEUP ARTIST Garbo's Salon
BRIDESMAID DRESSES Dream Dress Express, Altar'd State
MEN'S ATTIRE Men's Wearhouse
CATERER Hy-Vee, Cornhusker Beverage & Bridal
MUSIC Ceremony: Anthony Chau; Reception: Complete Weddings + Events
OFFICIANT Shari McCormick/I Choose You Ceremonies
INVITATIONS/PROGRAMS Cornhusker Beverage & Bridal
GUEST ACCOMMODATIONS Courtyard by Marriott Omaha Downtown/Old Market Area, Hilton Garden Inn Downtown/Old Market Area
TRANSPORTATION Hilton Garden Inn, Courtyard shuttles
WEDDING COORDINATOR/EVENT PLANNER Colleen Krings/402 Event Services
HONEYMOON Sandals Ochi in Ocho Rios, Jamaica, by Kyle Smith/Enchanted Honeymoons
Real Wedding: Erin Neely and Max Rowe
Erin Neely and Max Rowe were married Dec. 29, 2018 at the Durham Museum.