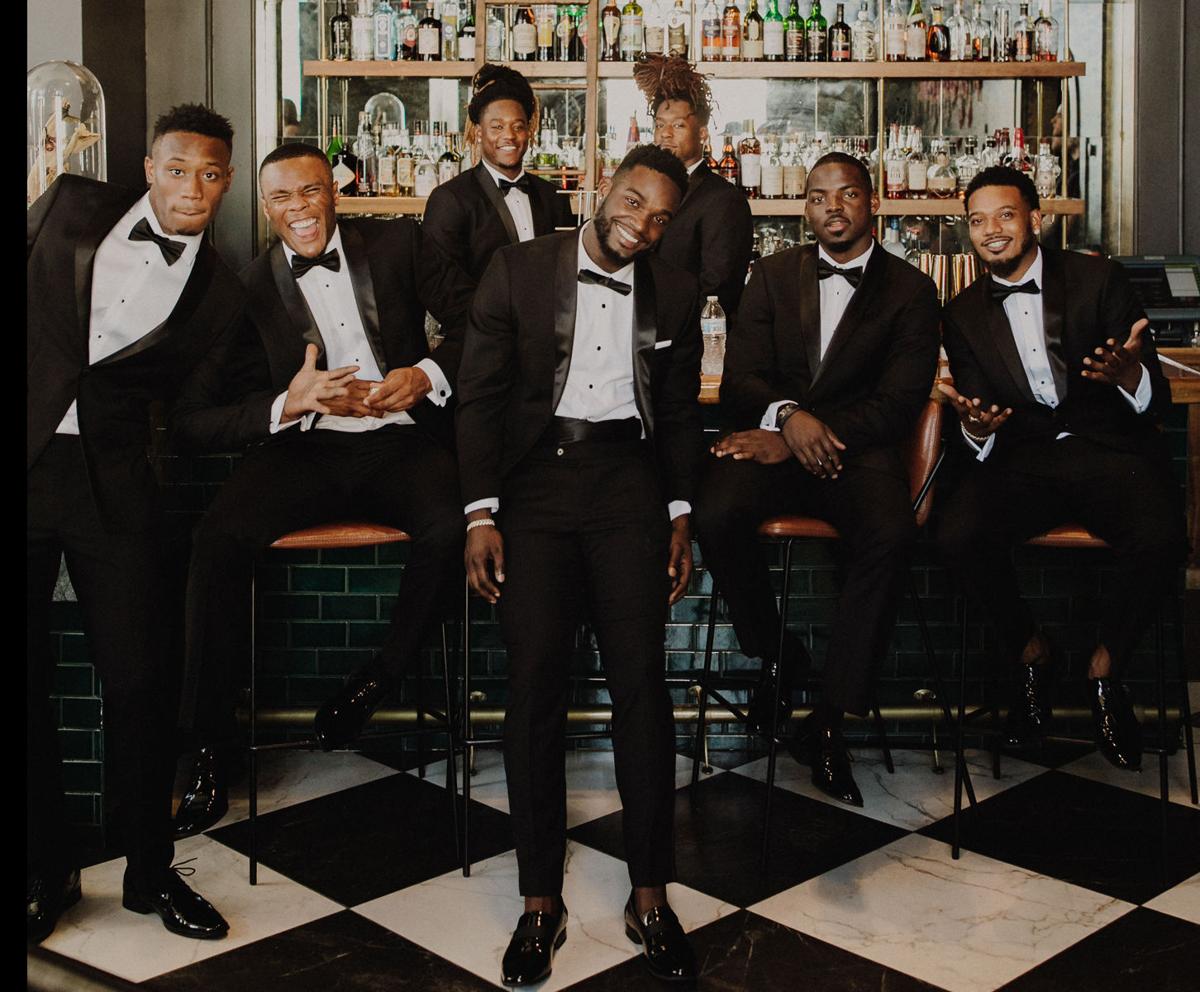 A bride spends months contemplating and perfecting her wedding-day look.
A groom? For many, it's one-and-done. One tuxedo shop with two appointments: one to select his look; another to fine-tune the fit before the big day. Or worse. He might skip the in-person appointment, order his wedding attire online and instruct his groomsmen to do the same.
Menswear retailer Dick Lerner doesn't get it. "The bride invests a great deal of time and money in her gown and accessories. The groom should respect the dress and look like a million bucks too."
And toward that goal: "Ordering a tuxedo online is a risky proposition," Lerner says. Especially if your primary motive is to save money on the rental, or you think there's an element of convenience to shopping online. It's likely to cost you frustration and angst and even embarrassment if the order is wrong or the fit is bad.
Tux shopping, Lerner says, is an entirely different ballgame from athleisure shopping.
"Tuxedos are all about the measurements," Lerner says. "If you don't turn in the correct measurements, the tux is going to look horrible." Most people have no experience taking formalwear measurements. Lerner knows because he has spent 35 years coaching out-of-town grooms and groomsmen via phone, video and email when long-distance measurements don't measure up.
Online representatives at discount tux houses often aren't helpful because they lack training themselves, Lerner says. "They rarely will question a measurement or give you advice beyond what's stated on the website."
Tuxedos typically are offered in classic, modern and slim fits. The terms can be confounding.
"If you don't have the right body type for the cut you select, you're not going to look your best," Lerner says. "You put the wrong body type in a slim cut, for example, and they're going to look like a two-pound swan in a one-pound package."
For that groom, a modern fit most likely will be the better choice. It's in between a classic and slim fit — narrower in the shoulders, trimmer in the body but still generous.
Get it wrong on your own, and there may not be enough time to reorder online. And then there's the risk of the replacement still needing alterations by a sympathetic retailer like Lerner, which was the case with one recent groom.
An in-store experience is a fail-safe experience. "We're the eyes and ears for the vendors for rentals," Lerner says. "It's up to us to make sure we take very detailed, exact measurements. We'll also have options in tuxedos and combinations of fits from a variety of vendors, not just one."
Reliability is another consideration.
"Since March 15, we've had several weddings where the couples had bought and paid for rentals of tuxedos and suits online and the retailers simply stopped communicating with them," Lerner says. "The weddings were happening, and the couples had no response."
The pandemic no doubt has been a contributing factor, with layoffs, closures, mail delays and shortages of manufactured goods and raw materials in the apparel industry, he says.
"When you have things bought and paid for and you don't communicate with the bride and groom in the weeks leading up to the wedding, that's a problem," Lerner says.
Lerner's shop, Bel Air Fashions, sometimes has come to the rescue with just two weeks to pull everything together. "We've had Zoom and FaceTime calls and after-hours appointments to help couples."
The clothier stresses the need to finalize your wedding attire six to nine months in advance. And to get everyone in your wedding party measured by a professional.
Going the wedding suit (not tuxedo) route can alleviate some anxiety about receiving rental attire in time for the wedding, Lerner says. Price-wise it can be a wash. And everyone ends up with a classic suit for future use.
"The thing is, when done right, everybody is going to look great for the wedding and look wonderful for the pictures," Lerner says. "That's what you should be paying for."
---
Wedding Essentials editors' picks: Wedding suits and tuxedos
Omaha World-Herald: Wedding Essentials
See the latest wedding trends, photo galleries and ideas to help inspire your big day.