Katherine and Sam Riggs met at a Halloween party in 2010 but didn't become a couple until November 2012.
"He was persistent," Katherine said.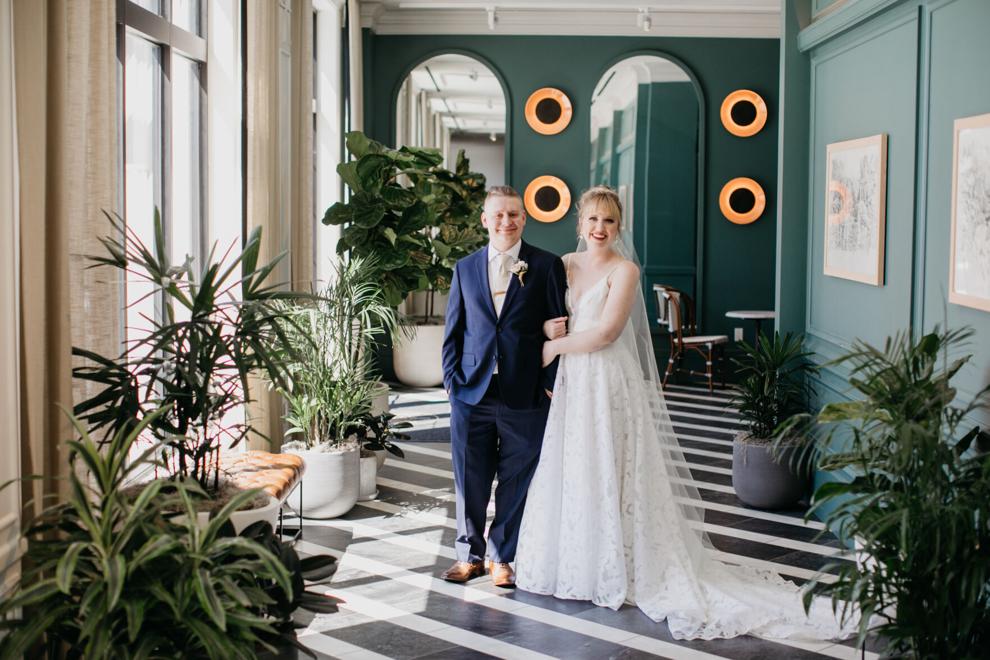 Sam's persistence paid off. Katherine was completely surprised by his proposal in 2020 after dinner at Jam's. He had planned to ask as they left the restaurant, but Katherine ran to the car because of the freezing weather. So he tried again later outside of Crescent Moon, where they were meeting Katherine's sister and husband.
"We parked in the lot behind the bar and he proposed there. I was so caught off-guard but so happy. It was quiet and just us, and I loved it," she says. "When we went inside, my sister asked why I had a weird smile on my face. I showed her my ring and her pregnant belly almost knocked over the table."
FANCY BUT COOL
Katherine wanted a classy and beautiful wedding, not stuffy and stiff. She wanted lots of white and gold. Along with white and gold flowers and eucalyptus, they had pops of color in the bridesmaids' dresses. Each wore a different hue (a rosé pink, terracotta, romantic blue and dusty blue) and they incorporated those colors in smaller ways so there wasn't a color explosion.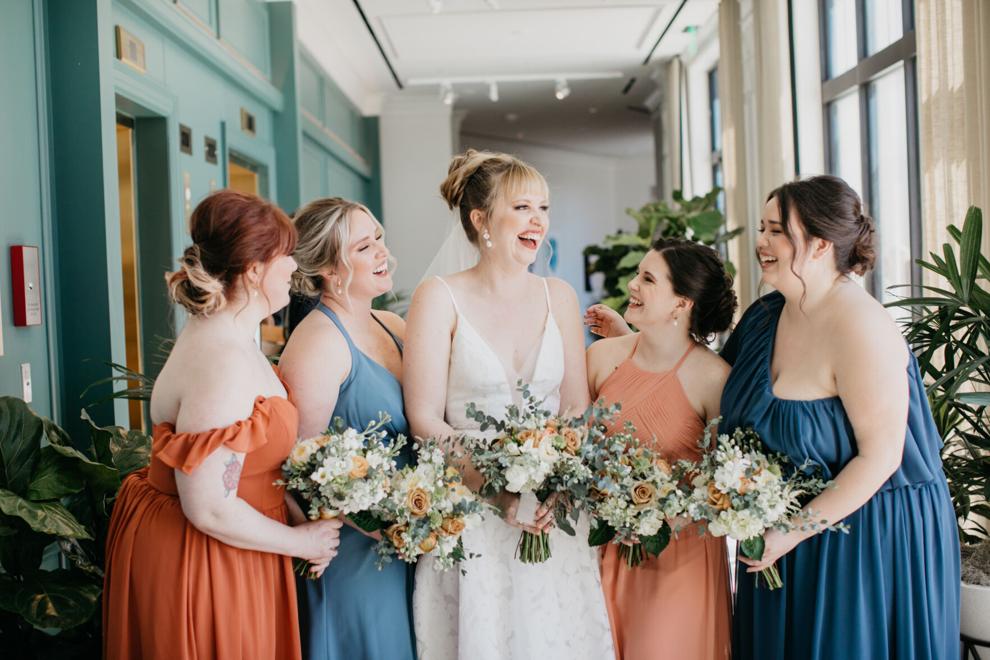 "Vanessa at EverBloom was a genius and really put us at ease that she would help our vision come true," Katherine said. "She brought the best ideas to the table like toffee roses and ranunculus."
MUST LOCATION
When Katherine saw the renderings of the Cottonwood Hotel, she knew it was the perfect place for the wedding.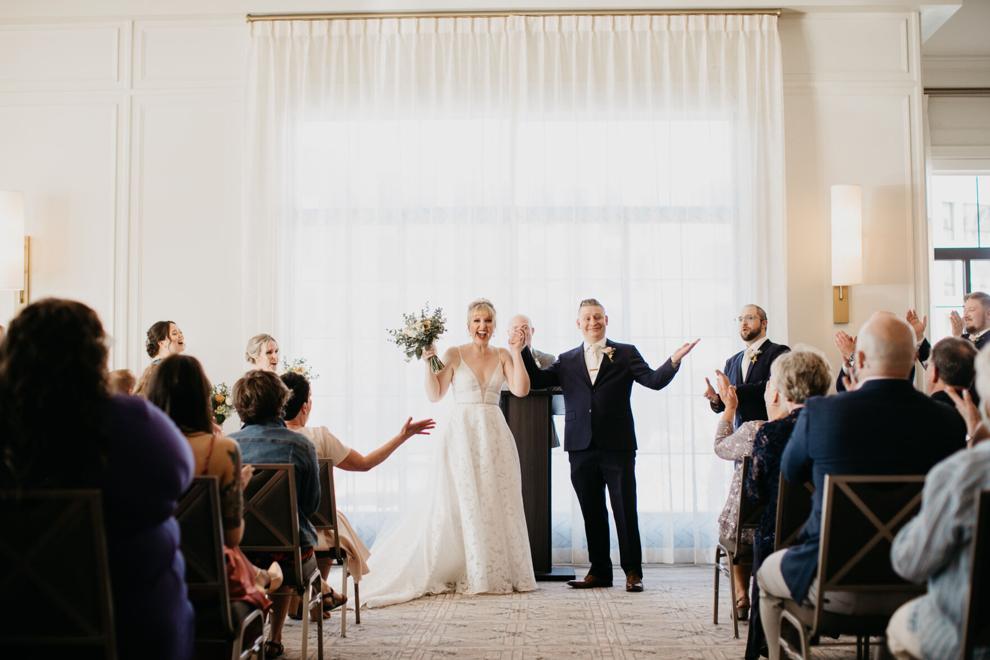 "I loved that feeling like you stepped into the past when you walked inside," she said. "We toured the building when it was in early construction stages and just had to trust that the end results would look like the renderings they had showed us. Once we saw it all finished, it blew everyone's expectations out of the water."
The Gold Coast Ballroom had so much natural light and was stunning, she said.
"Every space is a photo opportunity waiting to happen, so it was easy to snap great photos everywhere."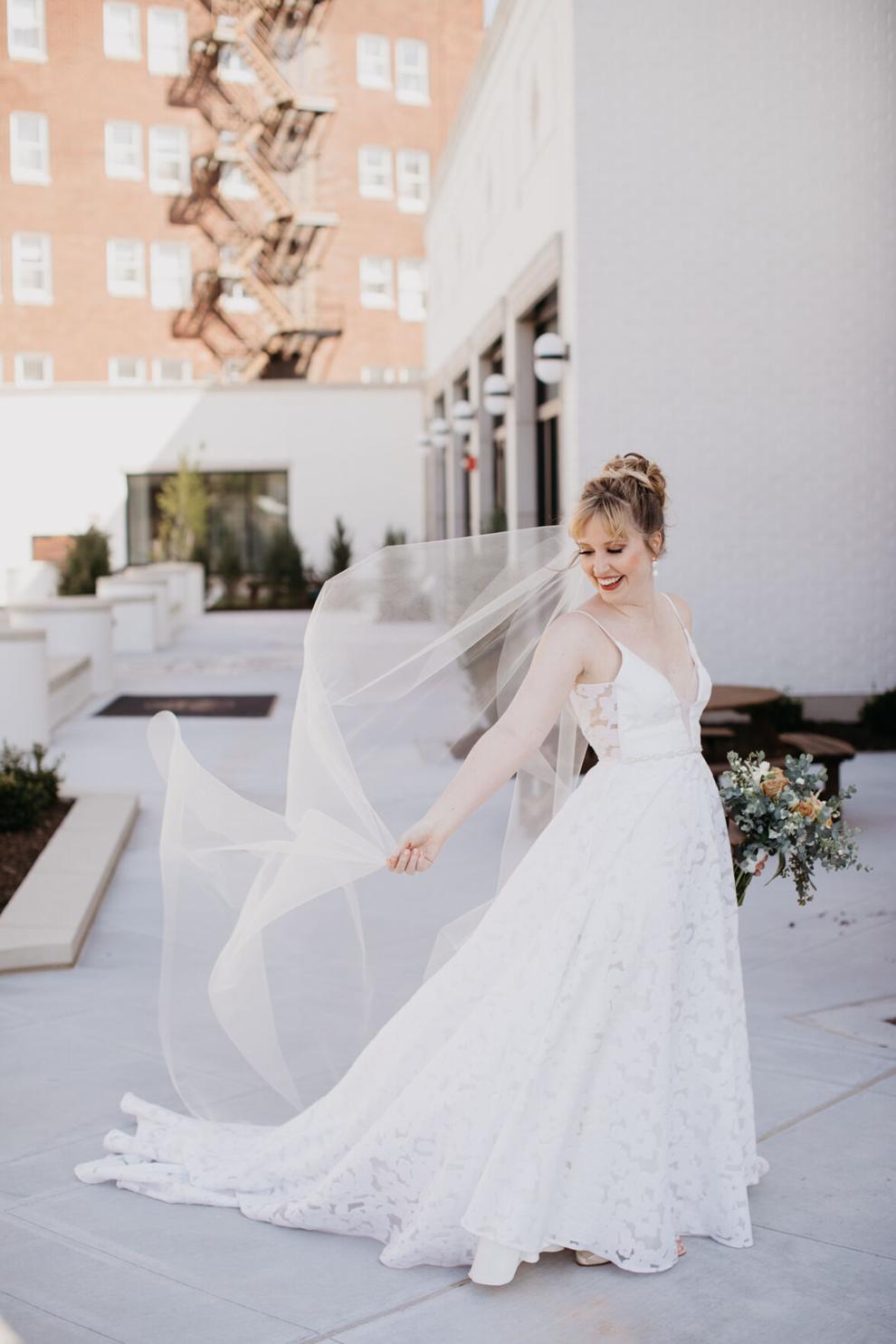 Katherine said there were so many things she'll remember about her big day. Things like officiant Dan Schmidt giving them a bad time about dating for eight years before finally pulling the trigger, and the reaction to her dress, which only her mom and sister had seen before the first look.
"All my bridesmaids were so surprised and happy when they turned the corner and saw me. I teared up because I just felt so loved and special in that moment," she said. "Sam doesn't come across as a sappy guy, but when he turned around and saw me for the first time that day, his eyes definitely had a glisten. It made me tear up, too."
She said her dad, sister and the best man also gave incredible speeches.
Sadly, Leszczynski, Katherine's maiden name, will be no more. The last month before the wedding, she said Leszczynski was on its "Goodbye Tour."
"Right before the ceremony started and we were all lined up, my mom turned to me and said, 'Goodbye Katherine Leszczynski,' since she knew after that I would be Katherine Riggs. It nearly wrecked everyone's makeup."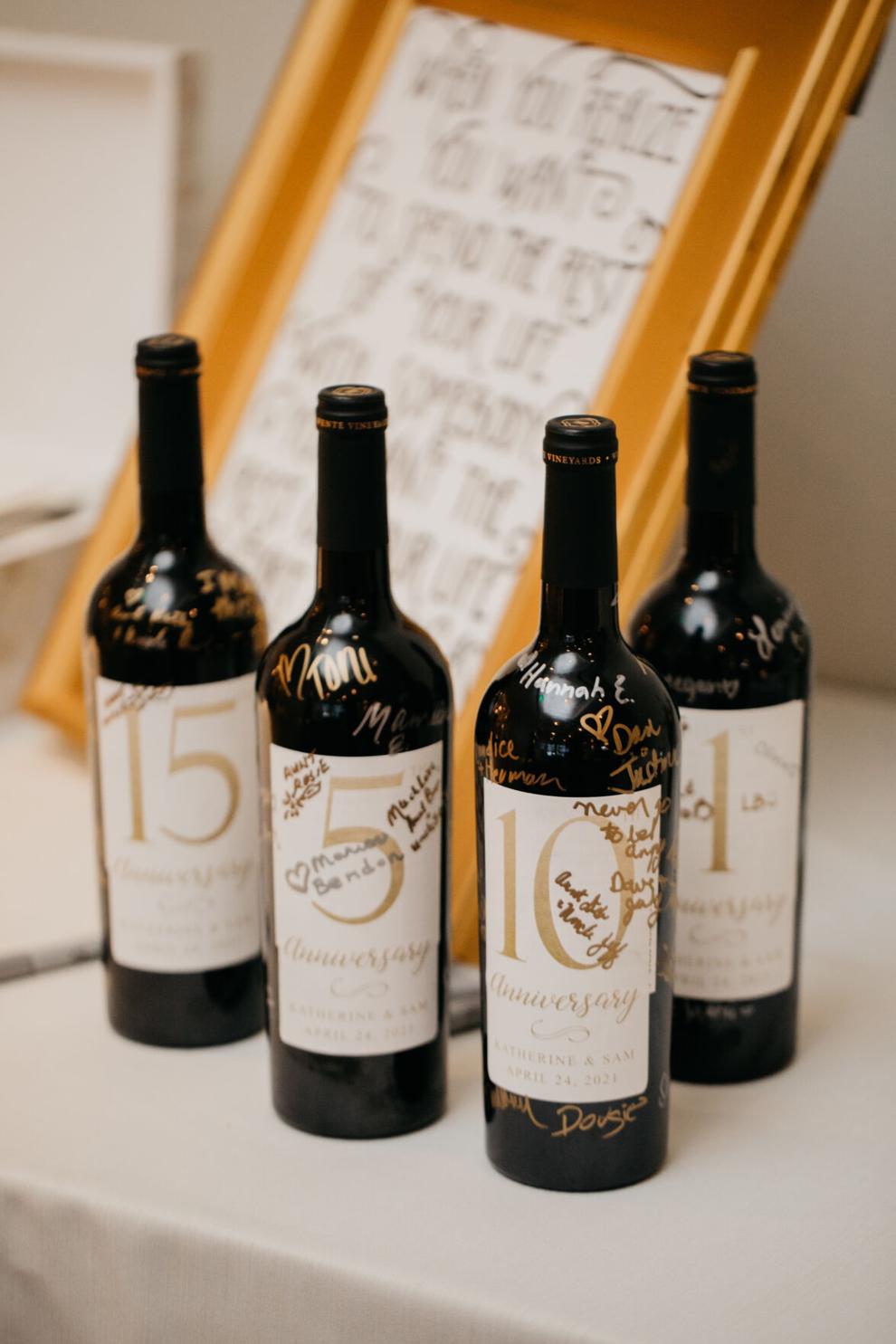 The couple love ice cream, so instead of cake at the reception, they had the Coneflower Creamery truck serving miniature cones. Guests could choose between chocolate or Blackstone Butter Brickle. Matt Edwards Fine Foods provided smaller desserts such as coconut macaroons, chocolate tarts and raspberry shortbread cookies.
Instead of a traditional guestbook, guests signed wine bottles, labeled to be enjoyed on the couple's first, fifth, 10th and 15th wedding anniversaries.
"They look really cool with all the gold and silver signatures all over. It's fun to look at who signed what bottle," Katherine said.
It was all a part of putting their own signature style on the big day.
Music was also extremely important, because their friends and family love to dance.
Katherine's mom's side of the family has a tradition where all the men stand on one side of the dance floor and the women on the other. Then they sing Meat Loaf's "Paradise By the Dashboard Light" at each other. The groom sings Meat Loaf's part and the bride the girl part. One of Katherine's uncles always does the baseball announcer part, using his tie as a microphone.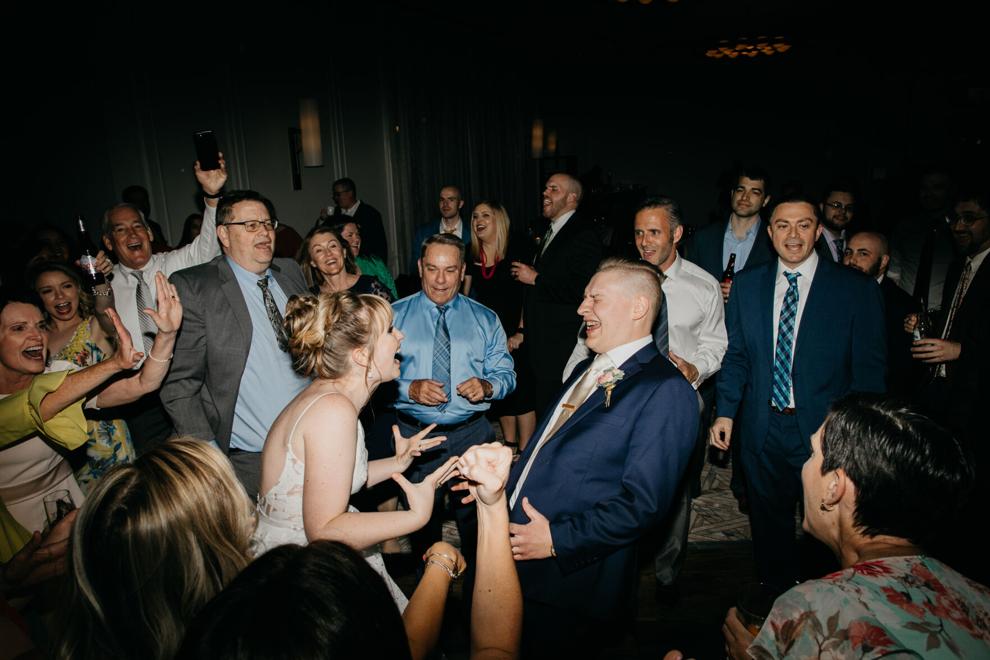 By the end of the song, everyone is basically screaming the words at each other.
"We are aware it's a weird song to sing at a wedding, since Meat Loaf says he is praying for the end of time so he can end his time with this clingy girl, but it's just what we do," Katherine said. "My friends all knew it was coming, but some still said it blew their minds and was the best part of the night."
They both agree receiving new plates, bowls and silverware was the best.
"Our old plates were in rough shape and getting rid of them was just as fun as getting the new ones," Sam said.
It was a relief that most people were vaccinated by the day of the wedding, so a large number of family members were able to come from the East Coast.
"My grandma from Michigan was one who couldn't travel, and I was so heartbroken, but understood," Katherine said. "But I was able to use the purse she used for her wedding day as my wedding purse and that felt so special. She left a note and a handkerchief in there for me."
A quick honeymoon trip to Scottsdale, Arizona, was perfect and relaxing after weeks of work on the wedding.
"There was nothing better than laying by a pool without a worry in the world," Katherine said, adding that she can be a bundle of nerves and anxiety and that Sam's voice and presence or a touch of his hand calms her so well.
"She can always make me laugh, even if I am having a bad day," Sam said.
About the Big Day
WEDDING DATE April 24, 2021
REHEARSAL DINNER The Blackstone Meatball
CEREMONY, RECEPTION The Cottonwood Hotel
BRIDAL GOWN Truvelle from Arc Bridal
ACCESSORIES (Shop & Designer): Earrings: BHLDN by Anthropologie
SASH Untamed Petals from Arc Bridal
HAIR STYLIST Justina Wiechman and Natalie Brown from Parlour 19
MAKEUP ARTIST Noelle Bush from Evergreen Salon
BRIDESMAID DRESSES Revelry
CAKE AND DESSERTS Matt Edwards Fine Foods
ICE CREAM Coneflower Creamery
CATERER The Cottonwood Hotel
MUSIC Image Entertainment
INVITATIONS/PROGRAMS My Paper by Sarah Carver
GUEST ACCOMMODATIONS The Cottonwood Hotel
HONEYMOON The JW Marriott Camelback Inn Resort & Spa in Scottsdale, Arizona