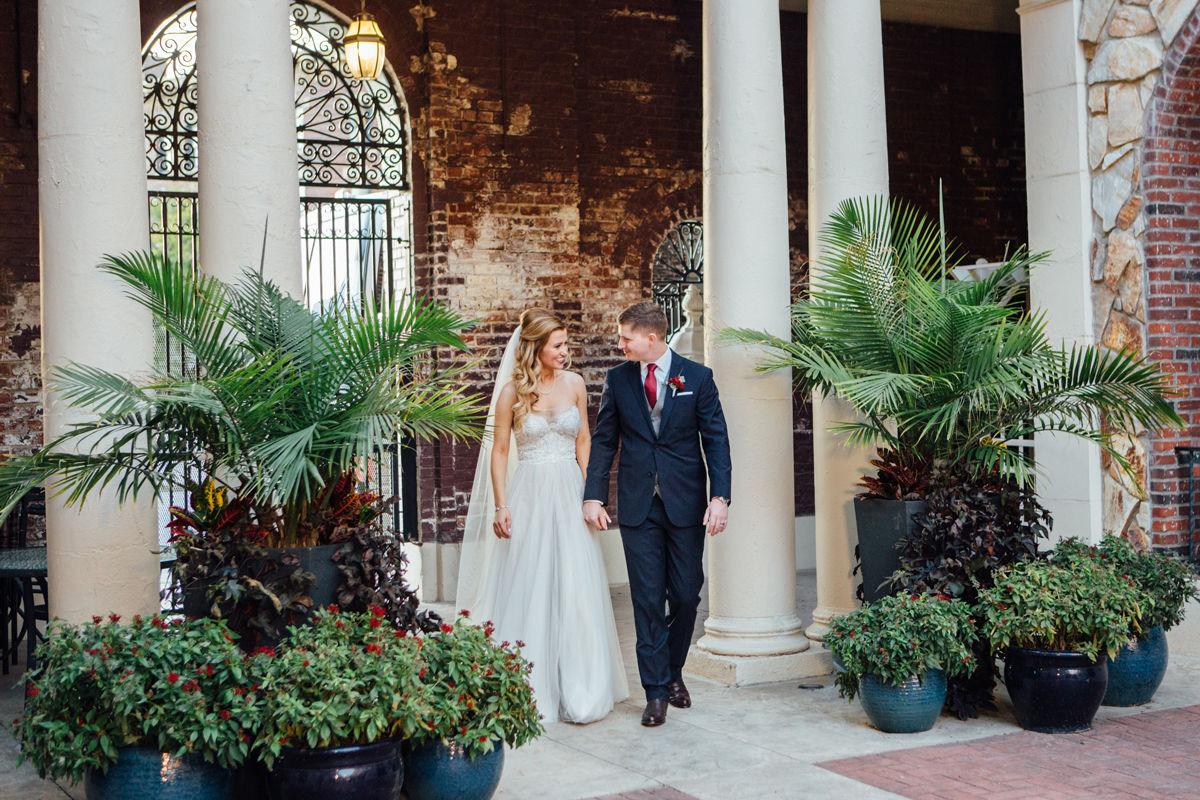 October 19, 2019, The Magnolia Hotel, Andrea Bibeault - A Wedding Photojournalist
GO JAYS Kate Wiste and Eric Forney met on an elevator at a residence hall at Creighton University, where they were pursuing their undergraduate degrees. But it wasn't until eight years later that fate brought them together again as they consoled each other after bad breakups.
BIG SURPRISE Eric conspired with friends to get Kate back on Creighton's campus. Kate thought Eric was in Georgia, where he was doing his surgical residency — until he stepped out in front of St. John's Church. "I can't quite remember the words he said because I was so flustered, but I do know that he asked me to spend forever with him," Kate says.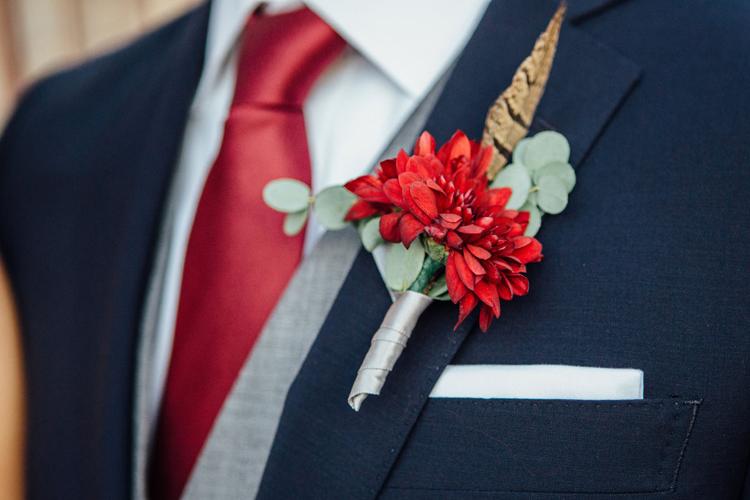 FOCUS ON FAMILY Kate wanted a simple and elegant wedding that incorporated as many family heirlooms and personal details as possible. Her bouquet featured a blue brooch from her great-grandmother, a white handkerchief that belonged to her grandfather and a silk magnolia that paid homage to her family's Southern roots. She wore her great-aunt's necklace, just like her sister did, and her great-grandmother's ring on her right hand. The floral arrangements included pheasant feathers collected by Eric and his family while bird hunting on their ranch in western Nebraska. The cake stand was a gift Eric's grandparents had received on their 50th wedding anniversary. Kate's wedding ring came from her grandmother.
GAME DAY They married on a Husker bye weekend, which fell the day before what would have been her grandparents' 50th anniversary. "Every Nebraska bride will understand the struggle in trying to have a fall wedding," Kate says. They invited 160 guests, with the bulk of their budget going toward guest experiences, like the meal and bar.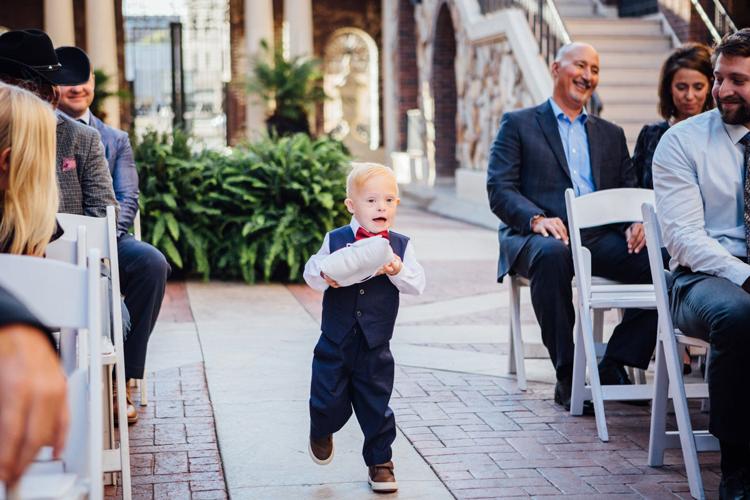 SWEETEST MOMENT They'll never forget reading their vows to each other. "We hadn't heard them before the ceremony. It melted my heart to hear the words Eric put together," Kate says. Their ring bearer, nephew Kingston, stole the show with his happy demeanor. He even got offers from other engaged guests to be the ring bearer for their weddings.
UNITED WE STAND They planted an oak seed from the Nebraska Arboretum for the unity ceremony, using mason jars full of soil from the backyards of where they grew up. "We have the oak planted in a large pot and it's doing quite well. We plan to keep it with us until we can plant it in our forever home."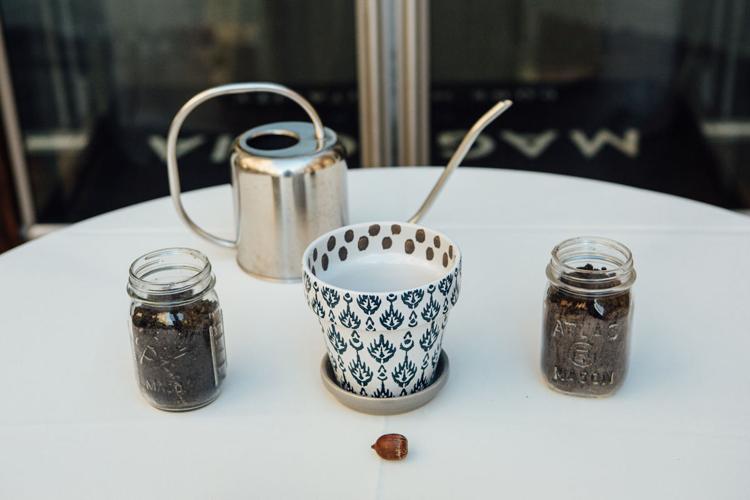 WORDS WERE ENOUGH They didn't exchange gifts. "I'm sentimental that the vows meant more than anything else could have," Kate says. Their favorite gift was a cake knife that Kate's dad forged by blending pieces of steel from his farm and the Forney ranch. The handle is half walnut, from Eric's family's backyard, and maple, from the front yard of Kate and Eric's first home. They also loved a case of wine sent by a winemaker friend in Napa. "Both were meaningful because they were crafted by family and friends."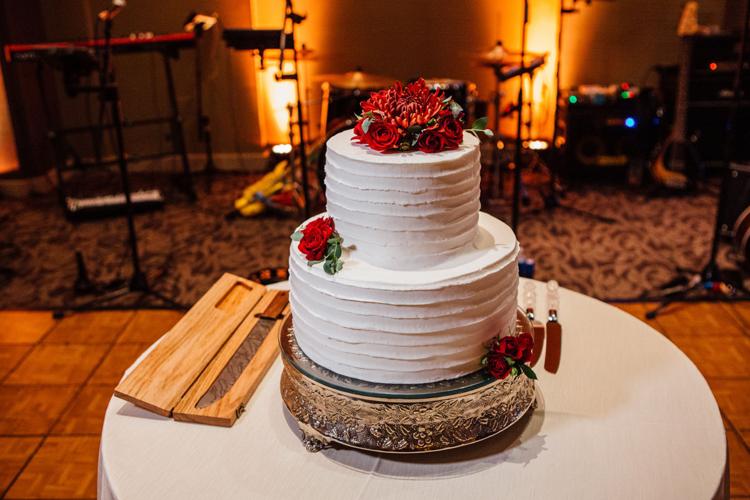 BUSY LIFE Scheduling time together has been their biggest challenge, so they've reserved a weekly date night. He didn't know she was a night owl, and she didn't know about his T-shirt collection. But it's all good. "You're the love of my life," Eric tells Kate. She says she's lucky to have a partner who is loving and hard-working and encourages her to do what makes her happy.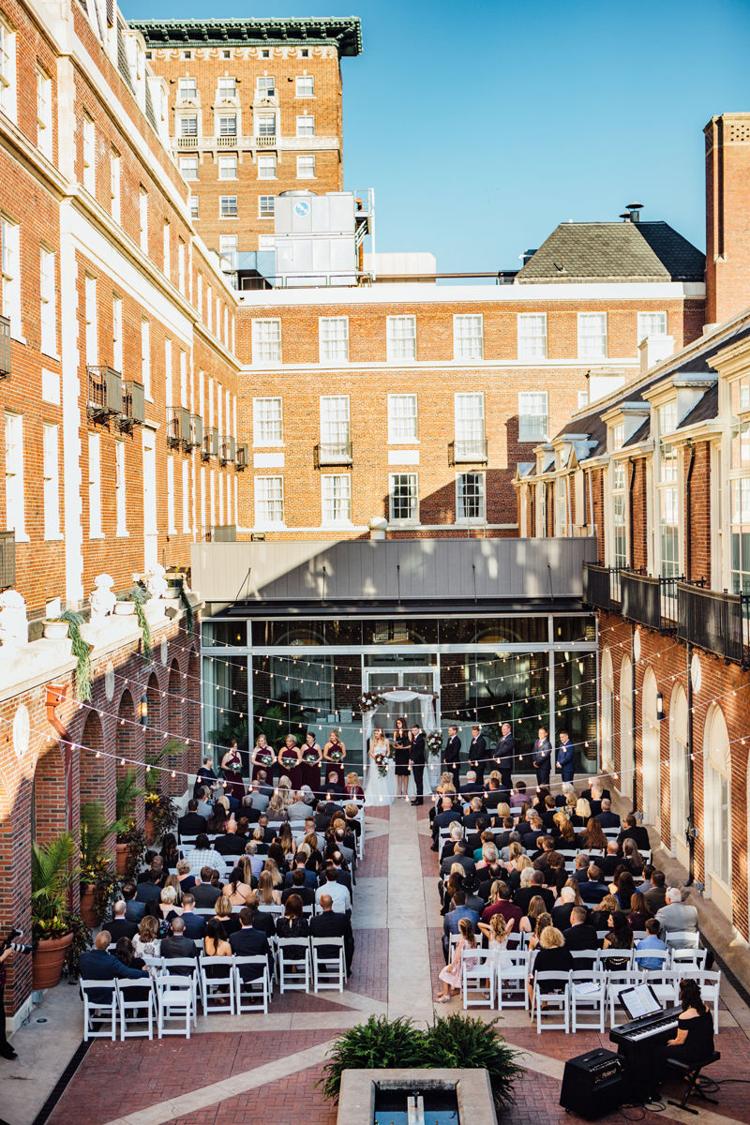 Essential details
THE COUPLE Kate Wiste and Eric Forney
PHOTOGRAPHER Andrea Bibeault — A Wedding Photojournalist
WEDDING DATE October 19, 2019
REHEARSAL DINNER The Flatiron Cafe
CEREMONY, RECEPTION The Magnolia Hotel
BRIDAL GOWN Wtoo by Watters, The White Magnolia, Atlanta
ACCESSORIES Earrings: Etsy; bracelet: Olive + Piper
HAIRSTYLIST Angela Renner/The Copper Pin Salon & Spa
MAKEUP ARTIST Kelli Lambert/The Copper Pin Salon & Spa
MEN'S ATTIRE Groom: Brooks Brothers; groomsmen: own suits
RINGS Bride's grandmother's ring; Solomon Brothers Jewelers, Atlanta
CAKE The Cake Lady, Lincoln
CATERER The Magnolia Hotel
RENTALS United Rent-all; Honeyman Rent-All
UPLIGHTING Complete Weddings + Events
PHOTOBOOTH Omaha Vintage Photobooth
MUSIC Downtown Collective, Lincoln
INVITATIONS/PROGRAMS Minted
GUEST ACCOMMODATIONS The Magnolia Hotel
WEDDING COORDINATOR/EVENT PLANNER Tracey Fricke/Occasion Designed
HONEYMOON East Coast road trip for their first anniversary
---
Real Wedding: Kate Wiste and Eric Forney
Kate Wiste and Eric Forney were married Oct. 19, 2019 at The Magnolia Hotel.
Omaha World-Herald: Wedding Essentials
See the latest wedding trends, photo galleries and ideas to help inspire your big day.