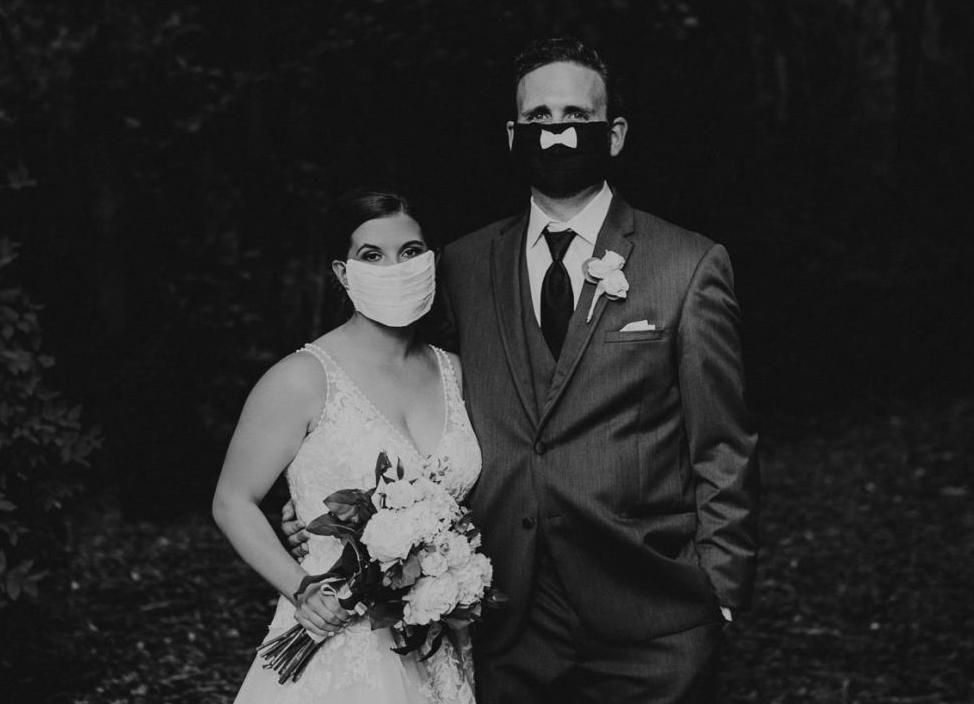 A few weeks after my wedding, I had seen only a handful of photos from the big day. But of that sampling, one stood out as my clear favorite.
At a glance, it's your typical wedding portrait. I'm standing next to my husband, his arm wrapped around my waist. My wedding gown is fanned out neatly behind me and my bouquet is anchored to my hipbone (just how all the wedding professionals instructed me to hold it).
But instead of a big goofy grin, I'm sporting a white face mask. Beside me, my husband is in a black mask adorned with a white bow tie.
I wasn't going to pretend, even for the pictures, that we weren't getting married in the middle of a pandemic.
How could I? The pandemic had consumed my mind for almost five months leading up to our August wedding date. It was going to leave its mark one way or another, and I opted, er, tried to embrace it.
During planning crunch time, I had to learn to roll with the changes. It wasn't easy. But it was going to be OK that hand sanitizer pumps were royal blue and didn't match any of my other décor. It was going to be OK that the sign we printed letting guests know we had masks available wasn't quite the same as the others.
Here are other steps we took to err on the side of caution.
We tied the knot just before Omaha's mask mandate went into effect. While masks weren't required — and we didn't feel like we could force guests to wear them — we still provided disposable masks. We wanted to at least give friends and family the tools to stay safe.
I bought two large pumps of hand sanitizer for the guest book tables at church and at the reception. To make clean hands a little more fun, I printed labels for the bottles that said, "Spread love not germs."
I planned on filling two small baskets with items guests might need in a pinch — pain reliever, antacids, floss sticks, hairspray — and setting them in the restrooms. But we scrapped the baskets to avoid anything communal.
To avoid lines and crowds, I revamped our guest book. I planned on having guests take and sign Polaroid photos before sticking them in a book. Instead, we opted for a traditional guest book. We had three pens, hand sanitizer and a helper at the table who sanitized the pens.
Our venue made COVID-related changes, too. The caterer revamped the food line to keep guests from feeling trapped in a big line. Extra staff wiped down high-touch surfaces. All beverages, including water and coffee, were served from behind the bar. Both of our snack items, popcorn and pretzels, were served by catering staff. Mints and nuts, typically self-serve on the cake table, were scooped onto each plate. Staff was accommodating, too, when I asked for tables to be spaced farther apart.
Despite those precautions, I still spent nights dreaming about the wedding and everything that could go wrong. I still spent my days scratching at stress-induced hives.
As we inched closer to our date, I was constantly asking my now-husband if we were doing the right thing. Are we being irresponsible? What happens if one of our loved ones winds up sick? Could the priest just marry us at the rehearsal? Or should we just cancel it right now?
My nerves faded away as soon as we got hair and makeup rolling. And once I had time to look around at the ceremony and reception, I saw how smart our guests were. Many sported masks. Most out-of-towners stayed home, as did some who had possible exposure to the virus or who felt under the weather.
Two weeks later, no one tested positive or reported any symptoms.
It was a hard decision to stick with our date. Looking back, I'm happy we did. We got so lucky, and I'm incredibly grateful.
---
Real Wedding: Kelsey Stewart and David Kirk
Kelsey Stewart and David Kirk were married Aug. 8, 2020 at St. Leo the Great Catholic Church in Omaha, with a reception at Millard Social Hall.