Perri Colwell and Cody Zach met in nursing school in Norfolk, Nebraska, and were best friends for eight years before they exchanged vows. They're both nurses.
Cody proposed at his birthday dinner to make sure Perri wasn't expecting it. They decided to marry in October because they both love the transition of seasons and the cool fall air.
Perri wanted an elegant, classy and vintage theme.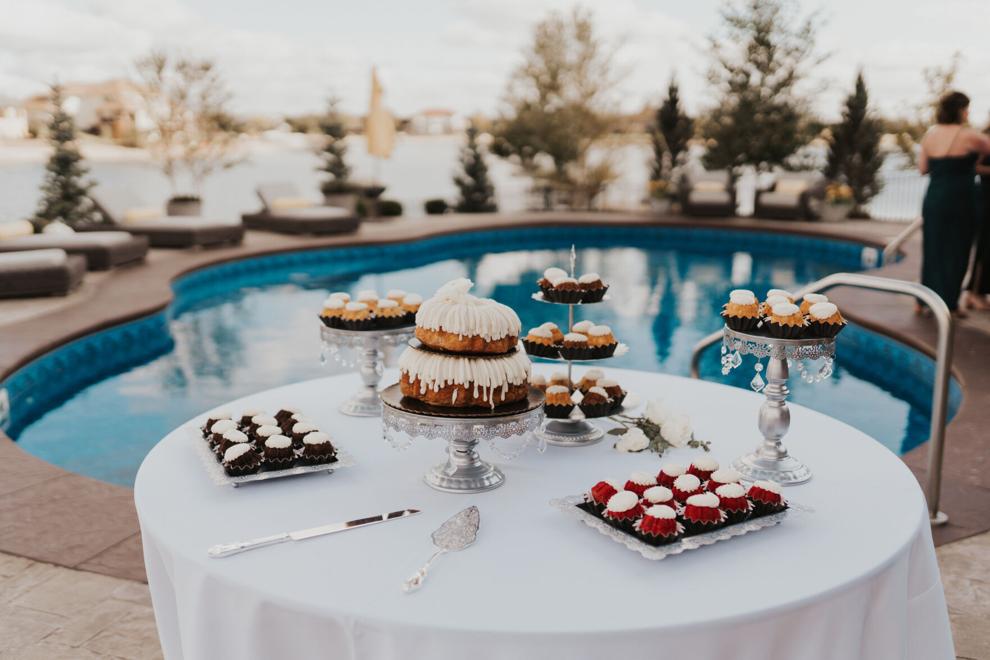 Reading their vows to each other was the most precious part of the day, they said. They and their guests cracked up watching their wedding video.
"There were pre-wedding interviews that made everyone laugh."
They loved being outside and dancing next to the water.
"Not everyone has a house on the water, but it was very special to my parents to be able to make these great memories so close to home," Perri said. They kept their guests list to around 50. "We originally wanted many more, but with the pandemic our priority was keeping our friends and family safe with this intimate backyard wedding.''
Photography, videographer and flowers were the priorities in their $30,000 budget and they were thrilled with those decisions.
"The moments captured on our big day will be cherished forever.''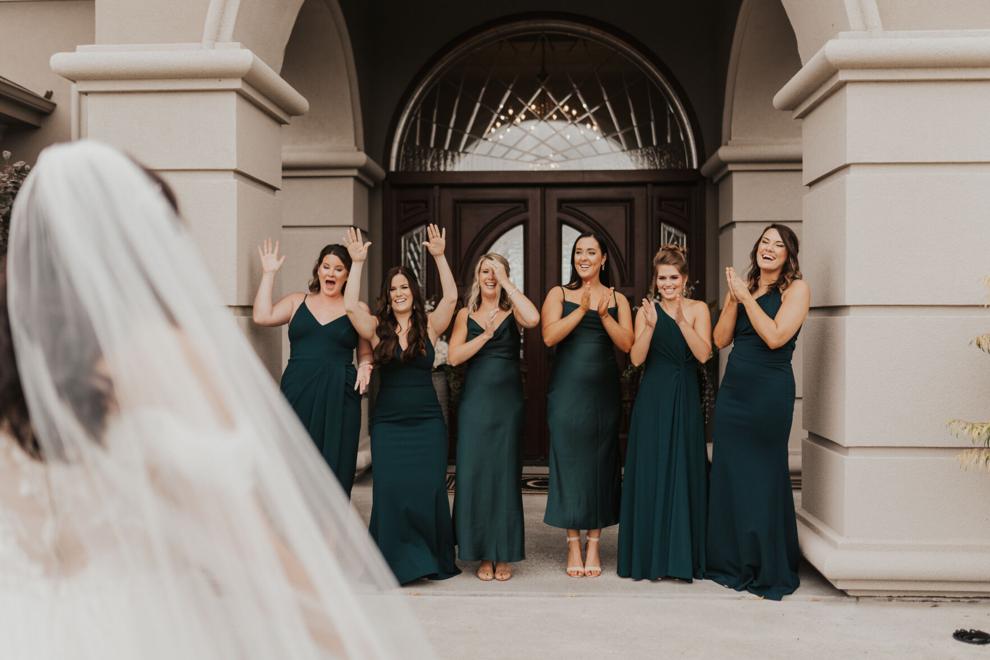 The women in the bridal party started getting ready around 8 a.m. but Perri jokes that it should have been 6 a.m.
"It took myself and the girls longer than expected to get ready … shocker,'' she said. "With our ceremony at 3, we planned on taking first looks at noon but ended up starting around 1:30 pm. Everything worked out in the end."
Perri originally didn't want a first look but said she is so happy it was included.
"After seeing Cody all of my stress was instantly gone and I couldn't imagine waiting that long to see him and celebrate with him," she said. "We were ready to conquer anything.''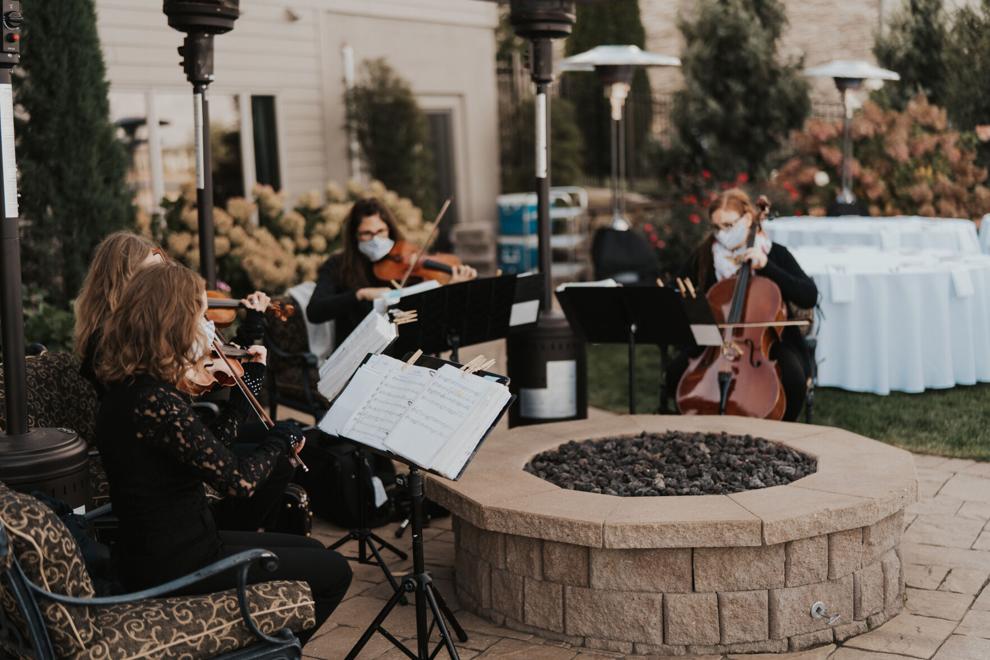 They are obsessed with their Breville toaster oven.
"We can make everything from toast and cookies to baked salmon and roasted vegetables," Perri said. "Everyone should definitely have one.''
They gave each other cologne and perfume, Coco Mademoiselle by Chanel for Perri and Creed Original Vetiver for Cody.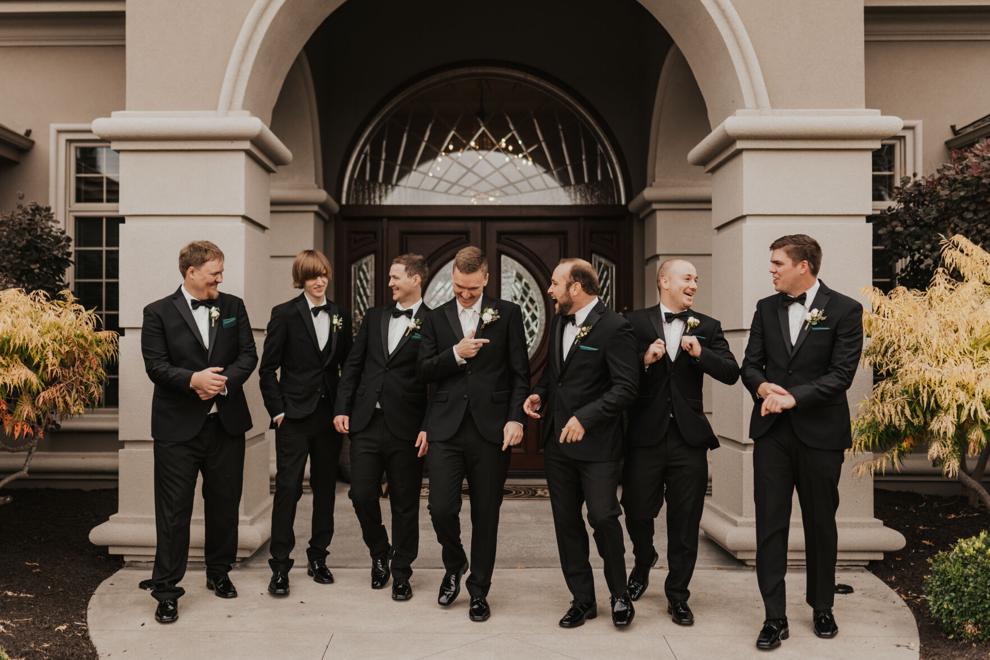 Cody works the night shift and Perri the day shift, so not seeing each other every day has been a big adjustment. Cody said Perri is unique and can't imagine all the adventures they've been through without her.
"She also has a goofy side which I don't think people always get to see," he said. "From spontaneously dancing to saying whatever is on her mind, she always has me laughing. Being with someone who makes you laugh and smile every day is truly a blessing."
Perri said Cody is the sweetest, most genuine person in her life.
"I never knew I could meet someone so similar to myself and also have the patience to bring me back down to earth when life is getting a little too rough,'' she said. "I will love him from now until forever.''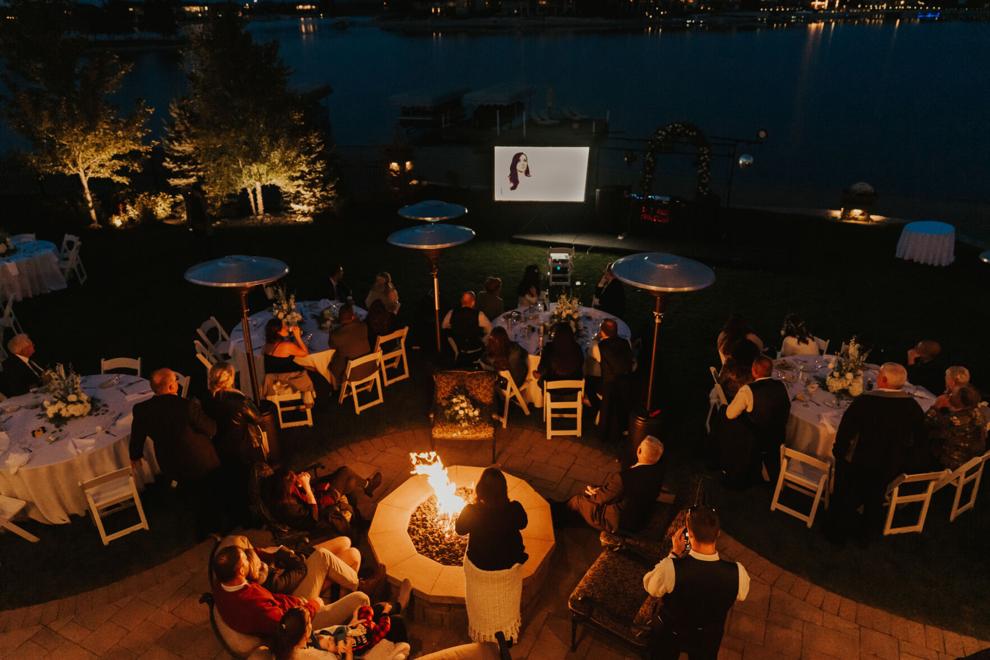 ABOUT THE BIG DAY
WEDDING DATE Oct. 3, 2020
REHEARSAL DINNER The WestEnd
CEREMONY The Colwell Estate
RECEPTION The Colwell Estate
VIDEOGRAPHER TheWeddingStorytellers
BRIDAL GOWN THEIA gown from Sample & Soiree, Tailored to perfection by Livisdesignbridal
ACCESSORIES Hair pieces, EDEN LUXE Bridal, Palm Beach
HAIR STYLIST Jodi Colwell for bride, stylists from Element Salon Omaha for bridesmaids, flower girl, matron of honor
MAKEUP ARTIST Samantha Krueger Beauty
BRIDESMAID DRESSES BHLDN by Anthropologie
RINGS Gunderson's Jewelers
FLORIST Avant Garden Floral
MUSIC Violinists, The Mahr quartet; DJ Prime Time of Nebraska
TRANSPORTATION Ollie the trolley
INVITATIONS/PROGRAMS Minted
GUEST ACCOMMODATIONS Home2 Suites by Hilton
HONEYMOON The Valentin Resort in Riviera Maya Mexico
---
The Big Day: Your video guide to planning your wedding
Feast Living presents The Big Day: Bridal Party Hair sponsored by Nebraska Realty
Feast Living presents The Big Day: Bridal Party Makeup sponsored by Nebraska Realty
Feast Living presents The Big Day: Hair Accessories sponsored by Nebraska Realty
Feast Living presents The Big Day: Wedding Ensemble Details sponsored by Nebraska Realty
Feast Living presents The Big Day: Wedding Cakes sponsored by Nebraska Realty
Feast Living presents The Big Day: Wedding Dress Trends sponsored by Nebraska Realty
Coming soon: The Big Day video series starting Jan. 7
Planning the perfect wedding requires skill, organization, a few lucky charms, some magic and a village of great friends to help you pull it off. Enter The Big Day video series – your friendly resource designed to help you create your fairytale day.
To kick off the six-part series, we'll start with the main event – the dress, obviously. Bridal shop experts will reveal the hottest trends in wedding dresses this year and explain what to ask for on your monumental shopping trip to look chic and in-style for every photo op.
The following week, tune in for tasty tips on arguably the best part of wedding planning – the cake. A winner of TLC's "Next Great Baker" will show viewers the three mouthwatering, gorgeous cake designs brides are loving right now and explain which trend pairs best with which type of wedding.
Next up, we'll visit our bridal shop experts again, where their stylists will zero in on the show-stopping details that will make your wedding ensemble truly special – from buttons to beading to lace to silhouette features and more.
For our fourth video, we'll turn our gaze to something that is top-of-mind for many brides – literally. Get inspired by their review of the hair accessory trends to note this year – after all, why should the dress get all the attention?
And even though this technically is your day, you can't forget your girls – the ones who have always been by your side in life and in love. For our final two installments of this series, we'll introduce you to the "Bridal Party Boutique," where fabulous bridal beauty specialists will share DIY makeup and hair tips and tricks with your bridesmaids, so they can feel beautiful and camera-ready from the ceremony to the reception to the sparkler-lined send-off.
No matter what kind of celebration you're dreaming of, let "The Big Day" video series keep you inspired and on-trend as you plan the best day of your life. Stay tuned for the launch on January 7!
---

This content was produced by Brand Ave. Studios in collaboration with the sponsor. The news and editorial departments had no role in its creation or display. For more information about Brand Ave. Studios, contact sales@brandavestudios.com.