Cody Fry was in a free fall when boyfriend Greg Hladik floated close, grabbed his hand and attempted to put a ring on his finger.
When you're a passionate skydiver like Hladik, nothing says "I love you" like a mid-air proposal, perfectly timed for the short time he had before his parachute deployed. Even if the cheap ring wouldn't stay put.
Fry said he was in shock.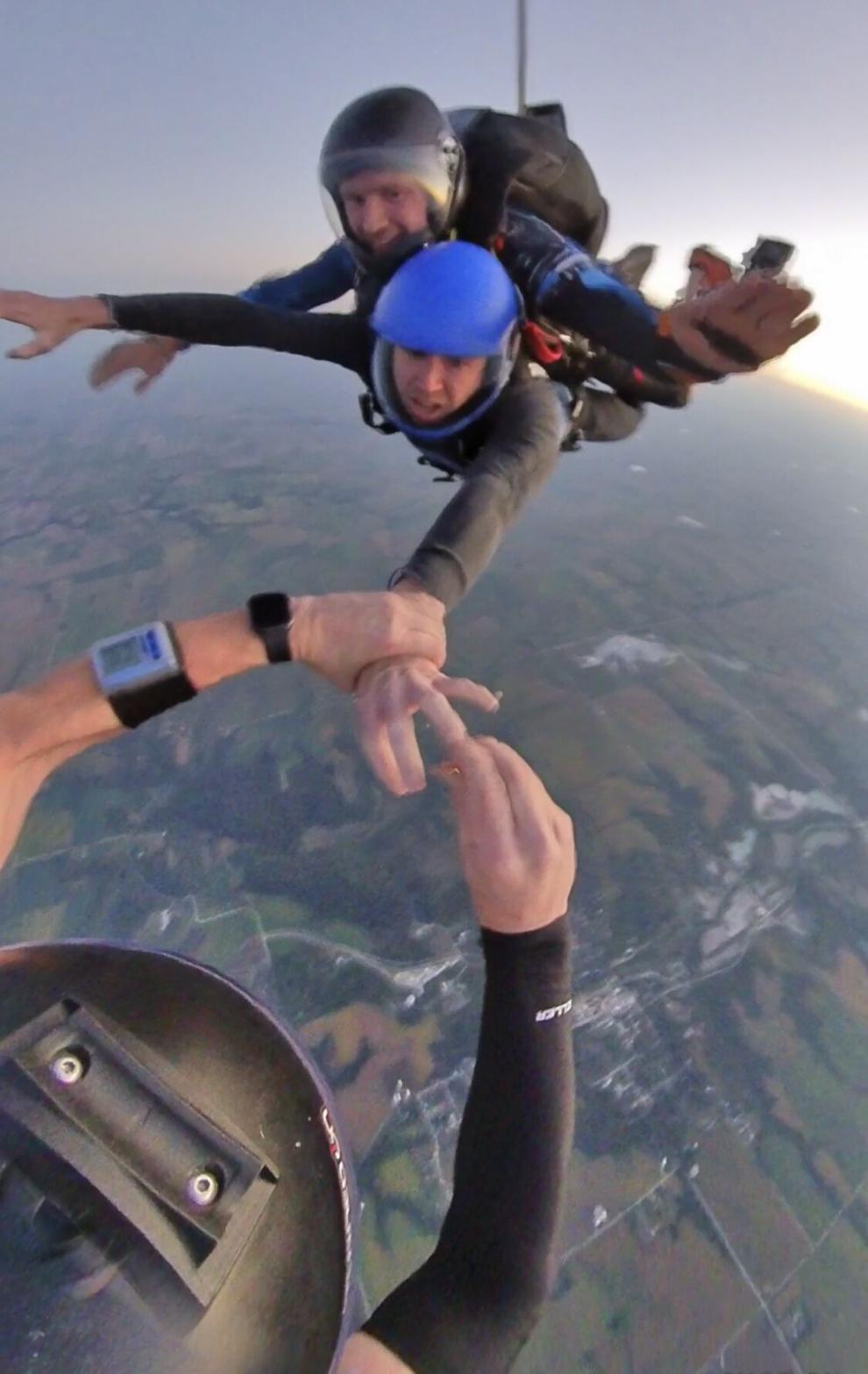 "When you are falling 120 miles an hour, it's a little intense," Fry said. "I was like, 'What is happening?'"
It was actually just a hint of what was to come when they hit the ground. Friends were waiting with champagne as Hladik pulled out the real engagement ring, dropped to a knee and asked Fry to marry him.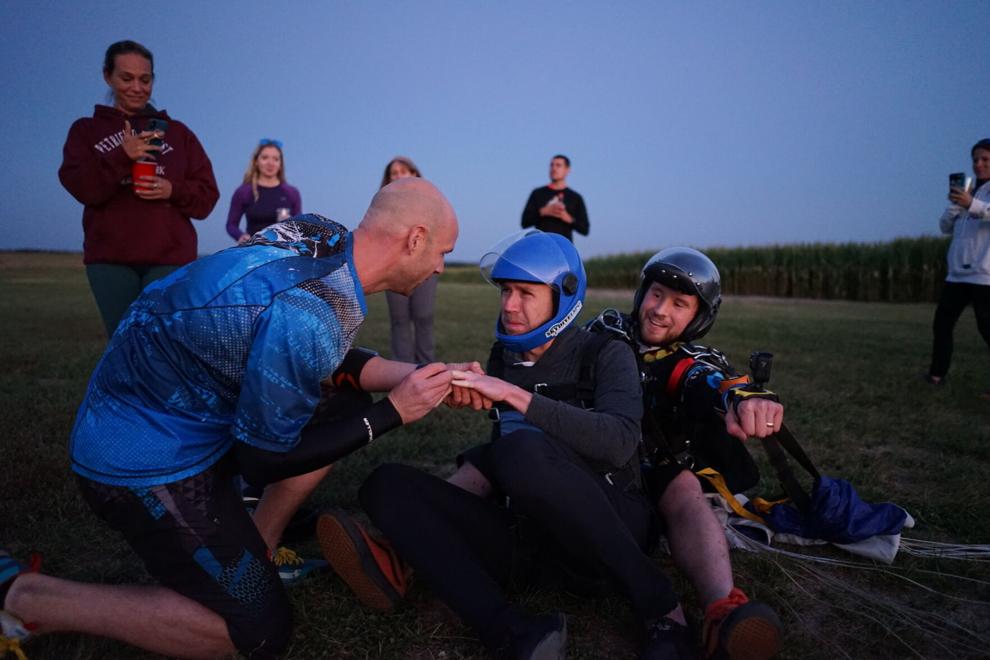 "It was beautiful," he said. "He did good."
That wasn't the end of the high-flying shenanigans.
Hladik, who has made more than 2,000 jumps, dropped in on their wedding photo session, too.
Fry said that made quite the hit with his family. They were taking pictures and cheering. Then guests got to take an airplane ride, too.
"It was not a typical wedding," Hladik said. "That's kind of what we were going for."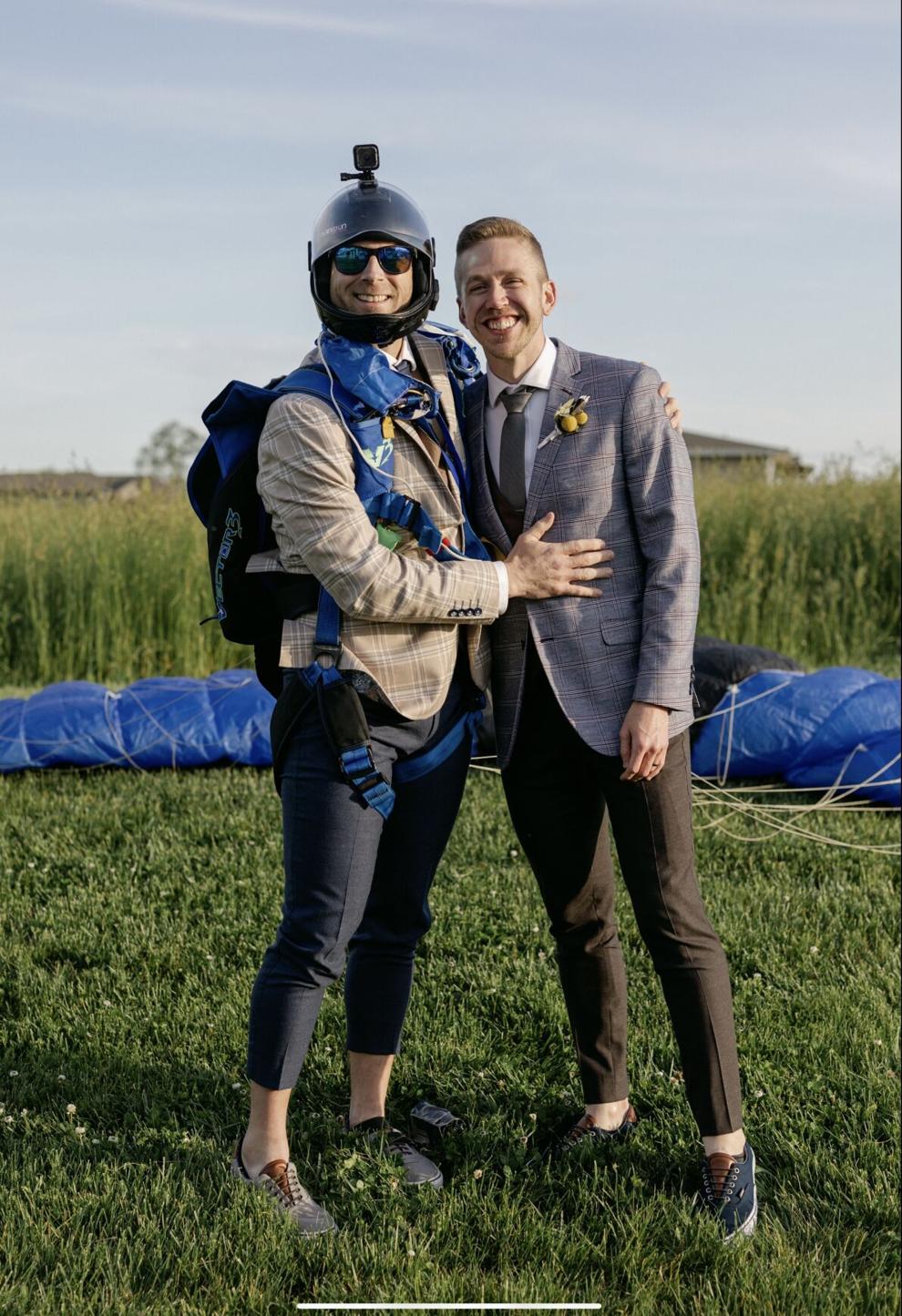 Hladik has been a skydiver for 11 years. He's a tandem and static line instructor for the Lincoln Sport Parachute Club, as well as a professionally rated skydiver.
The two Omahans met at Maplewood Lanes, where Fry still works part-time and Hladik was bowling in a league with friends.
When Fry mentioned he'd tried skydiving years ago, that gave the pair something to talk about.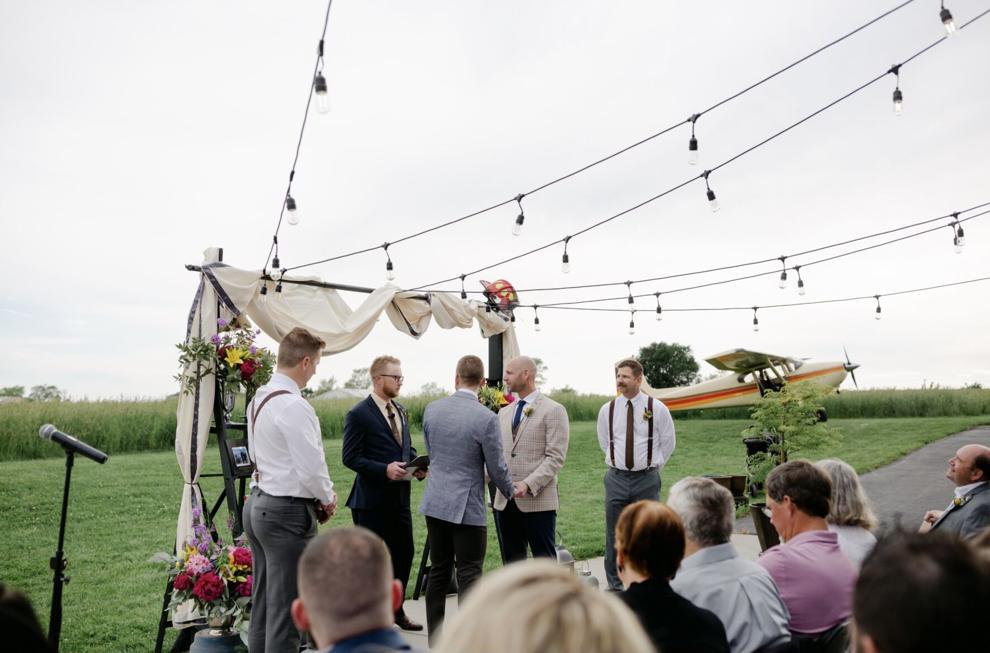 "He asked me out on a date about three years ago," Fry said. "The rest is history."
Hladik proposed last fall and they thought about holding a destination wedding in 2022. Then friends Mark and Barb Farrell offered their home, and they decided not to wait.
The house they're building in the Deer Creek subdivision is nearly finished, and Fry remembers thinking: "Let's do it now. Let's do it right."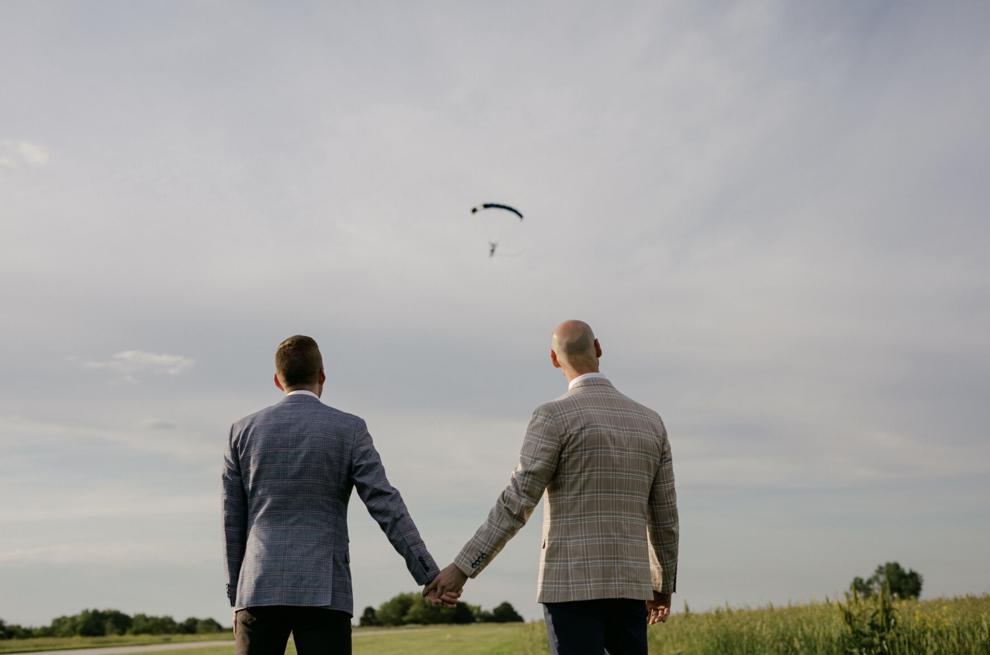 They were married May 29.
The Farrells have the added bonus of living next to the North Omaha airport. It was their prop plane that was used to give people rides during the reception.
Fry has only jumped eight times, but said he's not as scared anymore, especially when he can do a tandem jump with his new husband.
Hladik, a firefighter, said it's not just a thrill for him, it's almost a form of therapy.
"When you are skydiving, nothing else matters," Hladik said. "You are in your own kind of world. For almost a minute, nothing else matters in the world but opening that parachute and landing safely on the ground."
---
The Big Day: Your video guide to planning your wedding
Feast Living presents The Big Day: Bridal Party Hair sponsored by Nebraska Realty
Feast Living presents The Big Day: Bridal Party Makeup sponsored by Nebraska Realty
Feast Living presents The Big Day: Hair Accessories sponsored by Nebraska Realty
Feast Living presents The Big Day: Wedding Ensemble Details sponsored by Nebraska Realty
Feast Living presents The Big Day: Wedding Cakes sponsored by Nebraska Realty
Feast Living presents The Big Day: Wedding Dress Trends sponsored by Nebraska Realty
Coming soon: The Big Day video series starting Jan. 7
Planning the perfect wedding requires skill, organization, a few lucky charms, some magic and a village of great friends to help you pull it off. Enter The Big Day video series – your friendly resource designed to help you create your fairytale day.
To kick off the six-part series, we'll start with the main event – the dress, obviously. Bridal shop experts will reveal the hottest trends in wedding dresses this year and explain what to ask for on your monumental shopping trip to look chic and in-style for every photo op.
The following week, tune in for tasty tips on arguably the best part of wedding planning – the cake. A winner of TLC's "Next Great Baker" will show viewers the three mouthwatering, gorgeous cake designs brides are loving right now and explain which trend pairs best with which type of wedding.
Next up, we'll visit our bridal shop experts again, where their stylists will zero in on the show-stopping details that will make your wedding ensemble truly special – from buttons to beading to lace to silhouette features and more.
For our fourth video, we'll turn our gaze to something that is top-of-mind for many brides – literally. Get inspired by their review of the hair accessory trends to note this year – after all, why should the dress get all the attention?
And even though this technically is your day, you can't forget your girls – the ones who have always been by your side in life and in love. For our final two installments of this series, we'll introduce you to the "Bridal Party Boutique," where fabulous bridal beauty specialists will share DIY makeup and hair tips and tricks with your bridesmaids, so they can feel beautiful and camera-ready from the ceremony to the reception to the sparkler-lined send-off.
No matter what kind of celebration you're dreaming of, let "The Big Day" video series keep you inspired and on-trend as you plan the best day of your life. Stay tuned for the launch on January 7!
---

This content was produced by Brand Ave. Studios in collaboration with the sponsor. The news and editorial departments had no role in its creation or display. For more information about Brand Ave. Studios, contact sales@brandavestudios.com.