Kristen Koley wanted a classic, romantic but modern look for her marriage to Michael Emodi.
So she wore white and her bridesmaids each purchased their own floor-length black gowns.
The decorations were black and white, too. Roses, orchids, ranunculus, hydrangea and bleached ferns were mostly white with touches of pink and green for a splash of color.
Koley said the black and white combination is classic.
"It's bold and trendy, yet simple and sophisticated and works for any season," she said.
The vibe of the wedding was one of their biggest expenses. Around 300 of the 400 people on their guest list attended.
They held their rehearsal dinner at TD Ameritrade, where they spent a lot of time while Michael was playing baseball for Creighton University.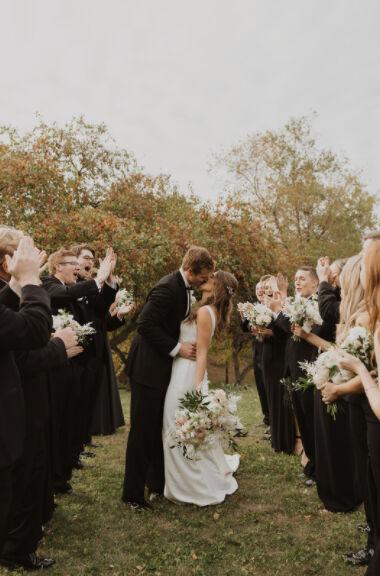 FAMILY TIME
After they started dating as juniors at Creighton, Michael surprised Kristen with his proposal on Anna Maria Island off Florida's Gulf Coast.
"He flew in my family so they could be a part of the celebration," Kristen said.
After being drafted by the Kansas City Royals in 2018, Michael is now playing catcher in the minor leagues for the Quad Cities River Bandits. They are living in Scottsdale, Arizona.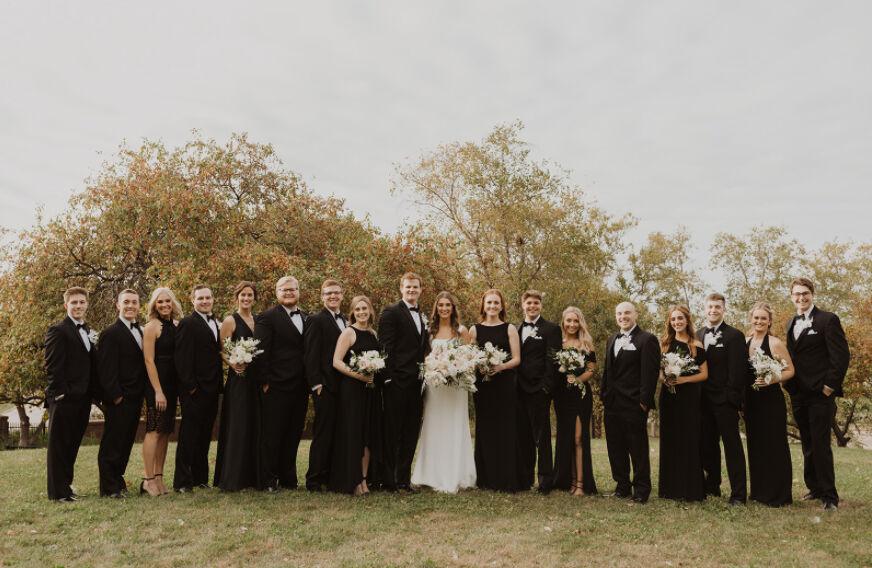 IN THE SPOTLIGHT
The funniest moment of the day came when Kristen's father got on the DJ stand and started dancing.
"The crowd started chanting, 'Pat, Pat, Pat.' He was loving every minute of it," Kristen said.
Michael said he didn't realize how much his bride's family loved to dance; she didn't realize how good his family was at speeches. Karly Jurgenson sang for their first dance, making it even more special.
"I also loved when the church doors at St. John's opened and I could just see Michael at the end of the aisle," Kristen said.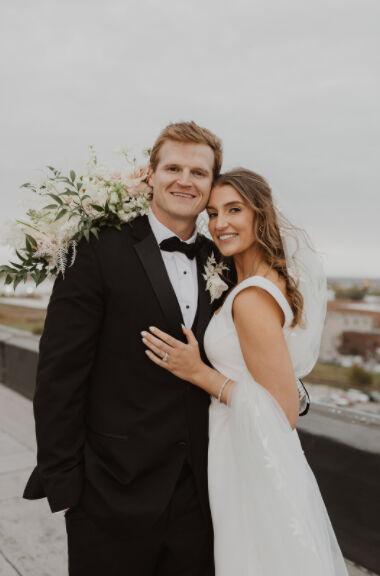 SPECIAL GIFTS
Michael gave Kristen a diamond necklace because he wanted her to have something special to wear during the wedding. Kristen gave Michael a picture book of all the memories they have made during their five years of dating. Their favorite wedding gift was new kitchen pots and pans.
"It was so nice being able to throw away our old kitchen supplies and replace with new," Kristen said.
BETTER EVERY DAY
Michael is the most hardworking and loyal person she knows, Kristen said.
"He always makes me laugh and makes every day even better," she said.
Michael, who is getting used to wearing a wedding ring, said Kristen is beautiful and loving.
"She is very caring and compassionate," he said.
---
Happiest Days: Area couples share stories about their weddings