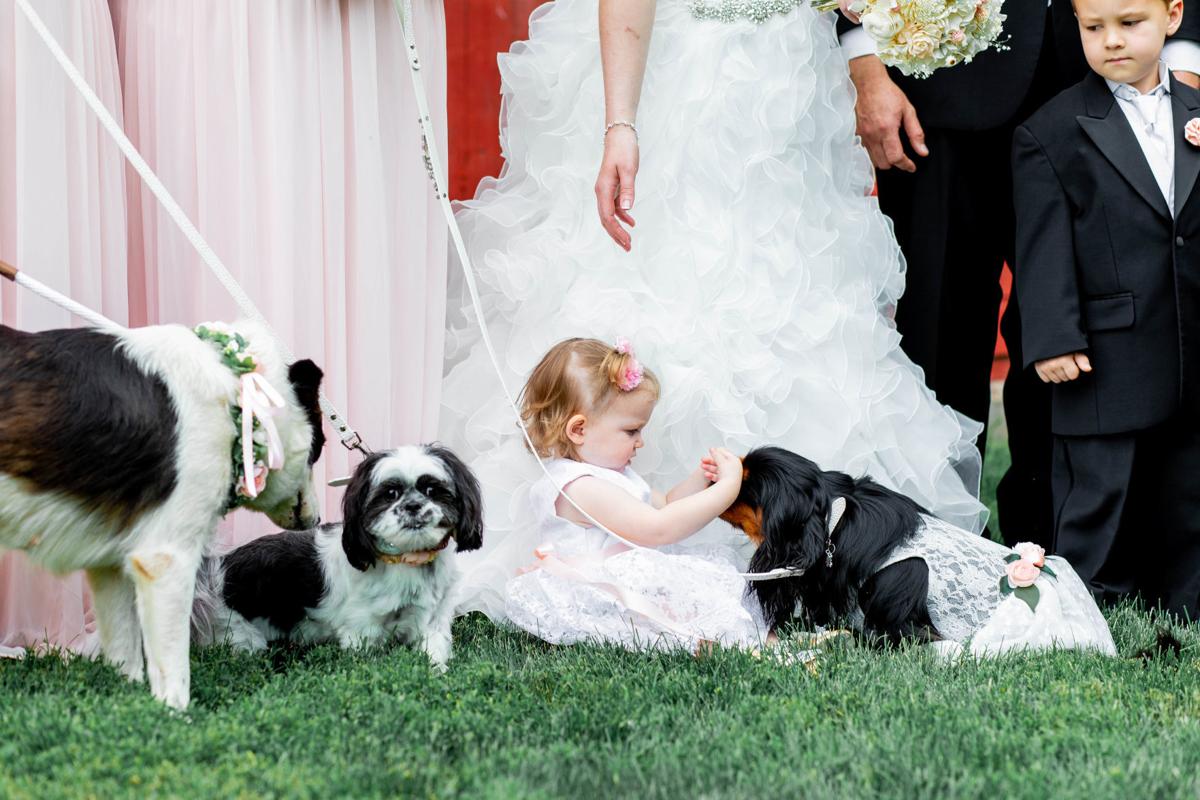 Editor's note: We've seen dogs in lots of wedding photos lately. If your beloved pooch is likely to make an appearance in yours, check out these tail-waging tips (updated from Wedding Essentials, July 2019).   
Having a pet involved in your wedding festivities may sound like a fun but plenty of photographers have been involved in some hairy situations.
One couple wanted a menagerie of animals included in their outdoor ceremony. But getting them all in place was harder than anticipated.
"My advice would be to not have so many pets involved that it's an overwhelming zoo," says Heidi Hoffman of Pine and Forge Photography. "I would also suggest a pet attendant, someone who is familiar with the animals and can make sure they are well taken care of throughout the day."
Ashley Vela of Barking Vows pet handling service in Omaha builds on that advice:
Select a person who knows your pet and/or has experience handling a pet like yours. Choose someone who is not in your wedding party; this way, the handler can be totally focused on the responsibilities of dealing with the pet.
Be sure the handler is equipped with poop bags and cleaning products if your pet will be indoors.
Consider having your pet professionally groomed a day or two before the ceremony so it looks its best.
Discuss the photos you'd like with your pet, either alone or with you and others. Your photographer and handler can work together to get the shots. If your pet will tolerate wedding clothes and-or a floral crown or collar, have your handler adjust them so they look great for photos.
Have treats available. This can be key to keeping your pet on its best behavior.
Add time for your photos. Pets can be worse than children when it comes to paying attention, and sometimes it can take awhile to get a good shot.
If you're planning on having your pet wear a special floral piece, give it a test run before you go all-in. On a recent Wedding Essentials floral shoot, a goldendoodle rejected a floral crown but took a floral wreath around its neck in stride. In most situations, a leash decorated with flowers is the path of least resistance!