Editor's note: This piece originally was published on Aug. 22, 2010, as part of David Harding's "Everyday History" column in The World-Herald.
You and I are used to it, but first-time visitors landing at Omaha's Eppley Airfield must get a tad dizzy as they drive into town. No sooner are they welcomed to Omaha then — whoa!— they're welcomed to Iowa. Before they can pull a confused U-turn, they're back in Omaha.
"What just happened?" they ask themselves.
Depending on your perspective, Carter Lake is either a feisty little Liechtenstein squeezed between Nebraska and Iowa or a gallstone in Omaha's gut. Either way, the town of 3,200 souls deserves respect for having survived its history of geographic and political whiplash.
The cavalry may have tamed the frontier, but it was the Army Corps of Engineers that calmed the Missouri River in the mid-1900s.
Before then it was known to wander the countryside. An 1877 flood caused a major meandering that shortened the river's course by four miles and left behind an oxbow lake, a horseshoe-shaped remnant of the river. All of a sudden, about two square miles of real estate moved from one side of the Missouri to the other. This is the ground that would later become the City of Carter Lake.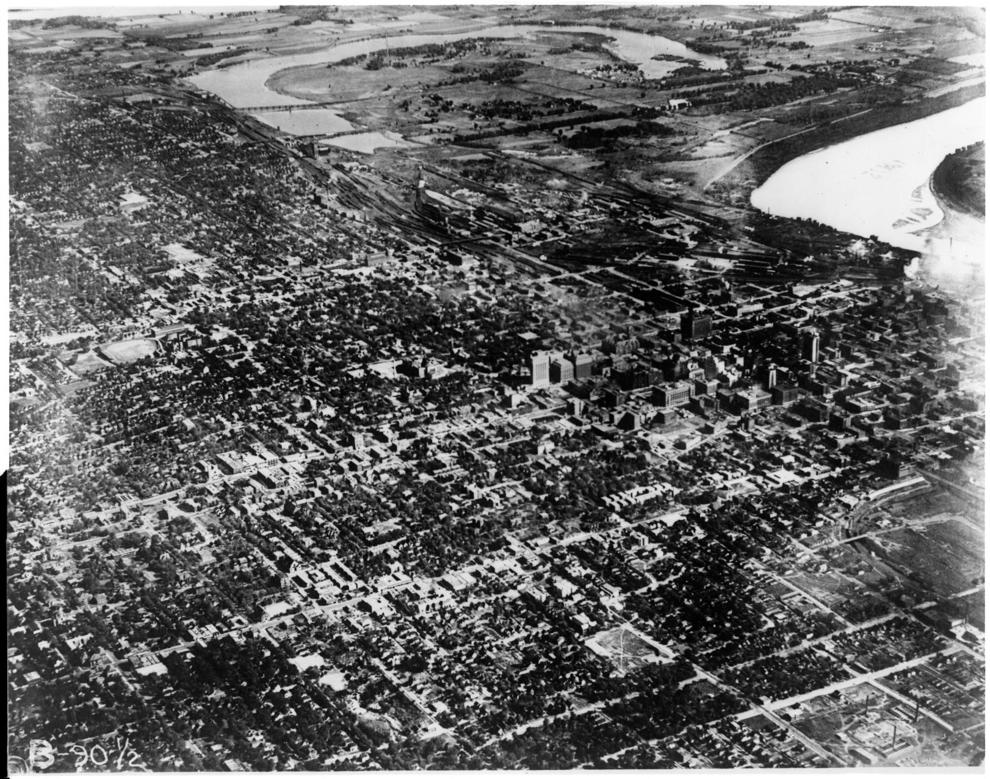 But it wouldn't come easy. When Nebraskans woke up to find the area on our side of the river, they naturally concluded it was now part of our state. Iowa cried foul and the resulting litigation meandered toward the U.S. Supreme Court.
In the meantime, the lakeside settlement grew and Cut Off Lake, as it was known, became a destination for boating, fishing, picnics and other leisure pursuits. The Courtland Beach resort and a large public pavilion added to the appeal. At night the scene shifted as rough-and-tumble saloons catered to a different cast of characters.
When the Supreme Court sided with Iowa in 1892, the decision did little to change the attitude of Omaha developers. Courtland Beach added a merry-go-round and the area's first roller coaster by 1895.
Several years of flooding near the turn of the century swamped the resort and sent residents rushing for higher ground. Cut Off Lake was briefly called Lake Nakoma, and after Levi Carter's wife donated money for a park along the shore, it was changed again to Carter Lake.
The area was considered part of Council Bluffs and was subject to city taxes, although few if any municipal services were provided. Residents rebelled in the 1920s, voting to secede from Council Bluffs and join Omaha. But Omaha wasn't thrilled about acquiring the area even if the courts would allow it, so Carter Lake incorporated as an Iowa city in 1930.
The town was to suffer more flooding in the years ahead, and its neither-here-nor-there status attracted gambling and other illegal entertainment centered around clubs like Chez Paree.
The only Iowa city west of the Missouri River has continued to be the source of border disputes between the two states. The Supreme Court waded into another Carter Lake case in 1978, and agencies in both states periodically float ideas for straightening the border through land swaps or other adjustments. But they never go anywhere.
I don't think they ever will, because Carter Lake is not really Nebraska and it's not really Iowa. It's a bit of a mystery that may defy solution.
But that's neither here nor there.
Correction: An earlier version of this story misspelled Liechtenstein.
Want more of this? Check out Omaha.com/history for more stories from our area's fascinating past.