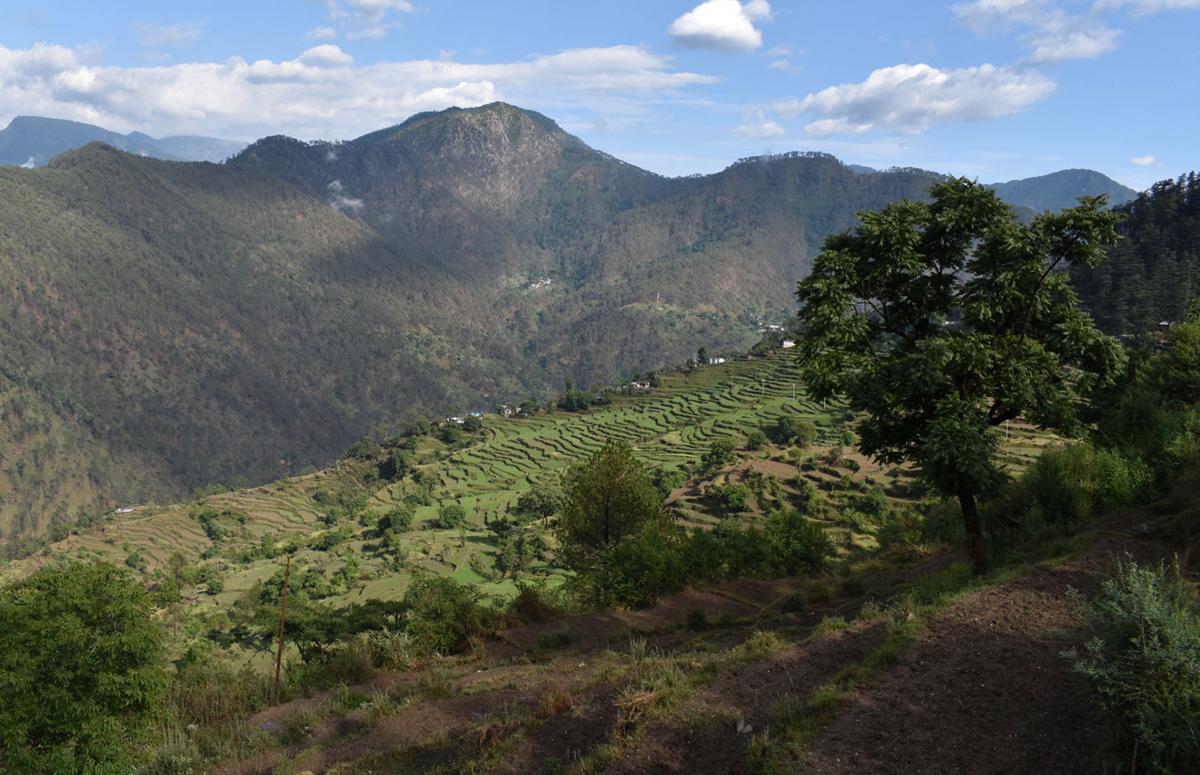 Sandra Ducey, a native Nebraskan, has made five yearlong trips to India, thanks to the work of her husband, David Haberman, a religious studies professor at Indiana University who specializes in Hinduism. She journals regularly during her visits. Following are excerpts from the summer of 2019, when she and David lived in a pilgrimage town.
Arrival
After a 24-hour flight, warnings about hazardous air in New Delhi, a wild drive from the plains up into the hills, we've arrived at our mountain home near Uttarkashi, a midsized pilgrimage town on the Bhāgīrathī River, the main tributary of the Ganges.
We're about six miles up the mountain, but taxis into town are cheap. The bazaar is bright, busy and well-stocked with dhal (rice and mustard oil) plus pasta, cleaning supplies, toilet paper — even olive oil, once hard to find outside the big cities. We buy vegetables at outdoor stalls or carts. Lychees are in season, as well as asparagus-like fiddlehead ferns. We try to restrain ourselves since we have to carry everything — groceries, a gas tank, our luggage — up 111 stone steps from the road to our temporary home.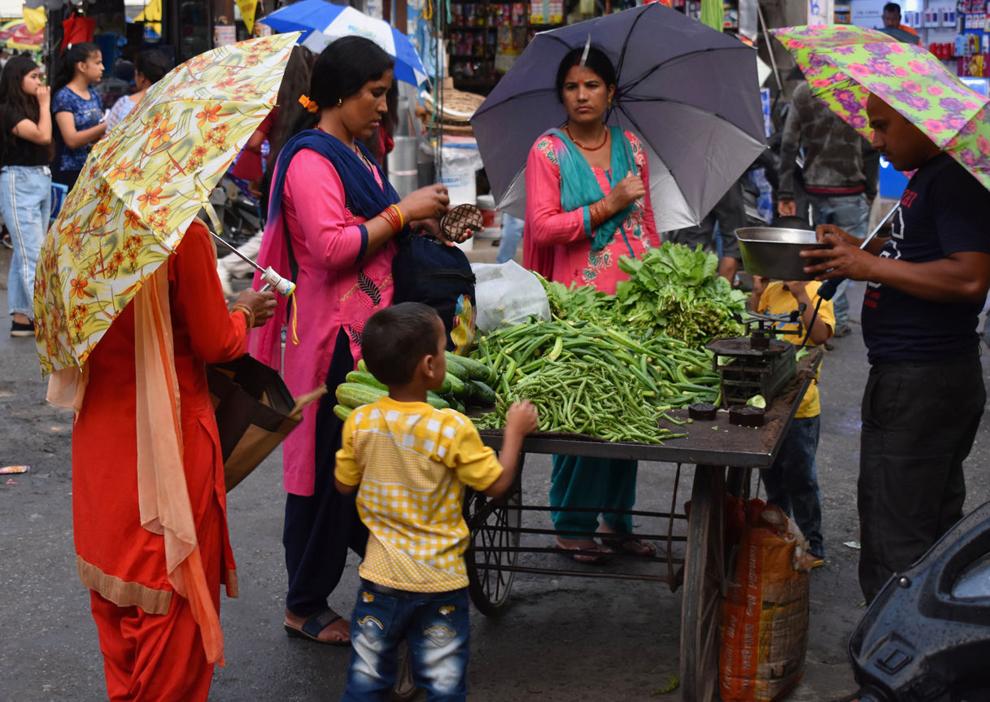 We're staying in a house owned by an American professor friend. It's the most modern place we've ever lived anywhere at just 10 years old. And for the first time in 30 years in India, we have a washing machine! A natural spring tumbles down from the hill above us, so there's plenty of water, solar-heated. The bugs stay away until dusk, so we keep the doors open. When it rains, puffs of cool clouds sneak around the furniture.
And then there's the view from the porch. Glorious vistas of terraced hillsides, golden with wheat ready to be harvested by hand. Valleys carved from rivers feeding the great Ganges roll in pine-dark folds to distant snow-covered peaks glinting in the sunlight. This area is known as Dev Bhoomi, land of the gods. But the beauty of the landscape could also be called divine.
Our neighbors' two dogs often visit, and accompany us on walks. They are free to roam at will, but Hari and Puppy stay close, alert for the panthers that roam these hills, and hopeful that the langur monkeys that romp in the treetops will come down to the ground.
Kedarnath
We spent 10 days traveling on mountain roads notorious for landslides, blind curves, traffic jams and steep drop-offs to visit the last two sites on our pilgrimage to the Char Dham, the "four abodes," ancient temples nestled beneath the snow-capped peaks of the Himalayas.
Was I scared? You bet. The sobering sight of vehicles crumpled on the rocks below us, too many near-misses on a narrow road, and the long wait at a rickety bridge while bus passengers disembarked and walked across so the bus wouldn't be too heavy. Such is pilgrimage through Dev Bhoomi.
We drove to Badrinath on a breathtaking, above-the-clouds road with spectacular cliffs. Our only "Eeek!" moment was when a clambering goat sent boulders crashing around us.
But getting to Kedarnath, a Shiva temple on a plateau about 10 miles up the Mandakini River valley, involved hours of driving, walking and riding ponies. This site was the main focus of David's research on the effects of climate change on pilgrimage. There was a catastrophic landslide there in 2013 that wiped out the local bazaar and surrounding buildings and structures, but miraculously, not the temple.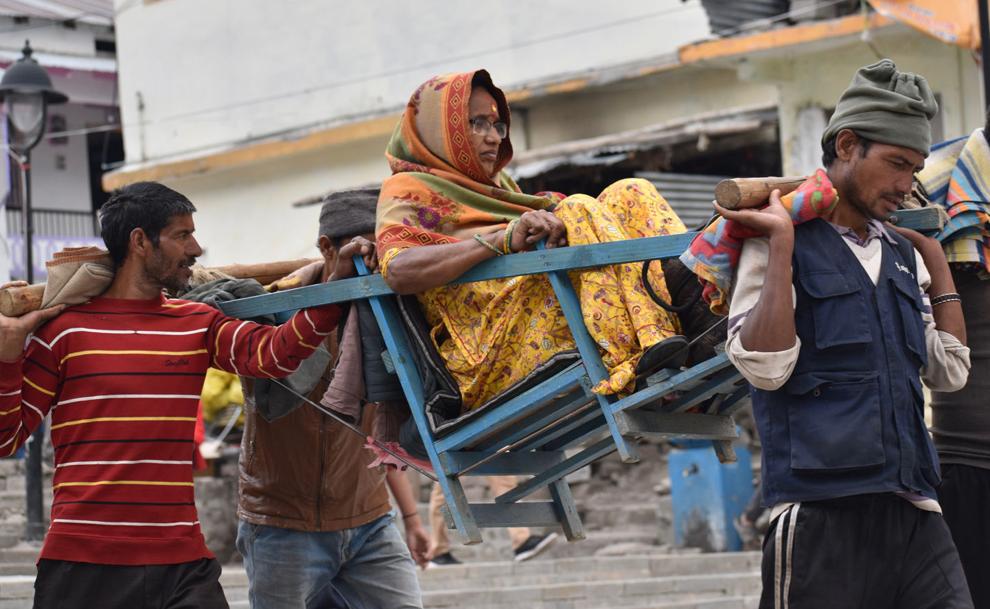 The trek was a humbling experience. We struggled, even though we were the privileged with sleeping bags, good shoes, down jackets and backpacks rather than satchels perched on our heads. We hired ponies, along with their handlers, hard-working "paharis" (mountain dwellers) who often traverse the mountain twice a day, trying to make as much money as possible during the pilgrimage season. Some of the pilgrims used dhoolies — wooden seats on long poles carried by four men walking in measured steps — while others went up in basket seats strapped to the backs of men bent double by the weight, astounding and disturbing.
For us, mounted, it was steady pony-nose-to-pony-tail traffic, harness bells jingling to alert the walkers ahead of us, most in flip-flops or even barefoot. Thousands of pilgrims from all walks of life streamed up and down the cobbled trail. Our trek to Kedarnath lasted almost seven hours and took us from 6,000 feet to 12,000 feet of elevation, through dozens of steep switchbacks, heat, wind and glacier fields.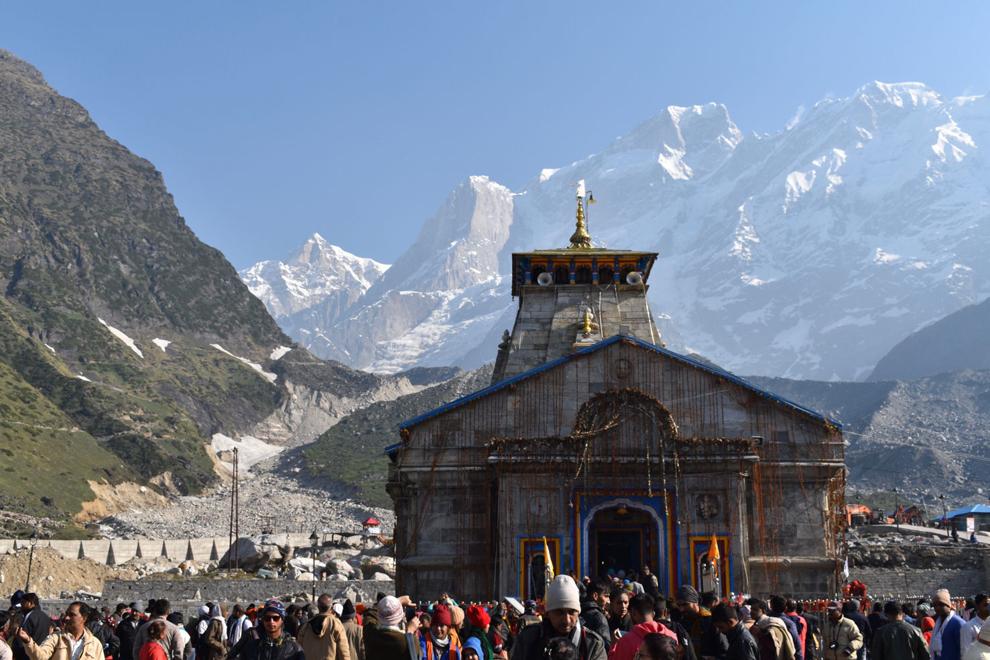 We stayed two nights at Kedarnath, watching as the weather shifted from sun to rain to snow and back again, often in just a few hours. We mingled among the pilgrims, most of whom stood in line for eight hours or more (after walking uphill all day) to file into the temple for a 10-second viewing of the deity.
We also witnessed a modern-day pilgrimage: helicopters. A seven-minute flight up to Kedarnath, a VIP line into the temple, then seven minutes back down. Given our chafed skin and aching muscles from the trek up, we considered flying down the mountain. But in the end, we went down as we'd gone up. And we had been blessed by our participation in a sacred journey.
Ukhimath
We're taking a break from our travels in Ukhimath, a town hanging on a mountainside in the hills that lead to Kedarnath. It's small and colorful, with ancient temples, interesting shops and lots of narrow, curvy lanes leading up and down that are fun to explore, even though the up part takes my breath away. This Midwestern girl is not used to these elevations!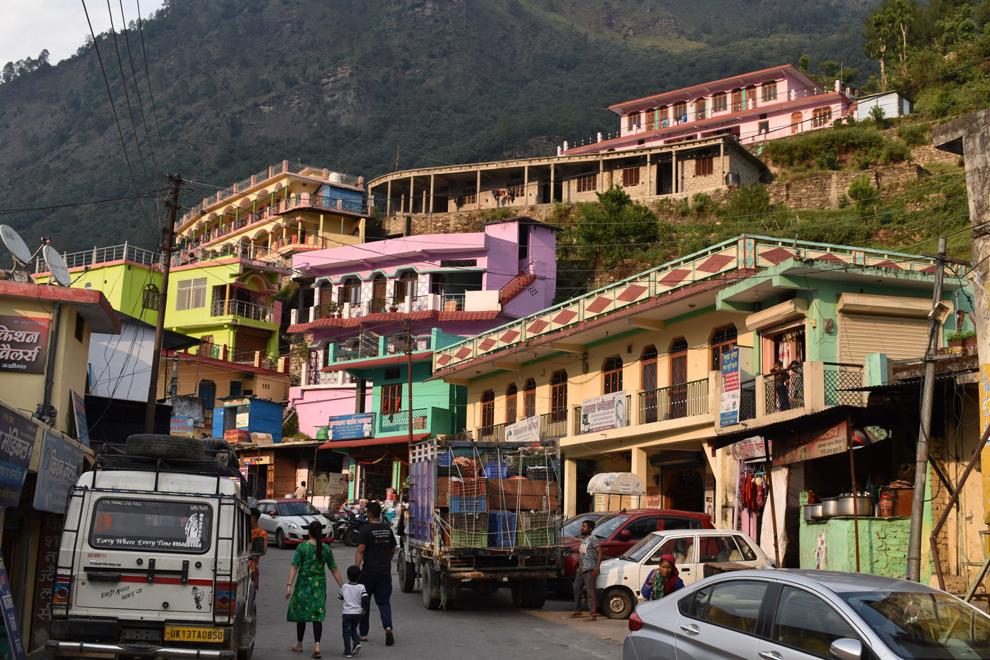 We've been eating every meal at the same cafe; there aren't too many options, and the food is good. The cook had a café in Kedarnath before it was washed away in the 2013 flood. When we'd asked what he'd done when the floodwaters came, he laconically said "run," and pointed up.
He turned to go to his stove, then looked back at us. "Depression," he said quietly. He waved his hand in a circle that encompassed the town. "All people, depression."
More on the "apda," what the locals call the Kedarnath disaster:
It happened in the middle of pilgrimage season, after snow melts in May and before monsoon rains begin in July, when tens of thousands of pilgrims and seasonal workers are on the mountain. Instead of the usual snow, which stays in place, warm torrential rain pounded the mountains for three days. Finally a mud, silt and rock dam on the slope behind the temple burst, letting loose a cascade of icy water.
The raging torrent wiped out the structures around the temple, where thousands were huddled for shelter. Bridges, paths, forests were destroyed; thousands of goats and ponies killed; tents and food stalls washed away; an entire village scoured from the mountainside. The Kedarnath temple was spared when an unusually large boulder tumbled to a stop about 20 feet behind the stone temple, splitting the current and saving the temple from the blunt force of the flood.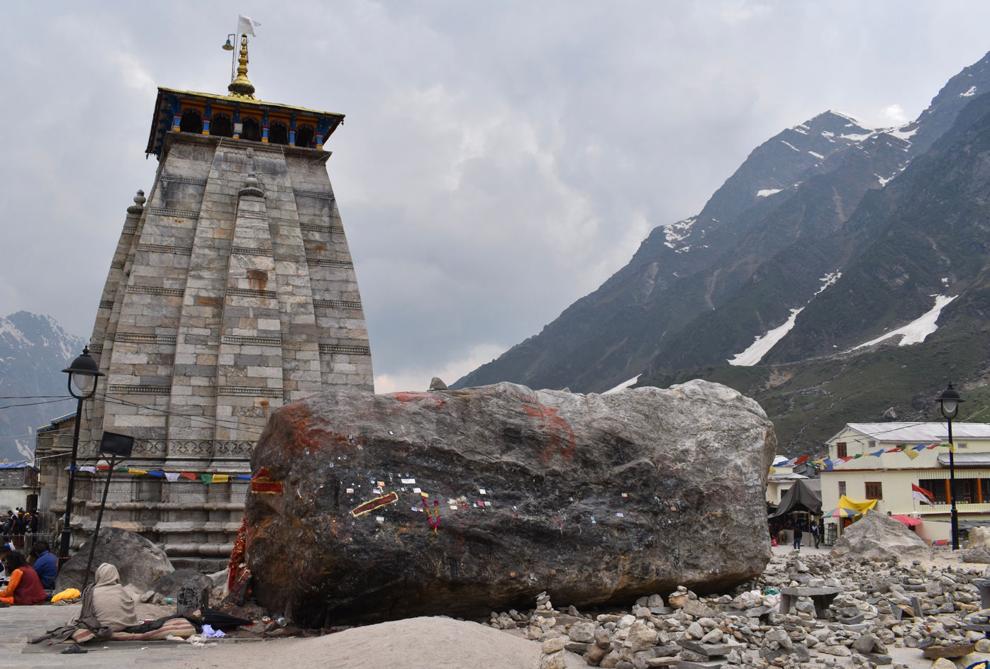 Official reports say 7,000 people died; but locals, many who lost multiple family members, say the tally is closer to 30,000.
Although climate change is almost universally agreed to be the cause of the freak storm, many pilgrims attribute the disaster to the anger of the gods, disturbed by the desecration of the sacred sites by development and disrespectful behavior.
Time to go
I'm sitting in the doorway of our house in the mountains while the rain pours down and the clouds creep in. Monsoon season is here, and it's time for us to leave.
I've loved being here. The fabulous views are always changing; glance away and everything is altered. I like living in and above the clouds. As we walk up and down the terraced fields with the dogs, I wonder about those who sculpted the mountainside: Why a village here?
What's it like to milk cows and tend fields and raise kids where you are scrambling about on narrow paths? Who struggled to haul all those stones up to that lonely ridge to build a home? It couldn't have been easy, especially when everything was hauled up here on the backs of men and mules. Even today, challenges lurk here: floods and landslides and, a few days ago, an earthquake. It measured only 3.1 in magnitude, but we were at the epicenter and the windows as well as our equanimity were rattled.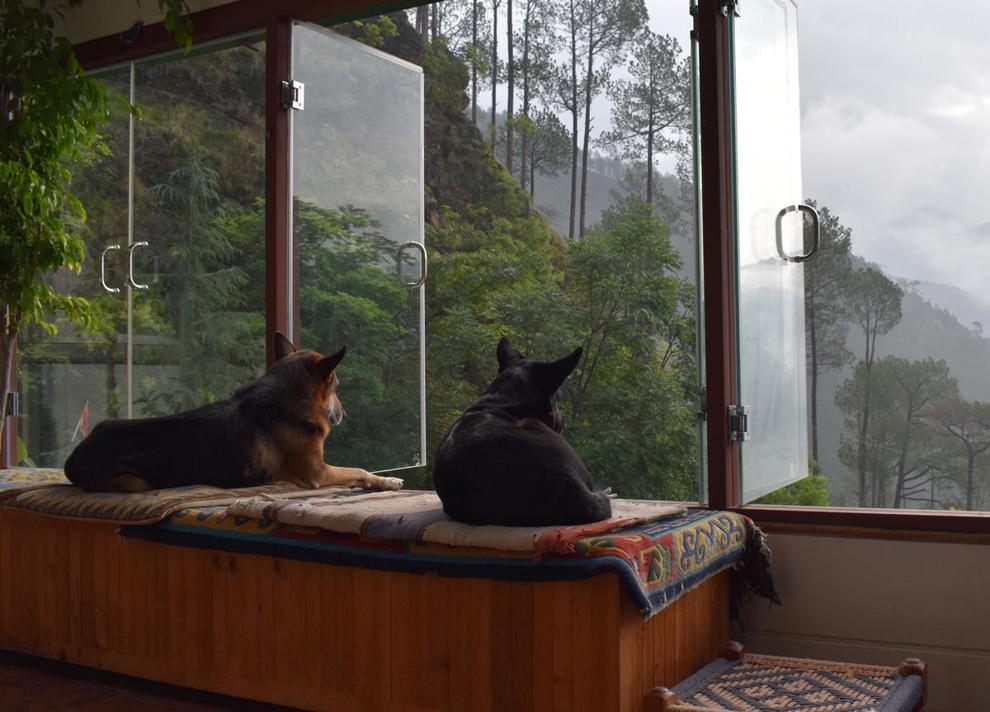 Here I've learned to cook exotic vegetables, met fascinating people, participated in rituals hundreds — maybe thousands — of years old, filled up half a journal and taken hundreds of photos. I've bathed in the stream that bubbles to the surface a few terraces up from the house.
Can you see why I am so sad to leave? I can only do so believing I will return.