Look up and to the south when approaching 84th Street and West Dodge Road, and you'll see it: the latest sign of big growth at Children's Hospital & Medical Center.
That newly opened "skybridge" spans 220 feet across 84th Street — linking the pediatric hospital and clinics based at 8200 Dodge to a recently acquired office campus to the west that once housed HDR's corporate headquarters.
By using the enclosed passageway built 38 feet above street level, Children's doctors settling into the former architectural and engineering digs will have a quick walk to see hospital patients.
They and hundreds of other employees crossing between buildings on either side of 84th won't have to brave the elements. They won't have to dodge traffic.
They're part of a better-connected medical campus that has tripled its footprint over the past few years around the busy 84th and West Dodge intersection.
"We have realized a truly integrated main campus, with nearly all administrative and support functions nearby and connected to the hospital proper," said Rodrigo López, Children's interim president and CEO.
He called the $8 million pedestrian overpass, which opened Friday and includes an elevator and external staircase, and recent property acquisitions "essential" to growing the full-service pediatric health care center that serves mainly Nebraska and five surrounding states but also sick kids from across and outside the country.
Children's staff since then have been filling up the office spaces in what Children's refers to as its Indian Hills campus. López said the buildings were in good shape and in need of little renovation. HDR even left nice furniture, he said.
Relocation of administrative services from the main hospital facility to the Indian Hills campus across the street frees up space for more services that directly touch patients. That becomes key also as the lease expires in 2021 on two newborn floors Children's currently uses at neighboring Methodist Hospital.
"The demand for high-quality pediatric specialty care is on the rise," López said. "Children's is growing to continue to meet the health needs of children and families today and for generations to come."
In addition to the glassy pair of former HDR office buildings along Indian Hills Drive, Children's acquired the neighboring Durham Plaza at 8401 West Dodge for a total of $33.5 million. The trio of structures on the seven-acre area contains about 225,000 square feet of office space and 700 parking spaces, some indoor.
The fate of the 8511 facility on the south side of the busy Dodge corridor remains uncertain. But López said the ground is key in helping to meet future needs. Currently, the property is being used for construction storage as crews work on the nine-story Hubbard Center for Children that's scheduled to open in 2021 on the northern side of the hospital.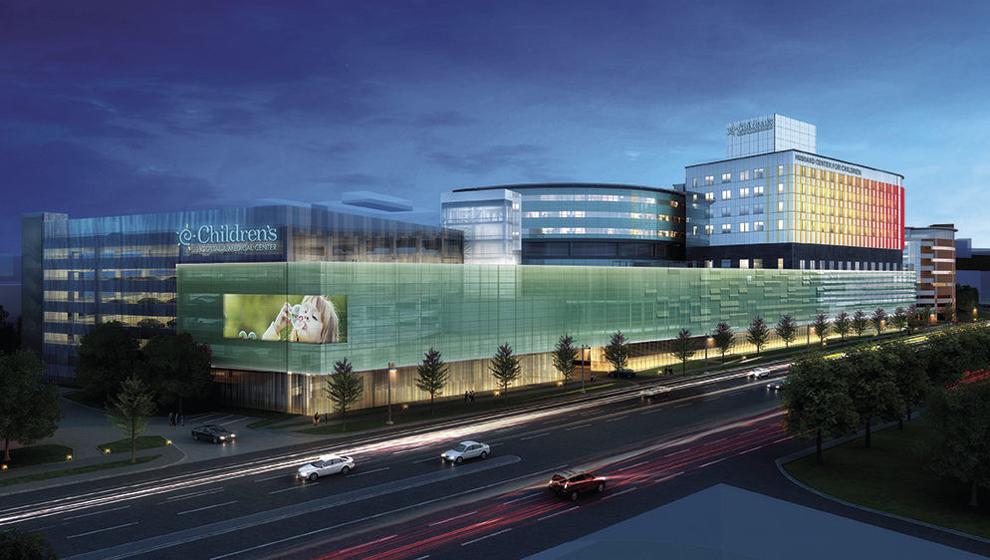 Children's also has administrative offices north of West Dodge, at 85th and Cass Streets. Those two "sibling" structures span about 60,000 square feet. One was built new and opened in late 2016; the other was bought and renovated a couple of years earlier.
There's more growth coming. Among other changes:
Children's has secured about 12 acres of land much farther west, near 180th and Burke Streets. Lopez said hospital officials could decide later this year what will happen on the $8.7 million tract, which is in a growing commercial area west of Village Pointe shopping center. For now, he said, they wanted to reserve space to help meet demand in that western area of the city.
A stand-alone 8,000-square-foot Children's Physicians building at 50th and F Streets is to open in January, expanding clinical services in south Omaha. (There are 15 clinic sites from Council Bluffs to Kearney.)
Children's this year settled into expanded clinical space in the Dundee neighborhood with 4,500 square feet in the Dundee Flats apartment building at 49th and Dodge Streets that adds to a clinic next door.
As part of the Hubbard Center addition, a 762-stall parking garage is to open in December on the easternmost part of the hospital campus. It is rising on what used to be a surface parking lot.
Neighboring pockets around the Children's main campus have seen their own bursts of development.
To the west, at 8601 West Dodge, NAI NP Dodge Commercial Real Estate is renovating a former 69,000-square-foot office strip for a mix of uses, including retail service businesses, boutiques and restaurants.
A leasing sign says the five-acre property (including parking lots where once stood the Indian Hills movie theater) would be available in 2020.
Pinnacle Bank is the main tenant of a 16,600-square-foot, two-story building that opened this year at the northeast corner of 84th Street and West Dodge Road.
Exchange Bank entered the Omaha market as anchor of a 30,000-square-foot structure at 8008 West Dodge Road.
Sign up for the Live Well Nebraska newsletter
Get the latest health headlines and inspiring stories straight to your inbox.