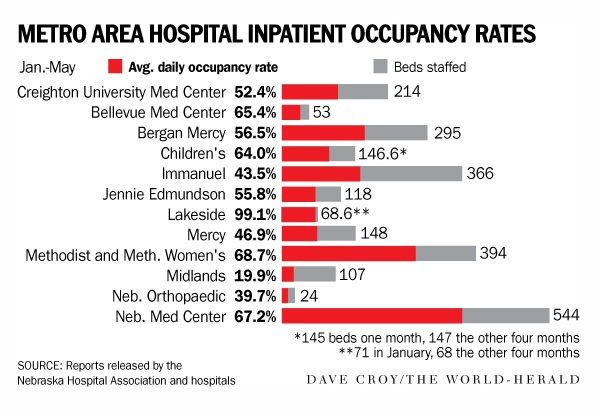 Prepare for changes at Alegent Creighton Health hospitals because doing business as usual isn't an option, Alegent Creighton's chief executive officer says.
Richard Hachten told The World-Herald that there are too many hospital beds in Omaha at a time when Medicare has begun to devalue inpatient services and to penalize hospitals with high readmission rates.
He said a plan put together over the next several months will lead to a transformation of his hospital system.
Hachten and the Rev. Timothy Lannon, Creighton University's president, stressed that no decisions on consolidation of services, hospital closures or anything else have been made. They suggested, though, that one or more hospitals' emphasis may change from inpatient to mostly outpatient services.
Alegent Creighton, which employs 10,400 people, already has conducted a study of facilities, services, staffing, hospital occupancy rates and other elements that will factor into the decisions.
A new board overseeing the newly combined Alegent Creighton and Catholic Health Initiatives hospitals statewide will make the call on what changes are made and also select the retiring Hachten's replacement.
New COMBINED Board of Directors*
Larry E. Butler; attorney (Kearney)
Former director, CHI Nebraska Board
The Rev. James F. Clifton; Associate vice president of health sciences mission and identity, Creighton University (Omaha)
Former director, Alegent Creighton Health Board
Michael T. DeFreece — Board secretary/treasurer
Treasurer, H-Card, LLC (Omaha)
Former member, Alegent Creighton Health Board of Directors
Paul W. Edgett III; Senior vice president, National Business Lines, Catholic Health Initiatives (Erlanger, Ky.)
Former director, Alegent Creighton Health
Richard A. Hachten II — Ex-officio member
President and chief executive officer, Alegent Creighton Health
Senior vice president, divisional operations, Catholic Health Initiatives (Omaha); former director, Alegent Creighton Health Board
Dr. Gregory W. Heidrick — New member|
Obstetrics and Gynecology (Lincoln)
Richard L. Herink — Board chairman
Banker (Lincoln); former director, CHI Nebraska Board
Robert J. Lanik — Ex-officio member
Chief executive officer, CHI Nebraska; Senior vice president, divisional operations, Catholic Health Initiatives (Lincoln)
Former director, CHI Nebraska Board of Directors
Dr. Martin M. Mancuso; Internal medicine, Alegent Creighton Clinic (Omaha); former director, Alegent Creighton Health Board
Michael T. Rowan — Ex-officio, new member
Executive vice president, chief operating officer, Catholic Health Initiatives (Englewood, Colo.)
Barry G. Sandstrom — New member
H. Keith Schmode; Senior vice president of mission advancement
Former director, Alegent Creighton Health Board
Richard J. Vierk — Board vice chairman
Business succession planning, Vierk & Associates, LLC (Lincoln)
Former director, Alegent Creighton Health Board
*Additional members to be appointed in coming months.
"I think the board was very clear about saying, 'Take nothing off the table.' Everything can be addressed by this process," Lannon said.
The call to action comes about a year after Alegent Health acquired Creighton University Medical Center.
Alegent Creighton held a kickoff meeting for the doctors' planning group Wednesday night at Alegent headquarters at 12809 West Dodge Road. Decisions could come as early as November but may take longer.
Hachten and Lannon said in a joint interview that the merger of Creighton's medical program and Alegent Health has gone well over the past year.
Lannon said merging with Alegent was a good decision. "This partnership has been extraordinary," he said.
The two leaders said the resulting Alegent Creighton system needs to make the most of this moment.
"We have the enormous opportunity right now to create something very exciting," Hachten said. Now is the time to consider "what would be the absolute best we could create in the community."
Hachten said much of the planning initiative stems from the fact that the metro area has too many hospital beds going unused. "We're not going to be able to afford all this excess capacity in the future," Hachten said.
Data provided by the Nebraska Hospital Association for the first five months of 2013 indicate that many metro-area hospitals are using only about two-thirds of their beds and, in some cases, much less. Alegent Creighton oversees six hospitals in the metro area. Its Midlands Hospital in Papillion used only one-fifth of its space, while Lakeside Hospital was full, the data indicate. Creighton University Medical Center used about half its space.
Hachten said the American medical system is moving toward outpatient services as opposed to inpatient care. The Affordable Care Act, also known as Obamacare, calls for reductions in Medicare payments to hospitals because of anticipated improved productivity. Obamacare also calls for fining hospitals with high readmission rates. And sequestration early this year trimmed Medicare payments to hospitals by 2 percent.
Creighton University Medical Center has "whole inpatient units from the past that aren't even open," Hachten said. Nevertheless, he said, the Creighton hospital is performing stronger financially and having better patient outcomes than when under Tenet Healthcare, the previous owner. He said Alegent has invested $5 million in the hospital to upgrade equipment and facilities.
The trauma center at Creighton, which serves on alternating days with the Nebraska Medical Center as the main centers to handle shootings and serious accidents, needs to be expanded, Hachten said, as does an intensive care area that supports trauma. Hachten said Alegent Creighton and the Nebraska Medical Center are "fully committed" to maintaining two trauma centers and have a contractual commitment between them.
Hachten said Alegent Creighton has hospitals nicely placed around the metro area. "We may reconfigure services at one or more locations," he said, "but we'll be there."
Alegent has consolidated programs before. Five years ago, it closed the heart surgery program at Immanuel Medical Center and added staff to the same program at Bergan Mercy Medical Center. With the addition of Creighton, Alegent once again has two heart surgery programs.
Alegent Creighton also announced this year that it would close Midlands' inpatient obstetrics unit sometime this fall.
Immanuel has benefited from specialty programs in physical rehabilitation and mental health services, Hachten said. It also enjoys a successful partnership with the Nebraska Spine Center, which performs surgeries and provides other spine care at Immanuel.
Planning for future major changes will go through an advisory group of more than 70 physicians, faculty members, administrators and others. Community members also will be asked to offer ideas.
Then proposals will go to the new board that this summer replaced the Alegent Creighton board. The Catholic Health Initiative Nebraska board also ceased to exist this year.
The new board, currently made up primarily of former Alegent Creighton board members and former CHI Nebraska board members, ultimately will decide whether programs are terminated, merged or strengthened.
Hachten expects to retire around the end of the year. Robert Lanik, the CEO of Catholic Health Initiatives Nebraska, will leave next year. A single CEO eventually will oversee the combined Alegent Creighton Health and CHI Nebraska systems, said Mike Romano of CHI in Englewood, Colo.
Romano said through an email that marketing research will be done and "a new name will be chosen for the combined health system and introduced by early 2014." The existing names might be incorporated, or a new name altogether might be selected.
Lannon and Hachten said they were pleased with how well Creighton University Medical Center blended with Alegent. Hachten said he knows of no layoffs that occurred, and Lannon said only four or five of Creighton's 120 physicians declined to transition to Alegent.
Dr. Donald Frey, vice president for health sciences at Creighton, said medical students and Creighton-supervised medical residents have gained additional hospitals at which to train. They primarily used Creighton University Medical Center, but also have used Bergan, Immanuel and the VA Medical Center to some degree.
Alegent Creighton and CHI together provide an even bigger network for students and residents, Frey said.