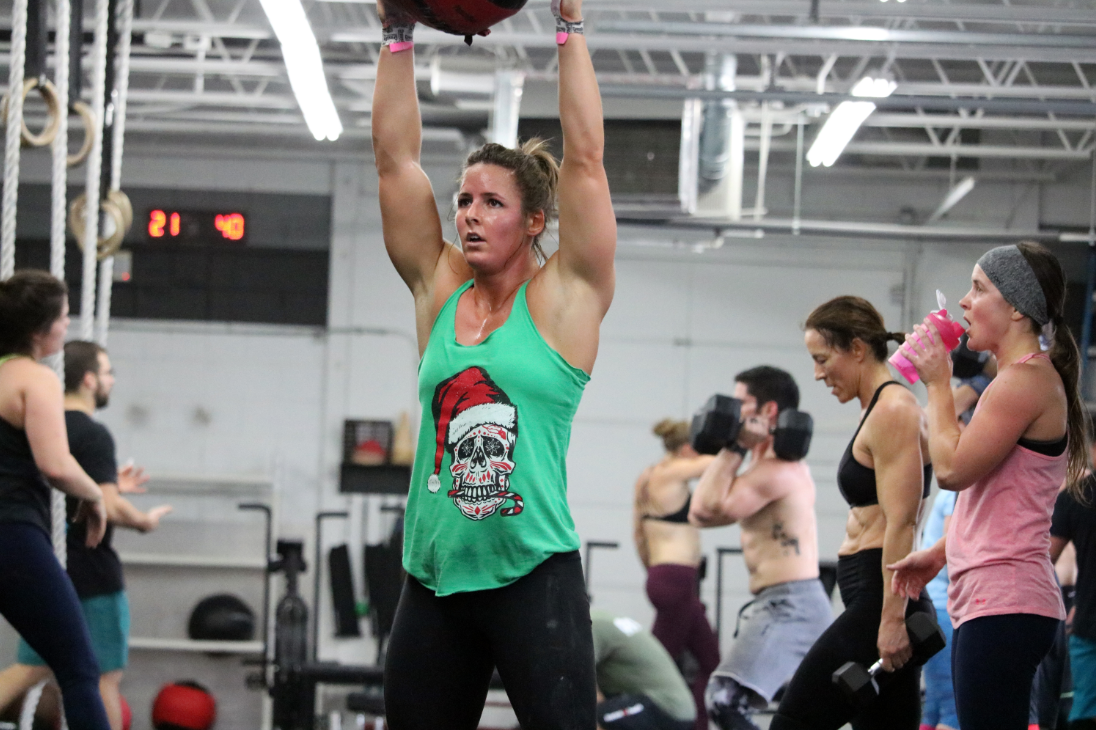 Well, it's that time of year again. Winter is upon us. If you live in a cold-weather state like me, well, you know the story. We don't spend a lot of time outside in January and February, thanks to blizzards and snow days.
Truly being stuck in your house is not what I would consider ideal. On those days we can't even make it to the gym — what a tragedy!
But in all seriousness, a little living room camp-out never hurt anybody. Plus, I don't really have to let my fitness suffer because of it. This fitness coach has a few tricks up her sleeve. They're called at-home workouts and anybody can do them.
Whether you're stuck in your grandma's basement over the holidays, snowed in for a few days or without equipment on your sunny vacation, here are a few at-home workouts you can do, put together by me and CrossFit Omaha coaches Addi Kahrs and Brad Clark.
Here is my go-to at-home workout. As a matter of fact, the hubs and I just did this one in my parent's basement over the holidays. It does require a light set of dumbbells but nothing more. Just set a timer for 15 minutes and get to work. Scale the push-ups as needed. Scale the one-legged squats to 16 regular air squats, if needed.
Complete as many rounds as possible of the following circuit in 15 minutes:
8 one-arm dumbbell shoulder press (each arm)
8 one-leg squats (each leg)
I recently did this workout at home on my day off. It's perfect for those cold-weather, fireplace days when you're stuck inside. No equipment required; just set your timer for 16 minutes and go.
On the odd minutes, complete 20 air squats. On the even minutes, complete 15 dips. If you finish before the minute is up, you can rest. Dips can be done on the edge of a chair or bench, even your fireplace with feet extended out in front of you.
Complete the following, alternating movements on the minute, for 16 minutes:
Minute one (odd minutes): 20 Air Squats
Minute two (even minutes): 15 Seated Dips
I do this workout whenever I am traveling on vacation and don't have access to a gym space or equipment. I can do it anywhere: on the beach, in the parking lot or in my hotel hallway.
Complete the following, for time:
Start with 20 burpees. Walk 20 feet afterwards. Then move on to 18 burpees. Walk 20 feet and then do 16 burpees, and so on until you finish the last set of 2 burpees.
To do a burpee, begin in a standing position. Then move into a squat and place your hands on the ground, in front of your feet. Kick your legs out behind you — now you will be in a plank position. Move your feet forward again, returning to a crouched position and jump into the air, extending your hands above your head. 
There you have it! Nothing complicated. Just some easy-to-do movements. Like I always say, it doesn't take much to get yourself active. Just a little bit of your time, which you have clearly have plenty of when you are snowed in or on vacation for the next few days.
Stay warm my friends, and don't let the cold weather keep you from sweating. If you're lucky enough to be on a beach somewhere, have a cold-one for me.