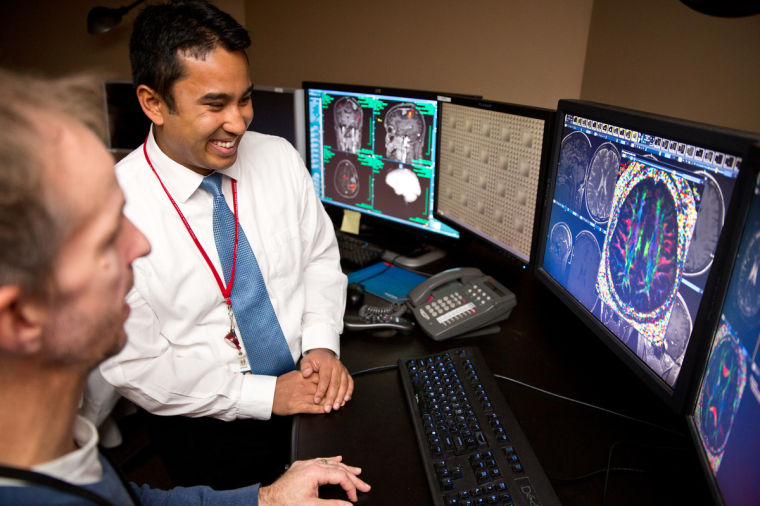 Medical schools have responded to a looming national physician shortage by increasing enrollments, but slots in required postgraduate training programs haven't kept pace.
The Affordable Care Act provides some money for residency positions but also will increase demand for doctors from the newly insured. Competition to obtain residency positions will intensify, some med-school grads will be left out and the physician shortage will not be adequately addressed, say experts monitoring the situation.
The doctor shortage already is here and worsening as Americans age, and the fight for residency slots may serve as a disincentive for some who had planned to enter medical school.
For patients, this could mean longer waits or more travel for appointments. Or it could mean getting care in a different way. Nurse practitioners and physician assistants are providing more care, and some practices are pursuing medical practice models that make doctors part of a more efficient team.
While undergraduates used to worry about getting into med school, now medical students fret over getting into the three-, four- or five-year training programs required after graduating from med school.
Jeremy Hosein, a fourth-year medical student at the University of Nebraska Medical Center, said he has applied to 51 residency programs at a cost of more than $800. Hosein, 31, has face-to-face interviews lined up with administrators of seven programs across the country. He wants to train in neurosurgery and will compete for a residency slot that will develop his skills in that specialty.
"I took out another (student) loan for that," he said of the residency hunt. He estimated his student-loan debt at a total of $240,000 for med school and undergraduate school at the pricey, private New York University.
"It's kind of soul-crushing," he said of the debt.
Hosein, of Papillion, said medical students once fully expected to find a residency slot. Increasingly, they must compete for those slots, sometimes accepting a Plan B or Plan C specialty and, in still rare instances, not finding a residency at all.
National medical organizations about 10 years ago envisioned a huge physician shortage, not only in primary care but in specialties, too. The Association of American Medical Colleges three years ago said the physician shortage would reach about 91,500 in 2020 and 130,600 five years later.
Urged by groups such as the AAMC, medical schools increased enrollments. UNMC increased its class size from 120 to 130 in 2008. Creighton University increased its med-school class size three years ago from 126 to 152 through a partnership with a Phoenix hospital.
New medical schools and colleges of osteopathic medicine also opened. In the last three years alone, eight new medical schools and six new osteopathic colleges opened, pumping hundreds of more students into the pipeline.
Nationwide, there were 20,055 first-year med-school students this year, up 21 percent from 16,541 in 2003. First-year osteopathic school students went up 95 percent during that period, from 3,308 to 6,449.
But residency slots haven't kept up with the increase in medical students. The federal Balanced Budget Act of 1997 required teaching hospitals to freeze their number of Medicare-funded residency slots, a freeze that hasn't been lifted. Medicare is the primary funder of residency programs, doling out about $9.5 billion a year to residents and teaching hospitals, said Christiane Mitchell, director of federal affairs for the Association of American Medical Colleges.
Some residencies are funded by other sources, such as hospital revenues, med-school department money and states. Total residency slots increased by about 16 percent from 2001 to 2011, the AAMC reported, while med school and osteopathic college enrollments went up 28 percent from 2002 to 2012.
Decades ago, physicians started their own practices immediately after med school. But residency training acknowledged the increasing complexity of medical knowledge, procedures, devices and drugs.
Nebraska law requires at least one year of residency training and Iowa law at least two. But most hospitals award privileges only after a doctor has completed a full residency program of three years or more and received certification in his or her specialty.
Medicare began funding residencies in the mid-1960s.
The AAMC said that when U.S. students in foreign medical schools and international med students seeking American residency slots are added to the pool, there already are more graduates than slots. That will only worsen as both existing and new colleges crank out more medical graduates. While most American med-school graduates find a residency program, 528 didn't match up with one this year and about 75 graduates of osteopathic colleges didn't match.
The National Resident Matching Program, which oversees the national matching process, nevertheless called 2013 a good year, with more positions offered, a typical match rate for med-school grads and a comparatively high match rate for osteopathic graduates.
Dr. Joann Porter, Creighton's associate dean for graduate medical education, said that while "the crisis hasn't hit yet," it will three years from now, when new and expanded med schools produce a bulge of graduates.
The AAMC maintains the crisis has begun and will worsen. American graduates will exceed slots by 1,000 in 2016, the AAMC says.
Tim Rush
Dr. Tim Rush, a 2013 UNMC med school graduate, already has experienced the nightmare of not matching up with a residency program he desired. The son of an Omaha pediatrician, Rush sought placement in an excellent program for a specialty that he declined to name.
Rush, 34, said he had no Plan B when he was informed last spring that he hadn't been selected by any of his preferred programs. There were some other students in the same situation, trying to cobble together a future with the help of an administrator. Some wept, he said, and others had a "hopeless look in their eyes."
Rush ultimately managed to hook on as a "preliminary internal medicine intern" at the University of Utah, and this will count as the first year of a residency.
Barriers to practicing medicine, such as huge student loan debt and difficulty getting into residency programs, may ultimately make medicine unattractive to a lot of talented people considering the field, he said.
And that's a bad situation for a nation that needs doctors, he said. There were 816,433 active physicians in the U.S. last year, but more than one-fourth of them were at least 60 years of age.
In Washington, D.C., the AAMC is lobbying Congress to loosen the freeze on Medicare-funded residency slots. Bills in both the House and Senate would do so, said the AAMC's Mitchell, but there also have been rumblings from the White House about trimming some residency funding from Medicare.
This is a time to increase residency slots, Mitchell said. The "silver tsunami" is here, she said, referring to the graying hair of baby boomers. As they age, boomers will have increasingly complex medical problems, she said, that require primary care and specialist skills.
Most physicians and medical organizations say the physician shortage is already here. In Nebraska and Iowa, there is evidence of that:
» Only two of Nebraska's 38 westernmost counties have pediatricians.
» In Iowa, demand for family medicine doctors at hospitals, clinics, student health centers and other places was the highest in 2012 in at least 10 years.
» In 71 of Nebraska's 93 counties, there are no psychiatrists or psychiatric nurse practitioners or physician assistants who also can prescribe medications for mental health needs.
» The average wait time for a pediatric rheumatologist in Omaha is three months for patients with non-acute needs.
The Affordable Care Act will provide for some additional residency slots, the federal Health Resources and Services Administration said, citing the Primary Care Residency Expansion Program's plan to boost residency slots in primary care in an effort to add 500 such physicians.
Many physicians, however, say they doubt the federal government or teaching hospitals can be tapped for more residencies. Dr. Chris Cooper, associate dean for medical students at the University of Iowa, is among them.