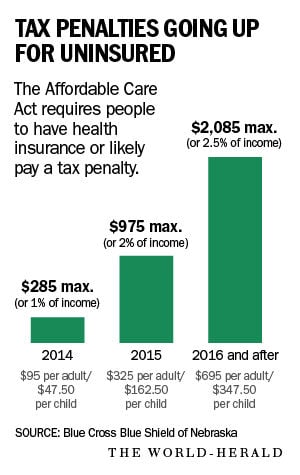 It's open enrollment season for health insurance. Your task is to understand your situation and what you need to do.
Open enrollment means you can sign up for a health insurance plan and can't be turned down.
Some people can continue their same coverage without taking any action, although their monthly premiums may increase. Experts advise everyone to review their insurance plans to make sure they are correct and meet their health care needs and budgets.
For others, this is the chance to change insurance companies or switch insurance plans.
Still others will sign up for health insurance for the first time to avoid a hefty penalty.
Open enrollment for 2015 insurance under the federal Affordable Care Act starts Saturday and ends Feb. 15. Coverage starts Jan. 1 if you enroll by Dec. 15; Feb. 1 if you enroll by Jan. 15; and March 1 if you enroll by Feb. 15. After that, signing up is limited.
Other dates may apply to people eligible for Medicare and for employer group plans.
Experts advise that it doesn't hurt and may help to talk with an insurance agent or other trusted adviser to make sure you're on the right track and don't miss out on savings. They recommend you do some research before making choices to save yourself from financial surprises later. And review all options, since your existing plan can change its benefits as well as its monthly premiums.
Most people can find themselves in one of these situations:
Your employer provides group insurance
Open enrollment dates vary but usually happen this fall for 2015 coverage.
Follow your employer's guidelines for renewal. (This takes place outside the federal-affiliated marketplace.)
In many cases, coverage will continue if you do nothing, although monthly premiums may increase and benefits may change. If your employer switches insurance companies, you'll have to fill out forms and choose a health plan.
Some steps are required even if you don't plan to change. For example, you have to sign up each year to contribute to a health savings account or a flexible spending account.
You can buy your own insurance on the Affordable Care Act marketplace at HealthCare.gov, but you're not eligible for subsidies if your employer offers affordable health care — costing you less than 9.5 percent of your income. For most people, group insurance through an employer is cheaper.
You kept your policy, as Obama promised
If you extended your 2013 individual insurance outside the federally affiliated exchange into 2014, in most cases you can do that again for 2015.
Most insurers offering the policies in Nebraska and Iowa allow the extensions, since the federal government said it was OK. The extensions are in line with President Barack Obama's promise that if you liked your health insurance, you could keep it.
Your premiums may be higher for 2015 because the numbers of people covered by such policies are declining, but coverages would the same. Note that these policies usually do not provide the same coverage as required by the Affordable Care Act. You also may be able to extend the same policy into 2016, although insurers will decide next year whether to offer extensions.
You want to renew or change marketplace insurance
People who bought policies last year on the HealthCare.gov marketplace have to re-
enroll, although the site offers a simple auto-enroll feature.
The smartest thing, even if you want to keep the same policy, is to go back onto the HealthCare.gov website (using your same name and password), review the information already in your account and update what's necessary.
That can help avoid an unpleasant surprise when your premiums start in January or when you file your 2015 tax return. Both your premiums and your subsidy could change.
Looking at all the policies available to you could save you money or provide coverage that you will need. Companies can change some terms of their policies from one year to the next.
If your income, number of family members or other basics change, you should update your information. Such factors influence whether you qualify for a subsidy and affect the amount of the subsidy and your monthly premiums.
Even if nothing has changed in your personal situation, your subsidy could change because the subsidies are based on a nationwide benchmark that is revised each year.
Re-enrolling should be easier than signing up last year because you already have an account with basic information, a password, verification answers and other details. And experts say the site is working better than a year ago.
Important: If you switch to a new company, notify the company you're canceling to avoid being charged premiums for both. HealthCare.gov does not notify the company you're dropping.
This year, most insurance companies have direct access to HealthCare.gov and can help you determine if you qualify for a subsidy to reduce your costs. About 85 percent of the 43,000 people who bought insurance on the marketplace last year qualified for subsidies.
You don't have health insurance
If you don't get health coverage for 2015, you are subject to a penalty when you file your 2015 income tax return. That penalty is higher than last year. Some people, including prison inmates and those with financial hardship such as homelessness, are exempt.
To find coverage, talk to an insurance agent, your employer or an official "navigator." See a link in this story at Omaha.com for a list of each state's navigator organizations or call 800-318-2596.
You also can go directly to insurance company websites to find Affordable Care Act-compliant policies, but note that subsidies are available only through HealthCare.gov.
HealthCare.gov's marketplace can qualify you for a subsidy to reduce monthly insurance premiums or other out-of-pocket costs, depending on family income.
In general, health plans with the lowest monthly premiums have the highest out-of-pocket costs when you use health care. Those with the highest monthly premiums have the lowest out-of-pocket costs during the year.
If you know you will use a lot of health care during the year, a higher-premium policy might be the best for you.
Your small business wants health insurance
The Small Business Health Options Program, known as SHOP, is for businesses that employ 50 or fewer people.
There's no penalty for small employers, between two and 50 employees, if they do not provide insurance. But the employees must have insurance that meets the law's standards or be subject to penalties.
If an employer takes part in the program, employees become covered on the first of the month if enrolled by the 15th, any month of the year. Enrolling through the marketplace at HealthCare.gov/small can qualify an employer with 25 or fewer employees for a health care tax credit.
Starting Saturday, an employer can choose to use the SHOP so that employees can enroll online, via telephone or by mailing a paper application found at HealthCare.gov.
Even if an employer is not eligible for a tax credit, employers who choose the SHOP make their employees eligible to enroll for coverage. Employers also can choose plans outside the SHOP, through agents or brokers or directly with insurance companies. For questions, call SHOP at 800-706-7893 during business hours.
You have original Medicare
Open enrollment ends Dec. 7. To continue your current coverage in this government-run program, do nothing.
To change or sign up for coverage, go to Medicare.gov, call 800-633-4227, or call the Senior Health Insurance Information Program offices, 800-234-7119 in Nebraska or 800-351-4664 in Iowa.
You have Medicare Advantage
Open enrollment ends Dec. 7. To continue current coverage, do nothing.
Or, compare your health and prescription drug plan with alternatives. Your current provider might change terms of coverage for the coming year and will send a notice of changes.
To check quality and performance ratings of private insurance companies that administer Medicare Advantage programs, 1 through 5 stars, go to Medicare.gov and click the "Find health and drug plan" button and enter a ZIP code.
Average premium to expect: $32 per month for hospital-only coverage, more for higher-level medical and prescription drug coverage. People with limited income can apply online for a low-income subsidy for prescription drugs.
You can "disenroll" from a Medicare Advantage program between Jan. 1 and Feb. 14 and return to original Medicare coverage.
To see plans available in Nebraska, see a link on Omaha.com.
To see plans available in Iowa, see a link on Omaha.com.
You can apply at any time to see if you qualify.
Sources: Centers for Medicare & Medicaid Services, HealthCare.gov, Medicare.gov, Blue Cross Blue Shield of Nebraska, CoOportunity Health, Coventry Health