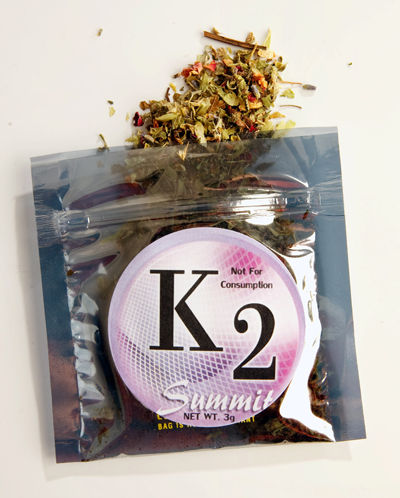 LINCOLN — Two Nebraska state senators want to address the recent alarming spike in medical emergencies linked to synthetic marijuana.
Sen. Matt Williams of Gothenburg said Tuesday that the Legislature should update the list of banned chemical compounds contained in synthetic marijuana. And Sen. Beau McCoy of Omaha will propose a legislative study to seek broader solutions to what he called "the K2 crisis."
"We must find a new approach to rid our state of these very dangerous drugs," McCoy said in a press release.
The senators were reacting to a rash of life-threatening medical emergencies tied to K2 that has surfaced in Lincoln and other cities across the country. The American Association of Poison Control Centers recently issued a warning after it determined that centers were receiving synthetic marijuana calls at a rate four times higher than a year ago.
"The recent deaths of five people suspected of using this category of drugs underscores the urgency of controlling these drugs and educating the public of their dangers," said Jay Schauben, the association's president.
Between Friday and Sunday, paramedics responded to an additional 24 calls that they suspect resulted from K2, said Roger Bonin, chief of emergency medical services for Lincoln Fire and Rescue.
Although Omaha hasn't seen a similar spike, last week a Bellevue couple were found unresponsive in their apartment after taking the drug. The incident factored into a decision to place their two young children into protective custody.
Synthetic pot, also sometimes called Spice, is shredded plant material sprayed with chemical compounds that mimic the high caused by smoking marijuana. The drugs emerged about six years ago, marketed as incense or as a safe and legal alternative to pot. They were easily available on the Internet and in convenience stores and smoke shops.
Medical professionals say the drug can cause health problems ranging from aggressive behavior to seizures to death. Billy Tucker, 18, of Greenwood, Nebraska, died in 2013 after smoking the drug.
Iowa first outlawed the drug in 2010, and Nebraska followed suit in 2011. But in what's been described as a game of whack-a-mole, manufacturers circumvent the laws by making slight changes to the chemical formulations.
Nebraska senators passed legislation in 2014 aimed at outlawing all classes of synthetic marijuana, but the product remains available in some local retail outlets. Last week, Lincoln authorities seized 1,200 packets of K2 from two smoke shops.
Joan McVoy, a registered nurse and educator for the Nebraska Regional Poison Control Center in Omaha, said she suspects that a change in the K2 compounds is behind the current surge of medical emergencies. Many rescue workers have reported patients who suffered severe breathing problems or were combative and extremely difficult to restrain.
While people think that the product comes from a laboratory, it's more likely the work of a guy with a backpack sprayer saturating dried weeds with unknown chemicals, McVoy said.
"You really don't have any idea what people are spraying on that stuff," she said.
One provision of Legislative Bill 326, introduced by Williams, updates the list of banned compounds in synthetic marijuana. Williams said he will offer the provision as an amendment to another suitable bill when it comes up for floor debate.
The Judiciary Committee has not taken action on Williams' bill, which also contains a more controversial section that would change possession of K2 from an infraction to a felony. Such a switch would provide a maximum penalty of five years in prison for an offense that currently merits a ticket.
Some committee members expressed concerns about branding young offenders with felonies for essentially doing something stupid.
Given the problems associated with synthetic marijuana, Williams said he is hopeful that his more modest amendment will attract broad support.
"I am just appalled by retailers selling this stuff (because of) who it goes to and what it's used for," he said.
World-Herald staff writer Natasha Rausch contributed to this report.