From the excitement in her voice, a listener would think Neena Nizar had just won a lottery jackpot big enough to buy two her young sons almost anything they wanted.
Instead, the prize is a pending research agreement between the National Institutes of Health and Harvard Medical School. If finalized in the coming weeks, it would help further development of a possible treatment for the ultra-rare genetic condition the Elkhorn-area mom and her boys share.
The "win" isn't as much about what her boys and other children with the condition would get as what it could help them avoid — the pain, corrective surgeries and wheelchairs that were so much a part of Nizar's own childhood.
"I'm beyond thrilled," Nizar said. "I can't stop smiling since we got the award."
Diagnosed in 2010, they are three of fewer than 30 people around the world confirmed with Jansen's. The condition, while not deadly, comes with chronic pain and requires corrective surgeries to straighten weakened bones. The disease also can lead to kidney problems caused by the high levels of calcium in the bloodstream.
Nizar launched the Jansen's Foundation in 2017 to increase awareness about the disease and help raise funds to develop a treatment for Jansen's children.
Nizar knows how hard it is to develop a new drug. Costs may mount into the billions, leaving patient advocacy groups wondering how they'll raise the money.
"It takes a toll," said Nizar, who in recent weeks has served as a panelist at two global orphan drug and rare disease conferences.
Her focus has been a possible therapy discovered by Dr. Harald Jueppner and his colleague at Harvard.
In late 2018, Jueppner and his team secured a $1 million research grant from the NIH that allowed them to conduct studies and gather data on the drug. The drug turns off an overactive receptor for parathyroid hormone and parathyroid-related peptide in Jansen's patients. The hormone influences bone remodeling, the ongoing process in which bone tissue is alternately absorbed and rebuilt over time. The parathyroid-related peptide affects the maturation of cartilage cells in growth plates.
Although Jueppner, a professor of pediatrics, had studied Jansen's for more than two decades, he'd never encountered a patient until he met Neena and her boys several years ago. Both Jueppner and colleague Thomas Gardella now serve on the foundation's board.
"Neena's just a remarkable person," said Jueppner, also chief of pediatric nephrology at Massachusetts General Hospital. "Without her, we never would have pursued this line of research."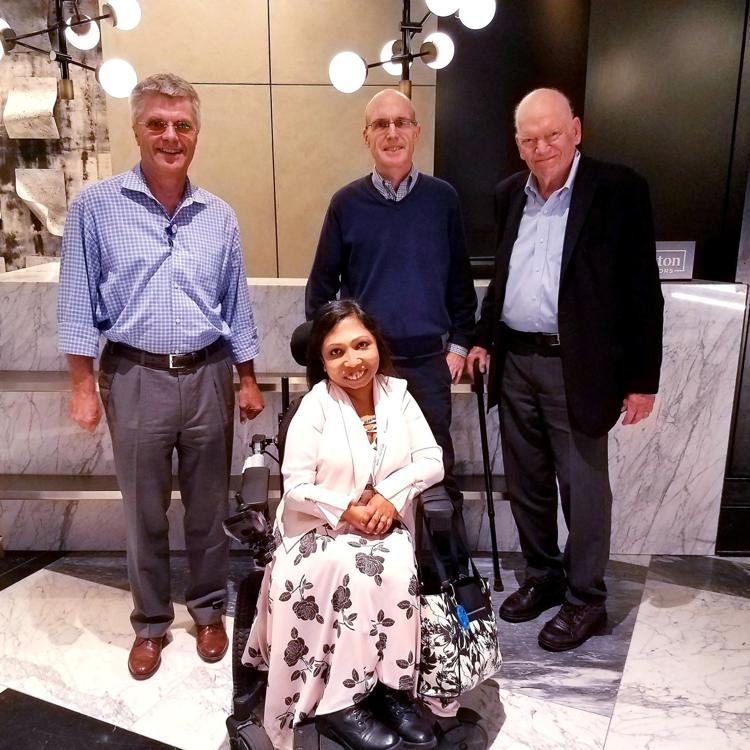 Then Nizar — who regularly corresponds with researchers, federal officials and pharmaceutical executives — found out that the NIH had a program to stimulate collaborations with researchers to develop therapies for rare and neglected diseases.
"I talked to the research team and said we should apply for it," she said.
The team was notified earlier this month that they'd received preliminary approval for assistance through the agency's Therapeutics for Rare and Neglected Diseases program.
The program is designed to combat the challenges that come with developing treatments for rare and neglected diseases. With few patients, scientists often know little about the symptoms and biology of rare conditions. Some private companies may find it difficult to justify the cost of developing drugs for small groups of patients.
Nizar said such agreements are few. Last year, the agency added one. At any given time, the program maintains up to 40 projects.
But Nizar is persuasive. Jueppner said she attended the meeting they had with program officials in early August.
"She made a very passionate statement in front of the whole group that this needs to move forward for her kids and the few other kids in the world who have this disease," he said.
The drug has been effective in the researchers' animal models. But Jueppner cautions that there are many reasons it could fail.
"We are very optimistic as well," he said, "but until you do it, you don't know."
Jueppner said the researchers will receive no funds through the agreement. Instead, the agency will help with the next steps in the research. Based on those studies, the researchers would decide whether it's safe to proceed with studies in humans.
If the studies go well, Nizar is prepared to be the first to try it.
It's best given before growth plates in bones close, which typically occurs in adolescence.
Arshaan and Jahan each are getting ready for another surgery in January. They've had them each year since the family moved from Dubai in the United Arab Emirates to Nebraska in 2015.
They go to school, and they've got great support, Nizar said. But they're still in pain. And surgery means missing school.
"They just don't want to do that anymore," she said. "If there is an option, if it's going to improve their quality of life, definitely we are going to be chasing that down."
Be the first to know
Get local news delivered to your inbox!