Counting her breaths and relaxing her muscles, Omahan Amber Dyer searched Saturday for the rest of her team after she finished running up 40 flights of stairs.
Although she was her team captain, Dyer didn't know every member of the team, "Gettin' High With Friends," because some people recruited their friends. But she knew that somewhere in the First National Tower were about 30 teammates in matching T-shirts competing in the Trek Up the Tower.
This was Dyer's seventh year of getting a team together to run up the stairs of the downtown Omaha building. The team's focus this year was to cheer on their personal accomplishments and welcome returning members, such as the friend who had overcome cancer and was doing the trek with her former chemotherapy nurse.
"We feel relief that it's over and accomplishment that we did it because for some of us, it's a big deal to even make it," Dyer said.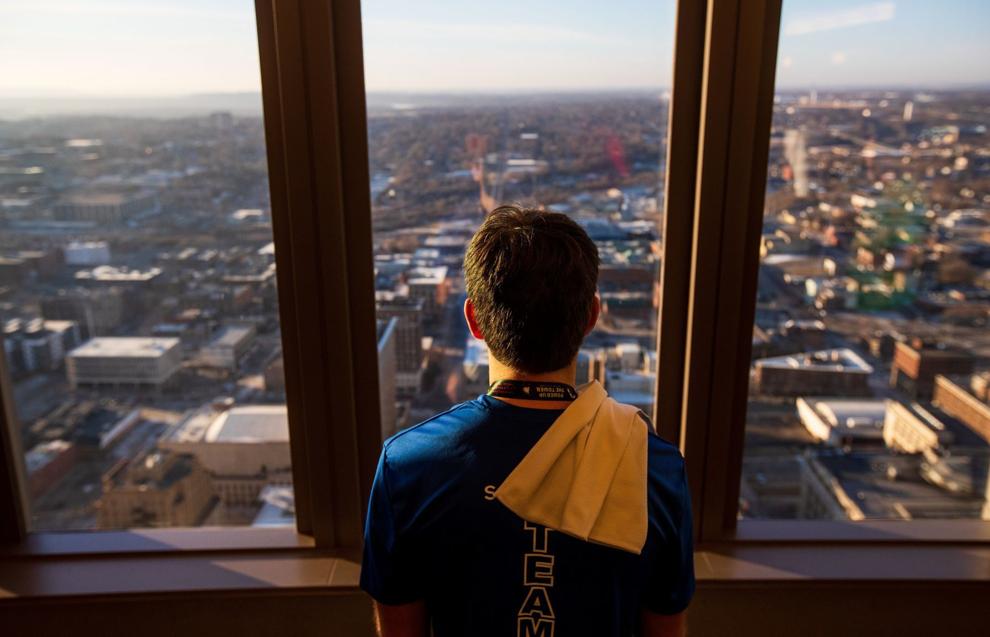 Trek Up the Tower is in its 14th year as a fundraiser, raising money for the Wellbeing Partners' mission of promoting worksite wellness programs. The stairwell was filled with the sound of clapping and cheering as participants of all fitness levels climbed the stairs.
The 1,640 participants included 775 women and 865 men.
Chantelle Green, the race director, said this year's trek marked the merger of two organizations. WELLCOM, the initial founder of Trek Up the Tower, merged with Live Well Omaha to create the new entity.
"This is a great event to display the best in us because people are so encouraging," Green said. "There's so much positivity."
Green said the vertical mile challenge, which requires participants to make the trek 10⅓ times, has attracted more participants since being ranked as an official high-point race by TowerRunning USA.
Californian Michael Caviston, 58, said he has been competing in stair-climbing competitions for 10 years. Saturday was his first vertical mile in Omaha. He finished in 1 hour, 17 minutes and 26 seconds, good for seventh place in the men's division.
Caviston's next trip, he said, is to Las Vegas to compete in another stair-climbing competition and a half-marathon.
A vertical miler was the first person to finish 40 floors. Jason Larson, 36, of Golden Valley, Minnesota, finished in 5:07, just ahead of 37-year-old Omahan Ryan Long, who finished in 5:08. Larson also won the vertical mile with a time of 59 minutes, 43 seconds.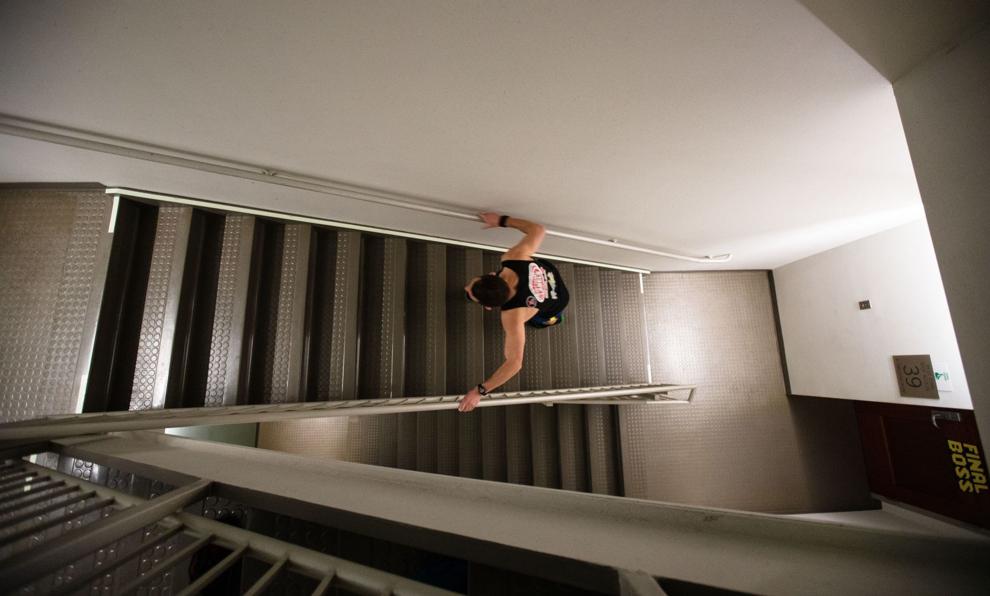 Debbie Officer, 51, of Renton, Washington, was the first female finisher with a time of 6:29. She also won the women's division vertical mile, finishing in 1 hour, 19 minutes. Carol Hohenthaner, 60, of Yankton, South Dakota, was second in the women's division of the trek with a time of 6:32.
On top of the fundraising and competitive aspects, Trek Up the Tower also is a reminder to local firefighters of first responders' efforts on 9/11 in New York's twin towers.
"Many of us remember it like it was yesterday," Papillion Fire Chief Bill Bowes said. "It's a nice reminder that bad things do happen, and we need to be prepared for those."
Bowes said this was his sixth year competing in the trek. He said he encourages his crew to participate wearing all their gear, which weighs about 50 pounds. That adds another challenge to the race and reminds them that they need to be physically fit, he said.
Bowes said he will participate for as many years as he can. He enjoys supporting the cause and reuniting with local firefighters.
"It hurts, but it's a good hurt," he said.