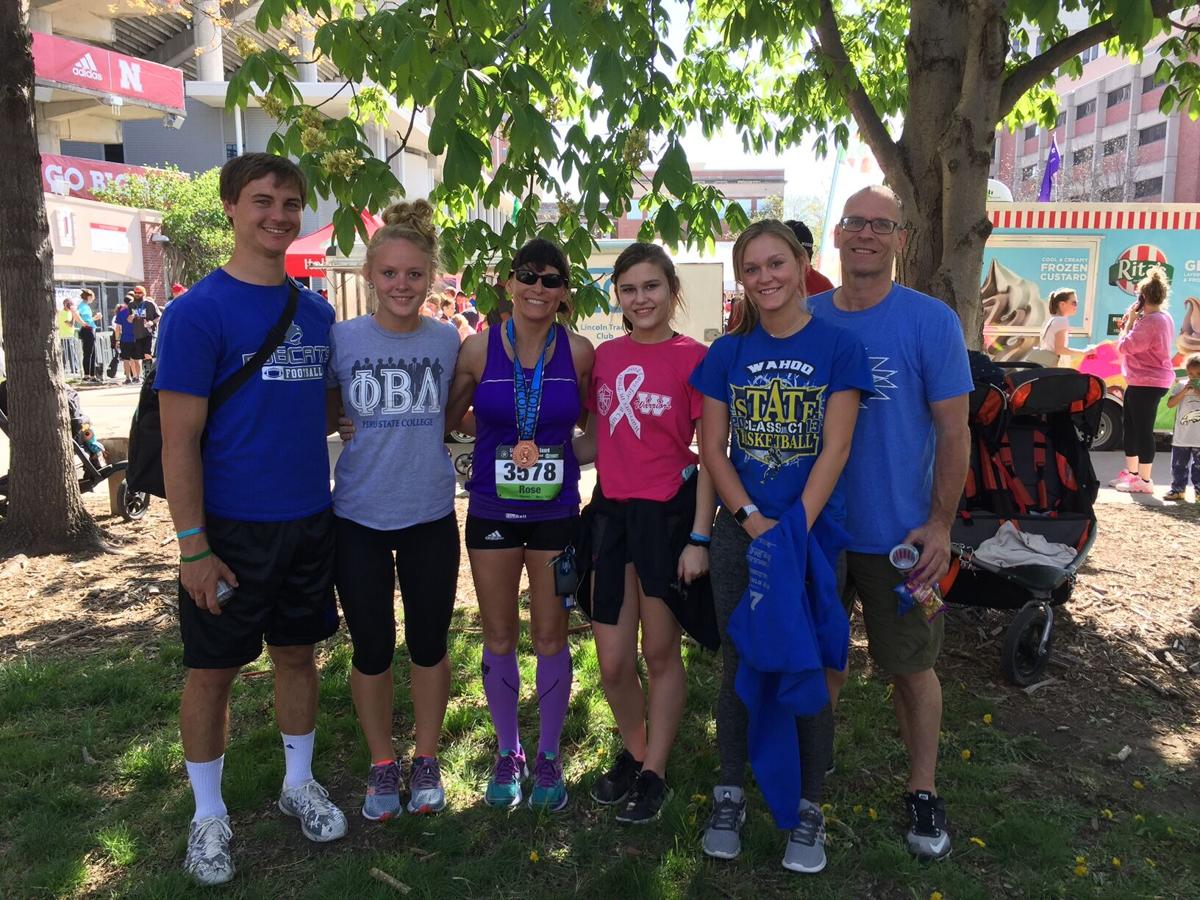 While most people were hitting the gym as part of their New Year's resolutions, Rose Sutton opted to take off the first day of the new year.
The Wahoo woman had earned a little rest.
She wrapped up the last week of the year with a handful of longer runs, all with the goal of logging 2,020 total miles run during 2020.
She surpassed her goal with a total of 2,100 miles.
"Running was really the only thing that kept my sanity," said Sutton, 52.
Sutton owns her own travel agency, but by the middle of March, the only thing she had to manage were cancellations. She was constantly fielding calls from would-be jet-setters who told her, "We can't take this trip."
Although Sutton's work dried up, her husband Mark's job remained steady. It kept the family afloat, but Sutton said they struggled at times.
"It was very hard for me to watch people complain about what was happening with their jobs when I didn't have any work," she said.
To clear her mind, Sutton started to run more miles.
In a typical year, she runs about five times a week, logging a total of about 1,600 miles a year.
By late spring, Sutton said she had logged 100 miles each in January and February, plus another 200 in March. She did the math and realized she would need to run 40 to 50 miles a week to tackle 2,020 miles in the year.
"It was actually pretty easy to do," Sutton said. "I just love to run. When all is said and done, I love to run."
Sutton started running on the track team at Chadron High School. But she didn't get serious about running as a hobby until after the birth of her second daughter in 2001.
Sutton wanted to drop the baby weight, as well as lower her cholesterol without medication. She revamped her eating habits and exercise routine. Her three daughters were a driving factor in becoming healthier, too.
In 2015 — a year after running the Boston Marathon — Sutton had to put her running routine on hold because of a back injury. She went 18 months without running.
When she turned 50 in 2018, she ran the Omaha Marathon's 13.1-mile half marathon and won first place in her age group.
"Besides running Boston, that was my crowning moment," Sutton said.
Last year, to hit her running goal, Sutton ran six days a week and kept up with cross-training three days a week. She varied her distances, sometimes sticking with an easy 5-mile run and other times knocking out a half marathon.
Sutton tried to avoid crowded trails. If she did see another runner on her route, she tried to stay 6 feet away.
By the second week in December, Sutton had hit her goal.
But the rocky year made her hate the number 20. If she stopped running and her watch was at 1 hour, 20 minutes, she would run for another minute. So she decided to keep going.
By Dec. 28, Sutton was tired. She had 30 miles to go to hit her revamped mileage goal of 2,100. A snowstorm forced her to hit the treadmill one day.
"That was a hard week," Sutton said. "I was very tired. I had run for five days in a row and ran pretty high mileage."
Running all year helped ease Sutton's stress levels. While she was on the trail or the street, she was able to refocus. It led to some new ideas, like Sutton's plan to start a cleaning and organizing business.
"It feels really good to accomplish something," Sutton said. "To have the ability to go out there and run, I'm thankful for it every day."
Despite running so many miles, Sutton said her big takeaway from 2020 was learning to slow down and enjoy life.
Sutton said she has not yet set goals or resolutions for 2021, but she's still going to stick with running.
Gymgoers share what motivates them, pet peeves and their proudest accomplishments
You never know who you might run into at the gym.
There's the man who's exercising as he waits for a heart transplant. Or the woman who's made Jazzercise workouts part of her life for more than 30 years.
Some workouts see moms accompanied by babies. Elsewhere you'll find folks well into their 90s who stick with exercise.