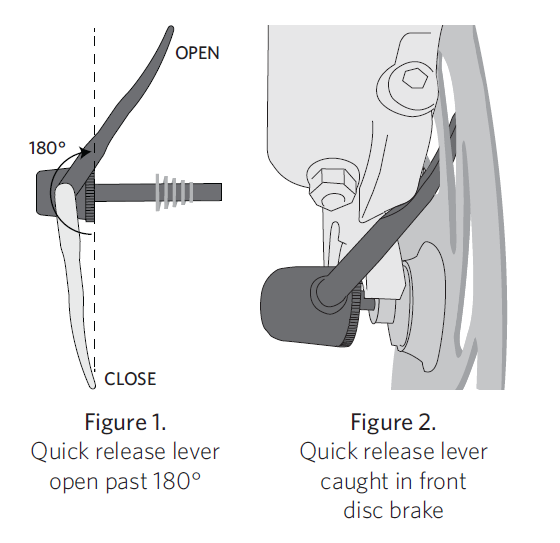 Trek has recalled nearly 1 million bikes equipped with a malfunctioning part that paralyzed a bicyclist, the company announced this week. 
The malfunction occurs with bike models that have a quick-release lever on the front wheel that opens far enough to contact the disc brake. Trek said the bikes were sold in the U.S. and Canada from about September 1999 through April 2015 for between $480 and $1,650.
According to the Consumer Product Safety Commission, when the quick-release lever is fully opened it can interfere with the disk brakes, causing the wheel to stop turning or even separate from the bike frame altogether.
When a front wheel suddenly stops turning, it is possible for a rider to fall over the handlebars and suffer an injury. 
Trek reported three incidents where bicyclists were injured by the malfunctioning part. In one incident, a cyclist was paralyzed. The company said that the other two incidents resulted in facial injuries and a fractured wrist.
The company estimates that about 900,000 bikes in the U.S. and 98,000 in Canada meet the recall criteria.
Those who own recalled bikes can go to a Trek store or an authorized retailer for free installation of a new quick-release part on the front wheel. The company will provide each owner who participates in the recall with a $20 coupon, which can be redeemed by December 31 toward any Bontrager merchandise.
Consumer Contact: Trek at (800) 373-4594 from 8 a.m. to 6 p.m. Monday through Friday, or online at www.trekbikes.com and click on "Safety & Recalls" at the bottom of the page for more information.