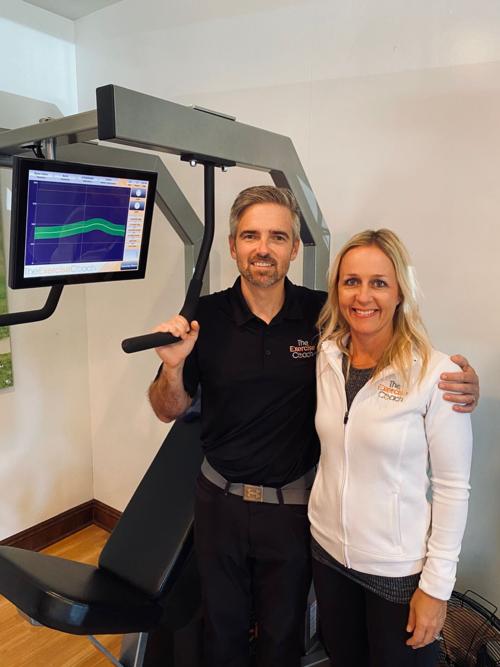 Sommer and Ryan Hahn love seeing lives change for the better.
The Omaha couple saw it when they joined several other families in starting GraceHill Church nearly four years ago.
Now they're hoping to see more lives changed through their new high-tech fitness studio, The Exercise Coach.
Last month, the couple opened the state's first franchise for The Exercise Coach in Omaha. The fitness chain has about 90 studios across the nation and 25 locations in Japan.
The Exercise Coach, near 180th Street and West Center Road, features machines that rely on computers and robotics. The "smart" equipment lets gymgoers limit their visits to 20-minute sessions twice a week.
The machines adjust to each person's strength and abilities, customizing the workouts, Sommer Hahn said. It takes some of the guesswork and downtime out of the experience, she added.
On a leg-press machine, for example, a person would press against the machine as it moves backward and forward. The goal is to keep a line in the highlighted area, which represents the person's individual target, on the machine's display screen.
"You get real-time feedback on how you're doing," Hahn said. "That's what allows us to maximize people's time when they come in."
The gym features four smart machines and four traditional machines, including bikes. Most of the exercises are easy on the joints. Each high-intensity exercise lasts about 90 seconds.
The workouts are ideal for gymgoers with busy schedules or individuals who are 35 and older, Hahn said.
"We could see the lives it would change in our community," Hahn said. "We had seen how people traditionally didn't have an option to exercise because they didn't feel like what's out there in the fitness industry suited them."
Be the first to know
Get local news delivered to your inbox!