Darrell Dibben's thoughts were for his family even as he was being wheeled to an ambulance from a Blair assisted living center to keep battling COVID-19 at an Omaha hospital.
"We couldn't be with him because he (tested positive for) COVID-19, but I was outside in a mask, back away from him," eldest son Dave Dibben of Blair said Tuesday. "I said, 'Dad, how you doing?' Right away, he found me in the crowd and said, 'I'm fine, Dave, how are you? Are you all right?'
"That was Dad," Dave Dibben said, his voice cracking. "He cared so much more about others. That's what made him an outstanding parent and an outstanding teacher."
Darrell Dibben, a longtime professor at Dana College in Blair, died Sunday from complications of COVID-19, the disease caused by the novel coronavirus, at Immanuel Medical Center.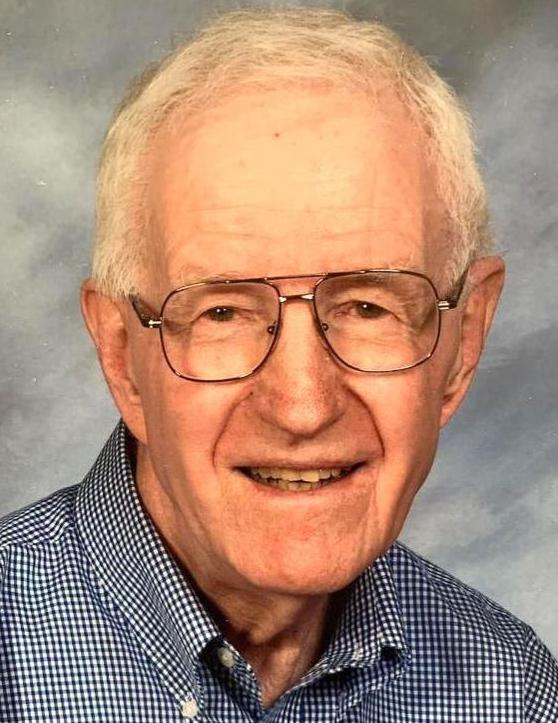 Dibben left the Carter Place assisted living center in Blair on March 29. To prevent the further spread of the virus after an outbreak there, Carter Place went into lockdown in mid-March. The facility later temporarily closed after 13 residents and six staff members tested positive for COVID-19.
Dibben celebrated his 90th birthday on March 30, alone, at Immanuel. His family was able to talk with him via the FaceTime app and sent his favorite dessert, carrot cake, from Butch's Deli in Blair.
In 1965, Dibben began a 30-year stint at Dana College, where he taught communications, language arts and education classes. He was instrumental in starting the school radio station, KDCV-FM, and remained its adviser until his retirement in 1995.
Growing up in Flandreau, South Dakota, Dibben worked on his father's dairy farm, although the family lived in town. He graduated from the University of South Dakota and earned a graduate degree from the University of Iowa.
Dibben served in the U.S. Army in Korea during the Korean War as a communications specialist. After the war, he taught high school in Emmetsburg, Iowa, for six years.
In 1960, he married Marjorie Tesdahl Meyerholz, who died in 2002. The couple raised four children, all of whom graduated from Dana College.
Sign up for World-Herald news alerts
Be the first to know when news happens. Get the latest breaking headlines sent straight to your inbox.
Another son, Dan Dibben of Blair, said his father was voted Dana's professor of the year in 1988. Mentoring students was very important to the professor, he said, and the elder Dibben later became a volunteer with the TeamMates Mentoring program.
"He was still receiving cards and letters from students telling him how much they loved his classes because he was so animated and funny," Dan Dibben said. "He was a high-energy teacher and that let him show his true self.
"People tell me that his teaching made their careers successful because he gave them the confidence to believe in themselves. That is so great to know, especially now."
A celebration of life ceremony will be held later. Memorials are suggested to the Open Door Mission in Omaha or First Lutheran Church of Blair, where Dibben was a member for 54 years.
The professor's ability to instill confidence included his own children, both sons said. Their mother and father always were in attendance for the activities of their children and grandchildren.
"Dad was a great listener and very compassionate," Dave Dibben said. "That's why he supported the Open Door Mission and TeamMates. He always cared about others more than himself."
In addition to his sons, Dibben is survived by daughters Sherri Andersen and Shelli Mosser, both of Omaha; nine grandchildren; 12 great-grandchildren; and four great-great-grandchildren.
Notable Nebraska, Iowa deaths of 2020
A roll call of notable people who have died in 2020: