Douglas County Health Director Lindsay Huse issued a mask mandate Tuesday for schools and many other public indoor spaces in the city of Omaha, but the Nebraska attorney general is threatening legal action to stop it.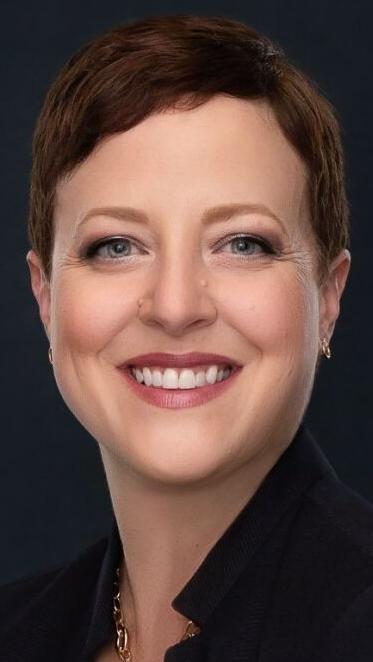 The order was set to take effect at 12:01 a.m. Wednesday. Under the order, schools, many businesses and other entities whose premises are open to the general public must require people age 5 and older to wear a face covering over their mouth and nose while indoors, unless the people maintain a distance of 6 feet from each other.
But there are many exceptions for individuals and places where the mandate will not apply, including religious services.
Huse cited an "astronomical spike in cases" that is threatening to overwhelm already strained hospitals and health care workers. A mask mandate is needed to slow transmission of the omicron variant of COVID-19, Huse said.
"This was not an easy decision at all and I know that it's going to create some waves," Huse told the Douglas County Board. "But this is a tool that is in our toolbox. We have research evidence out there showing that masks decrease transmission."
The move is opposed by Nebraska Gov. Pete Ricketts, who said the Douglas County Health Department lacks the authority to issue such a mandate. Ricketts asked Nebraska Attorney General Doug Peterson to consider legal action. Peterson sent Huse a letter Wednesday afternoon threatening a lawsuit to stop the mandate.
Omaha Mayor Jean Stothert also opposes a mandate, but she said that Huse has the authority to issue one.
Huse and Douglas County Board member Chris Rodgers, president of the Douglas County Board of Health, said they believe they are on solid legal ground, based on the advice of City of Omaha and Douglas County attorneys.
Huse said the measure will be temporary, possibly four weeks. She will act under the authority delegated to her under Omaha's city code.
Huse said the order likely will come with benchmarks, including reducing case rates in the county to under 200 cases per day per 100,000 residents.
Currently, Douglas County is adding more than 1,100 case a day on a seven-day rolling average.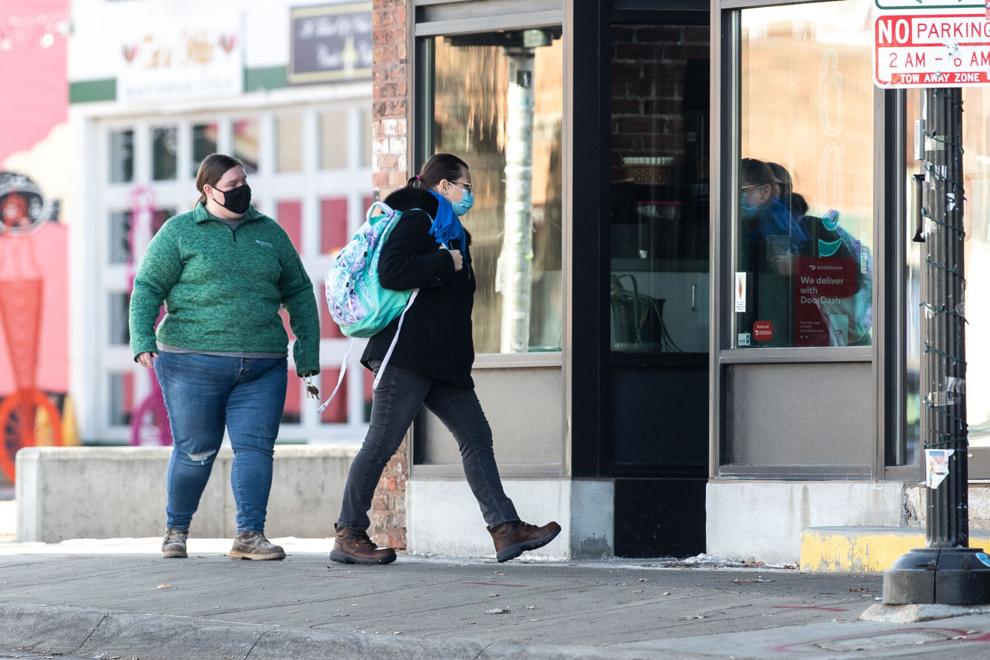 Hospital capacity also would have to drop to 85% or less for a week. "We've got to give them breathing room to take care of all of you," Huse said.
The number of COVID cases in the county has exceeded past peaks, and the number continues to rise. Hospitals already are above 93% of their capacity.
In a statement her office sent out Tuesday afternoon, Stothert said she doesn't support Huse's decision, "although I recognize she has the authority to do so under City Code. I am disappointed she is proceeding with such an impactful decision for all Omaha citizens without my support or the full support of the City Council, as she previously said she would."
The previous mask mandate in Omaha was implemented in 2020 before the availability of an effective vaccine, Stothert said.
She noted that an order regarding the mandate signed by Huse "cannot be voided by the Mayor or the City Council."
Omaha City Council President Pete Festersen on Tuesday issued a statement in support of Huse's plan. He said the majority of the seven-member council supports her decision to implement a temporary mask mandate in Omaha "to help address the surge of COVID-19 cases and to help keep our schools, hospitals and first responders operating during this challenging time."
Ricketts, however, said in a statement, "I remain adamantly opposed to mask mandates for Nebraskans, and I support Mayor (Jean) Stothert's priorities to reasonably manage the spread of COVID-19 in Omaha. The Douglas County Health Department lacks legal authority to impose a mandate, and I have asked Attorney General Peterson to consider legal action."
The question of legal authority is complicated and contested. State authorities have said the Douglas County health director couldn't issue such an order for the county without approval from the Nebraska Department of Health and Human Services under state law. Huse in August had requested the state's approval for a countywide mask mandate, and that request was denied.
But now, she is limiting the mask mandate to within Omaha's city limits. She said the authority comes from City of Omaha code under which the Douglas County department director also acts as the health director for the city.
"I have spoken to both the city attorney and the county attorney that represents our office and both feel that we are on solid footing legally," Huse said.
The Nebraska attorney general disagrees. In his letter Tuesday, Peterson told Huse that she doesn't have the authority to issue such a directed health measure (DHM) without state approval.
"If the Douglas County Board of Health proceeds with its intention to issue a mask mandate DHM for the City of Omaha, the Attorney General currently plans to file suit seeking to have the DHM declared invalid and to enjoin the mask mandate from being enforced," Peterson wrote to Huse.
City Council members Aimee Melton, Brinker Harding and Don Rowe also issued a statement Tuesday afternoon, saying they "strongly disagree with Douglas County Health Director Huse's dictate forcing a mask mandate" in Omaha. Over the last two years, the statement reads, "we have seen time and again that mask mandates are not an effective method for combating the coronavirus."
The three, all of whom are Republicans, also said they "vehemently object to an unelected and unaccountable bureaucrat imposing their will upon the city without reaching out to those who are entrusted by the citizens of Omaha to represent them."
Projections indicate the Omaha metro area could need at least 40% more hospital capacity in the next few weeks to accommodate the anticipated increase in people becoming ill enough with COVID to require hospital care. While the omicron variant of the coronavirus is considered milder than the delta variant, health officials expect omicron's easy transmission to cause so many more cases that it will land more people in hospitals.
"I can't stand by and know that I could have done more and didn't do more," Huse said.
Under Omaha city code, the Douglas County health director can issue orders in public health emergencies.
One section of the city code says the health director "shall have the authority to adopt such rules and regulations, restrictions or measures as he shall deem necessary to protect the public health of the city."
Another section, labeled "authority at threat of epidemic," says it shall be the duty of the health director, when the city is afflicted with or threatened by an epidemic of contagious disease, to issue orders for the prevention, removal or limiting of such diseases.
Festersen wrote that council members believe Huse "clearly has this authority and we will continue to support the resources needed to increase testing and vaccination rates in our community."
It's unclear how the mandate will be enforced. Huse indicated it would be complaint-driven and said it would be a collaborative effort between the Health Department and law enforcement agencies.
"Basically, any complaints of businesses that might not be complying, of public spaces where compliance is not happening," Huse said. "If there are repeated offenses, then local law enforcement can be involved."
According to the order, violating the order would be a misdemeanor offense with a fine of up to $500 and up to six months in jail.
Huse appealed to people to comply with the mask mandate for the good of the community.
"My hope is that the people that I know to be Nebraskans, the kindness, the neighborliness of the people who live in this state ... I'm really relying on people to do the right thing and to really help their neighbors," Huse said.
---
Virus Q&A: Answers to common questions about COVID-19 vaccines, travel and more
Do at-home COVID-19 tests detect the omicron variant?
Yes, but U.S. health officials say early data suggests they may be less sensitive at picking it up.
Government recommendations for using at-home tests haven't changed. People should continue to use them when a quick result is important.
"The bottom line is the tests still detect COVID-19 whether it is delta or alpha or omicron," says Dr. Emily Volk, president of the College of American Pathologists.
Government scientists have been checking to make sure the rapid tests still work as each new variant comes along. And this week, the Food and Drug Administration said preliminary research indicates they detect omicron, but may have reduced sensitivity. The agency noted it's still studying how the tests perform with the variant, which was first detected in late November.
Dr. Anthony Fauci, the top U.S. infectious disease expert, said the FDA wanted to be "totally transparent" by noting the sensitivity might come down a bit, but that the tests remain important.
There are many good uses for at-home tests, Volk says. Combined with vaccination, they can make you more comfortable about gathering with family and friends.
If you've been exposed to a person who tested positive but you don't have symptoms, a rapid test five days later can give a good indication of whether you caught the virus. It can also help if you're not sure whether your runny nose or sore throat is COVID-19.
But consider the context when looking at results. If you feel sick after going out to a nightclub in an area with high infection rates, for example, you should look at a negative result from an at-home test with a little more skepticism, Volk says.
Following up with a PCR test is a good idea, she says. Those tests are more accurate and are done at testing sites and hospitals.
Can my pet get COVID-19?
Yes, pets and other animals can get the coronavirus that causes COVID-19, but health officials say the risk of them spreading it to people is low.
Dogs, cats, ferrets, rabbits, otters, hyenas and white-tailed deer are among the animals that have tested positive, in most cases after contracting it from infected people.
While you don't have to worry much about getting COVID-19 from your pets, they should worry about getting it from you. People with confirmed or suspected COVID-19 should avoid contact with pets, farm animals and wildlife, as well as with other people, according to the U.S. Centers for Disease Control and Prevention.
"If you wouldn't go near another person because you're sick or you might be exposed, don't go near another animal," says Dr. Scott Weese at Ontario Veterinary College.
Not all infected pets get sick and serious illness is extremely rare. Pets that show symptoms typically get mildly ill, the CDC says.
Some zoos in the U.S. and elsewhere have vaccinated big cats, primates and other animals that are thought to be at risk of getting the virus through contact with people.
This particular coronavirus most likely jumped from animals to humans in the first place, sparking a pandemic because the virus spreads so easily between people. But it does not easily spread from animals to people. Minks are the only known animals to have caught the virus from people and spread it back, according to Weese.
Three countries in northern Europe recorded cases of the virus spreading from people to mink on mink farms. The virus circulated among the animals before being passed back to farmworkers.
How easily animals can get and spread the virus might change with different variants, and the best way to prevent the virus from spreading among animals is to control it among people, Weese says.
Is travel safe during the pandemic?
As the holidays approach, is it safe to travel during the pandemic? (AP Illustration/Peter Hamlin)
It depends. It can be safe if you're fully vaccinated against COVID-19, but officials say people who haven't gotten the shots should delay travel.
Regardless of vaccination status, all travelers should keep taking precautions like avoiding indoor, unmasked crowds, says Dr. Keith Armitage, an infectious disease expert at Case Western Reserve University.
"The delta variant has really brought us back to an earlier time in the pandemic," he says.
The U.S. Centers for Disease Control and Prevention says not to travel if you're sick, or if you tested positive for COVID-19 and your isolation period isn't over yet — even if you're fully vaccinated. Unvaccinated people who decide to travel should get a COVID-19 test one to three days before travel and three to five days after returning.
All travelers must still wear masks on trains, planes and other indoor public transportation areas, the agency says.
Airlines say plane cabins are low risk since they have good air circulation and filtration. However, there is no requirement for vaccination or testing before domestic flights, and passengers can remove their face masks while eating or drinking.
Hotels aren't risky for the vaccinated as long as they wear masks around strangers, Armitage says. More fraught are family gatherings with unvaccinated individuals, particularly for those who are older or have health problems.
Health experts suggest looking at the case levels and masking rules in the place you are visiting before you travel.
Why can't some COVID-19 vaccinated people travel to the US?
Why can't some COVID-19 vaccinated people travel to the US? (AP Illustration/Peter Hamlin)
Because they might not be vaccinated with shots recognized by the U.S. Food and Drug Administration or the World Health Organization.
When lifting overseas travel restrictions in November, the U.S. required adults coming to the country to be fully vaccinated with shots approved or authorized by the FDA or allowed by WHO.
Among the most widely used vaccines that don't meet that criteria are Russia's Sputnik V vaccine and China's CanSino vaccine. Sputnik V is authorized for use in more than 70 countries while CanSino is allowed in at least nine countries. WHO still is awaiting more data about both vaccines before making a decision.
Vaccines recognized by the FDA and WHO undergo rigorous testing and review to determine they're safe and effective. And among the vaccines used internationally, experts say some likely won't be recognized by the agencies.
"They will not all be evaluated in clinical trials with the necessary rigor," said Dr. William Moss, executive director of the Johns Hopkins International Vaccine Access Center.
An exception to the U.S. rule is people who received a full series of the Novavax vaccine in a late-stage study. The U.S. is accepting the participants who received the vaccine, not a placebo, because it was a rigorous study with oversight from an independent monitoring board.
The U.S. also allows entry to people who got two doses of any "mix-and-match" combination of vaccines on the FDA and WHO lists.
Are COVID-19 boosters the same as the original vaccines?
Are COVID-19 boosters the same as the original vaccines? (AP Illustration/Peter Hamlin)
Yes, COVID-19 boosters use the same recipe as the original shots, despite the emergence of the more contagious delta variant. The vaccines weren't tweaked to better match delta because they're still working well.
The vaccines work by training your body to recognize and fight the spike protein that coats the coronavirus and helps it invade the body's cells. Delta's mutations fortunately weren't different enough to escape detection.
The increased protection you might get from a booster adjusted to better match the delta or other variants would be marginal, says Dr. Paul Goepfert, director of the Alabama Vaccine Research Clinic at the University of Alabama at Birmingham.
Manufacturing doses with a new formula would have also delayed the rollout of boosters.
Moderna and Pfizer are studying boosters tweaked for the delta and other variants to be ready if one's ever needed. Health authorities would have to decide if and when a vaccine formula swap would be worthwhile.
"What we don't know," Goepfert noted, "is if you have a delta vaccine compared to the regular vaccine, does it actually work better in preventing transmission or asymptomatic infection?"
The U.S. has authorized booster doses of the Pfizer, Moderna and Johnson & Johnson vaccines for certain people, and a few other countries also are using boosters of those shots or other COVID-19 vaccines.
Can at-home COVID-19 tests make gatherings safer?
Can at-home COVID-19 tests make holiday gatherings safer?(AP Illustration/Peter Hamlin)
Yes, combined with vaccination, home test kits for COVID-19 can add a layer of safety and reassurance by providing on-the-spot results during this second year of pandemic holidays.
"We will be using rapid tests to doublecheck everybody before we gather together," says Dr. Emily Volk, president of the College of American Pathologists, who is planning a holiday meal with six vaccinated family members. "We'll be doing it as they come in the door."
Home kits are not as accurate as the PCR tests done in hospitals and at testing sites, Volk says. But they have the advantage of giving results within minutes instead of days.
Testing kits are available at drugstores without a prescription, and a box with two tests typically costs about $25. Swabs, testing solution and instructions are included.
Adults and teens can test themselves. An adult can test a child as young as 2. How-to videos on product websites can be helpful.
Most tests require swabbing about a half inch inside both nostrils, so it may tickle but doesn't hurt. You will get a positive result if the test detects a viral protein in your sample.
Home tests will miss some infections and in rare cases mistakenly indicate an infection. One popular test misses around 15 out of 100 infections — these are called "false negatives" — and gives a false positive result in about 1 in 100 people who aren't infected.
Test shortages were widely reported during the last COVID-19 surge, but new options have recently hit the market and major manufacturers such as Abbott Laboratories have ramped up production.
The Centers for Disease Control and Prevention offers other tips on ways to enjoy the holidays safely. Vaccination remains the best way to protect against the coronavirus.
How will the world decide when the pandemic is over?
There's no clear-cut definition for when a pandemic starts and ends, and how much of a threat a global outbreak is posing can vary by country.
"It's somewhat a subjective judgment because it's not just about the number of cases. It's about severity and it's about impact," says Dr. Michael Ryan, the World Health Organization's emergencies chief.
In January 2020, WHO designated the virus a global health crisis "of international concern." A couple months later in March, the United Nations health agency described the outbreak as a "pandemic," reflecting the fact that the virus had spread to nearly every continent and numerous other health officials were saying it could be described as such.
The pandemic may be widely considered over when WHO decides the virus is no longer an emergency of international concern, a designation its expert committee has been reassessing every three months. But when the most acute phases of the crisis ease within countries could vary.
"There is not going to be one day when someone says, 'OK, the pandemic is over,'" says Dr. Chris Woods, an infectious disease expert at Duke University. Although there's no universally agreed-upon criteria, he said countries will likely look for sustained reduction in cases over time.
Scientists expect COVID-19 will eventually settle into becoming a more predictable virus like the flu, meaning it will cause seasonal outbreaks but not the huge surges we're seeing right now. But even then, Woods says some habits, such as wearing masks in public places, might continue.
"Even after the pandemic ends, COVID will still be with us," he says.
The AP is answering your questions about the coronavirus in this series. Submit them at: FactCheck@AP.org.