Chris Hughes, owner of Artifact, the bag and apron company, has adapted his small but mighty workroom to make reusable mesh-filter masks to help in the fight against COVID-19, the disease caused by the coronavirus.
The Omaha entrepreneur began taking orders Wednesday on Artifact's website, artifactbags.com.
By Friday morning, Hughes' eight-member team was doubling down on production with hundreds of masks to make. The flurry of early orders, Hughes said, established proof of concept for him. "There is no doubt in my mind that there's a need for our mask."
The nationwide shortage of personal protective equipment in hospital settings prompted Hughes to explore how Artifact and its employees might put their collective skills to work.
"You know the saying, 'It takes a village.' In this case, it just took a block."
As in a couple of neighbors on his block.
Hughes first talked with Randy McCreery, an infectious disease fellow at the University of Nebraska Medical Center.
McCreery saw potential in the type of mask Hughes envisioned, offered advice on its design and suggested people Hughes might contact in the medical community to advance the project.
Next, Hughes talked with neighbor John Jackson, who owns Nebraska Air Filter. The manufacturer's raw materials would become a key component of Hughes' design.
"This mask is not apples to apples with the N95," the gold standard for COVID-19 protection, Hughes said.
But it does reduce exposure.
N95 masks have MERV 16 grade mesh (a minimum efficiency reporting value); Hughes' version features MERV 14, which is rated for 75% protection from nasty airborne particles .3 microns or larger.
"MERV 14 is definitely better than nothing," Hughes said.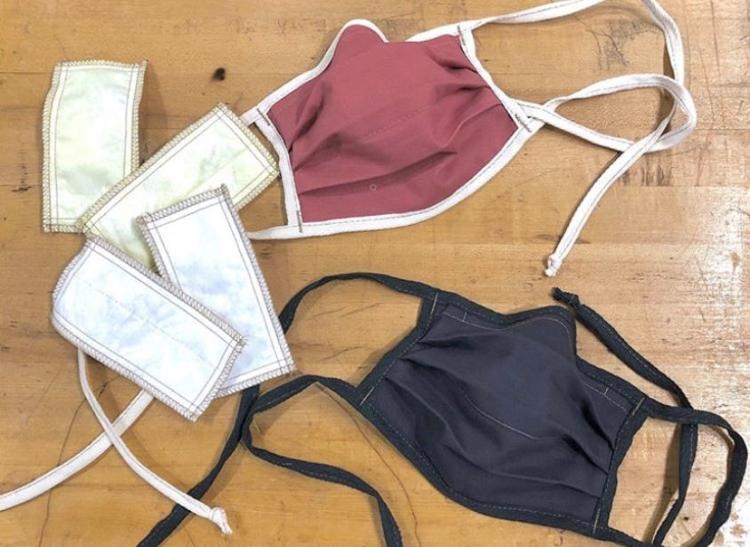 The Artifact mask went from conception to prototype in about 72 hours, Hughes said.
"We have a Plan A, B, C, D, E and F. Right now, we're on Plan D," Hughes had said Wednesday evening. "Everything is changing by the hour."
Hughes' product research, including conversations with several specialists in the medical field, revealed myriad applications for the mask.
Early orders from all over the country have validated that, Hughes said.
The Artifact mask is tailored from cotton twill and features an internal pocket for a one-time-use air filter, a rubber-coated nose piece and self-ties to fit as many face sizes as possible.
The price, $18, includes one filter. Replacement filters are $6 for a pack of three.
"We've had some touch-and-go moments with supplies and equipment," Hughes said Friday afternoon.
And sleep has been a rare commodity as Hughes and his staff have modified their production and supply-procurement plans.
"Now the question is how many masks can we make in one day," Hughes said.
"Monday, it will be about stress-testing our capacity and staying healthy and sound in the process. The most important equipment in the process is us."
Concerned about COVID-19?
Sign up now to get the most recent coronavirus headlines and other important local and national news sent to your email inbox daily.