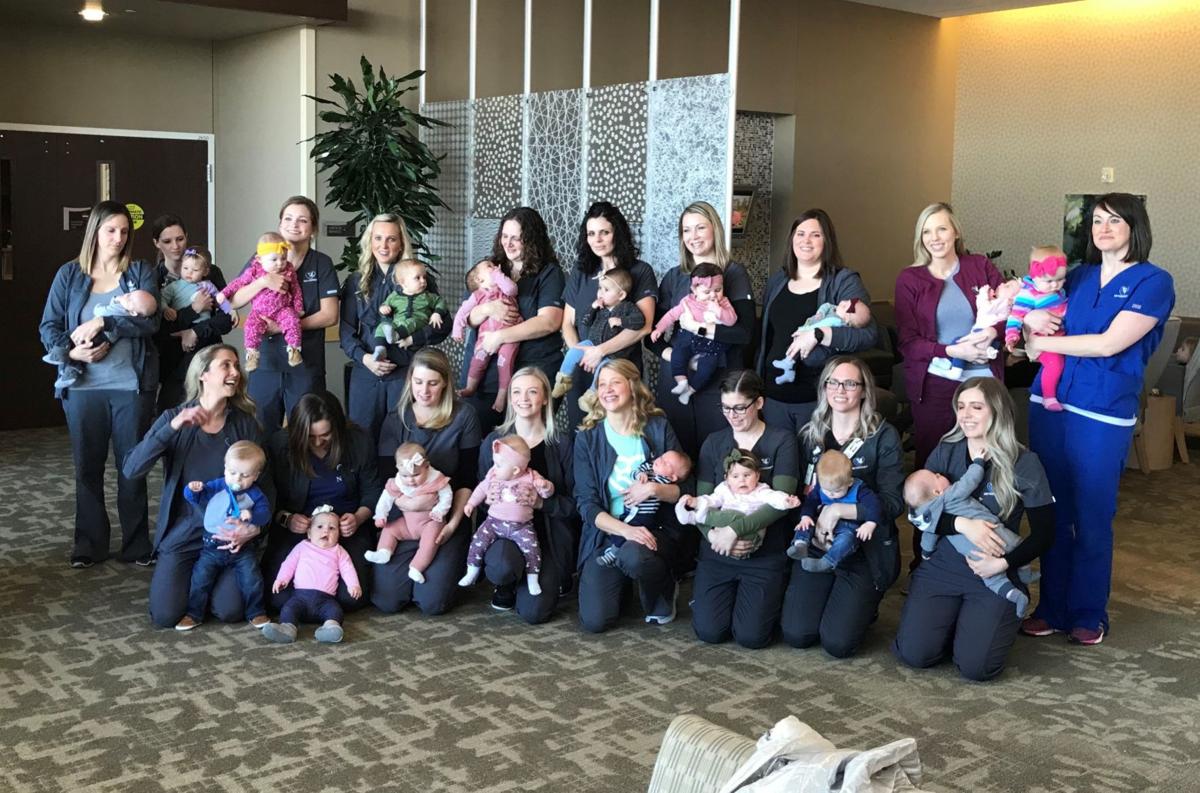 Methodist Women's Hospital is no stranger to a baby boom.
Especially among its own staff.
The hospital's neonatal intensive care unit was the latest team to experience a boom. In 2019, staff members on the team welcomed 19 new babies of their own.
"Babies are our business," said Cindy Mirfield, service leader for the NICU. "It's fun to have the nurses be able to celebrate their own."
The staffers had 11 girls and eight boys.
It was a shock to keep hearing more of her co-workers announce their pregnancies, said Sara Pospisil, who welcomed son Calvin Ray Pospisil on Nov. 25.
"You expect, working in a unit with primarily women, to hear that there will be numerous births in one year, but never do you think that 19 of your work family members are going to have babies at the same time as you," Pospisil said.
The first baby of the bunch was born in January. The last baby was born Dec. 18.
The smallest baby weighed 4 pounds, 11 ounces, and spent time in the NICU as a patient. Two babies tied for the biggest at 8 pounds, 11 ounces.
Seven babies were born to first-time moms.
The nursing staff is already a tight-knit group. Swapping tips, tricks and advice on pregnancy and parenting made them closer, said Pospisil, who has been a NICU nurse for three years.
"We all lean on each other," she said.
Calvin joins big sisters Stella, 3, and Millie, 1. Stella also was born during a baby boom. That year, a dozen babies were born to nurses in the hospital's oncology unit, Pospisil said.
The NICU has a young staff, so it isn't unusual to see several nurses having babies each year. But this is the most they have welcomed in a single year, Mirfield said.
Due dates were spread out across the year, so the unit wasn't down too many people at once. To help with so many staff members on maternity leave, officials brought in traveling nurses, Mirfield said.
"Usually, people say the neonatal intensive care unit is so scary, but it is generally a happy place. The nurses really have a lot of support for one another, and they extend that to moms of our babies," Mirfield said. "This gives them another opportunity to be empathetic and to know what our moms are going through."
More than 5,000 babies were born at Methodist Women's Hospital in 2019.
Baby booms among Methodist Women's staff aren't uncommon. In 2018, 17 babies were born to hospital staff. In 2011, 11 such babies were born. The next year saw 13 births, followed by 14 in 2014 and 15 in 2015.