Jennifer Olsen has been traveling back and forth between Lincoln and Minneapolis regularly since her daughter, Maylena, was 8 months old.
At first, they made about two trips a year. The number peaked at 16 in the last half of 2013 when Maylena had the first of three procedures to lengthen a leg that's shorter than the other. Last year, they made the drive 13 times and this year three — so far.
But Jennifer Olsen is hoping a new collaboration between Boys Town National Research Hospital and Shriners Healthcare for Children-Twin Cities will cut their drive time for some routine visits from seven hours to an hour.
The two organizations announced Thursday in a room packed with fez-wearing Shriners — and a clown — that orthopedic specialists from the Minneapolis hospital will travel to Omaha to hold regular face-to-face clinics at Boys Town, beginning in September.
Boys Town also will serve as the first telehealth site in the Minneapolis hospital's service territory, which covers six states and parts of Canada.
Sign up for the Live Well Nebraska newsletter
Get the latest health headlines and inspiring stories straight to your inbox.
The aim is to provide greater access to orthopedic care for existing and new patients in Nebraska and surrounding states. Maylena Olsen, now 15, is among more than 500 patients who already travel regularly from Nebraska to be seen at the Minneapolis hospital. She has a rare genetic condition that causes skeletal malformations and other problems.
Mother and daughter participated in a demonstration of the telehealth technology last week from Minneapolis before getting on the road back to Lincoln.
"The drive to Omaha will be so much easier than having to drive up (to Minnesota) all the time," Jennifer Olsen said.
Dr. Edward Kolb, director of the Boys Town hospital, said some face-to-face visits by the Minnesota orthopedics team began in November.
Roger Robinson, chairman of the Minneapolis hospital's board, said the Minnesota team so far has seen 84 patients from Nebraska, Iowa and South Dakota at Boys Town, saving families trips to the Twin Cities.
Shriners also volunteer to drive patients to visits, he said. Last year, volunteer drivers made 150 trips from Nebraska to the Twin Cities. That number likely will decrease. And while Shriners and other groups may help cover travel and lodging costs, families may face out-of-pocket costs that can mount over time.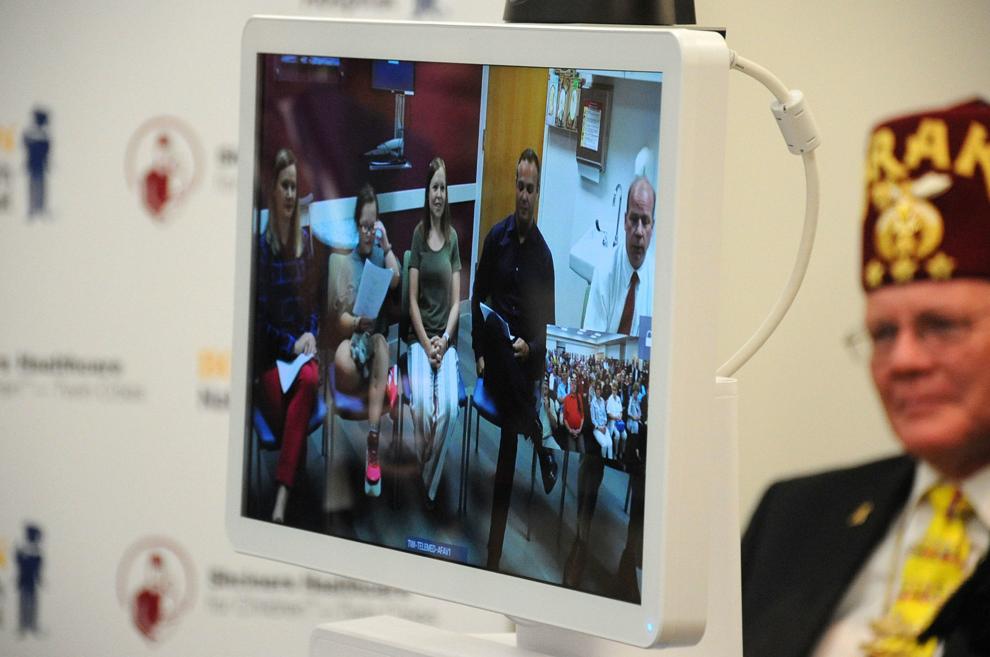 Robinson was joined for the announcement by top officials from Shriners Hospitals for Children and Shriners International, the fraternal and philanthropic organization that helps support the hospital network.
Kolb said the new partners already are talking about other services they could expand access to through the collaboration, such as cleft lip and palate, cochlear implants and deafness. All are among Boys Town's specialties.
"We're going to build something better together," he said. "This announcement today is not the end of what we began ... but really the beginning of new things we're going to do together."
Boys Town staff will provide support if needed during the face-to-face clinics, particularly radiology services.
The telehealth consultations will be conducted over high-speed Internet connections, using tools such as hand-held cameras to get close-ups and digital stethoscopes, otoscopes and dermascopes. The close-ups could be used to check how well incisions are healing and monitor range of motion in joints, among other things.
"I truly look forward to watching this relationship grow for the benefit of current and future patients from Nebraska and surrounding states," Kolb said.