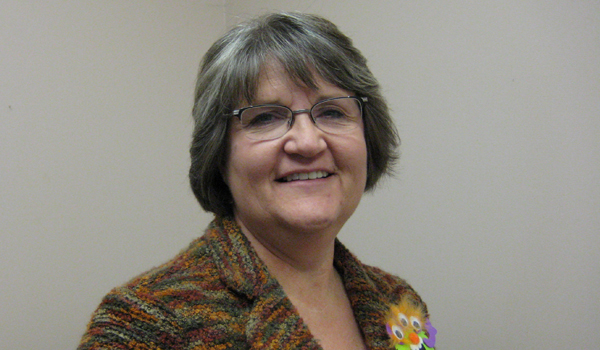 Cheryl Stevens was 46 when she received the dreaded diagnosis: breast cancer.
A brother-in-law told her the best medicine is laughter, and she took that advice to heart. While she was in treatment, she wore funny costumes and told jokes.
Now 54 and cancer free, Stevens continues to spread the laughter. She started Flamingos for Hope, a group of cancer survivors and caregivers that visits the Estabrook Cancer Center once a month, bringing a little joy to those who are receiving treatment or waiting for patients. The staff isn't ignored either — doctors, nurses and aides need a bit of levity every once in a while, too.
The survivors group hands out snacks and other fun goodies, listens to people's stories, answers questions if they can and tries to give the patients hope that cancer can be defeated. Flamingos stands for Friends Laughing, Achieving Miracle, Inspiring and Nurturing Gifts, Offering Smiles.
In October, the theme of the visit was "Monster Mash." Stevens was joined by LaRue Marshall, Denise Hatcher and Janet Boguchwal. They visited every corner of the center, handing out colorful handmade monster pins to everyone who wanted one.
In November, there will be crowns and tiaras for the "Slay Your Dragons" theme.
Stevens takes photos of anyone who's willing, and it's amazing how many people she talks into it. Her smiles are infectious and soon even chemotherapy patients are mugging for the camera.
"What you're doing is wonderful," said one.
There are 15 to 20 Flamingos. Some participate more often than others. "We're all women, but we'd welcome men," Stevens said.
Sometimes she has to put on a brave face. "It's sad when someone who was in remission has to come back."
She is spreading the word about the healing properties of humor. "Our goal is outreach to other cancer centers and hospitals," she said.
The Blair High School medical career club is in its third year of the program at Memorial Community Hospital & Health System, she said, and the Flamingos are in discussion with Midland University's nursing program to start up a similar program in Fremont.
Outside of her work as an accountant at First National Bank of Omaha, Stevens likes crafting and she has completed two half-marathons this year.
She and her husband like to do photography together. "He's the technical guy. I have the eye for pictures," she said.
The rest of her time is taken up with her grandchildren. "They keep me busy."