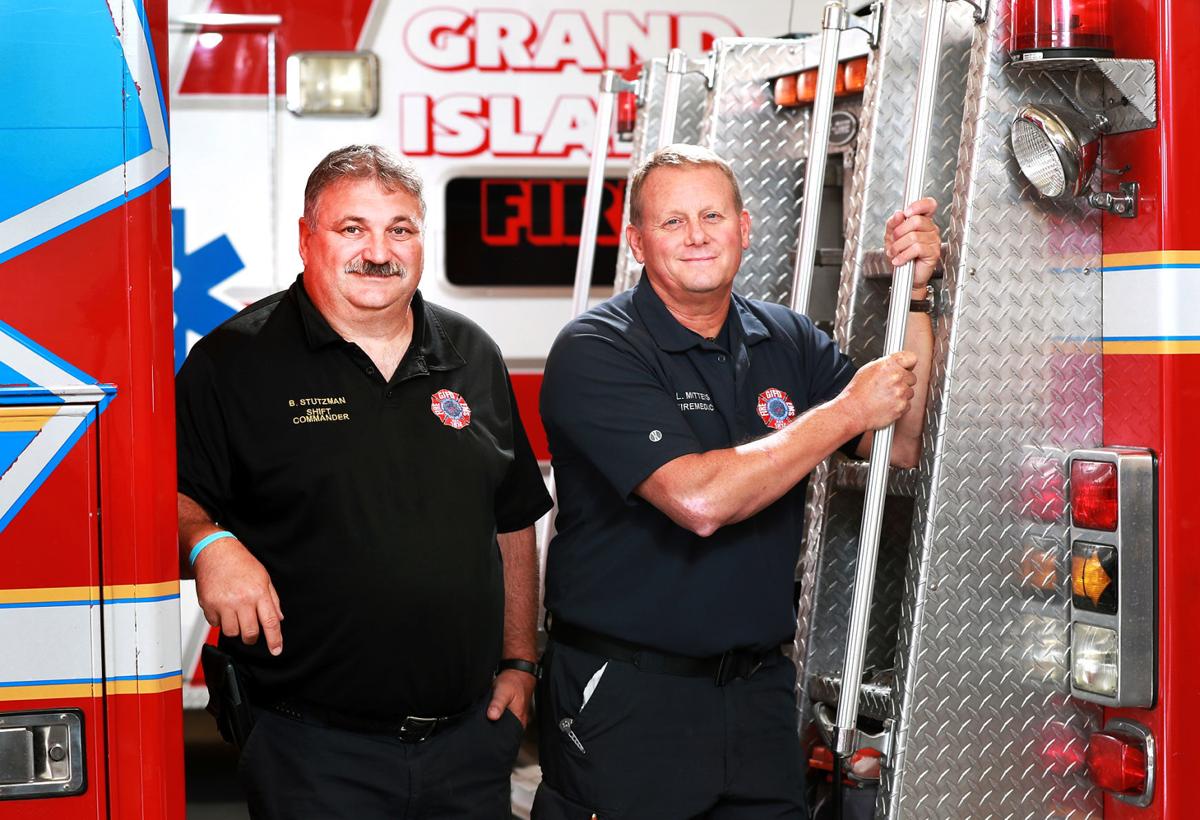 Running into a burning house is one kind of bravery. Battling cancer is another.
Grand Island firefighters Lonnie Mitteis and Bryan Stutzman, both 58, returned to work Wednesday after missing significant time due to cancer.
Mitteis, a firefighter and paramedic, had been gone nine months while he was tackling bladder cancer. Stutzman, who had prostate cancer, was gone eight weeks.
For Mitteis, who learned of his bladder cancer Jan. 8, chemo was the low point "by far."
"When you're used to going and going and going and literally, it takes everything you've got to get out of the chair to go to the restroom, it wears you out," Mitteis said. "I didn't believe it was possible to be that sick."
He started chemo in the middle of January. For the next three months, he had three days when he "actually felt like a human being."
On May 20, a surgeon in Omaha took "my bladder and my prostate and he built me a new bladder out of 60 centimeters of my small intestine. It's called a neobladder."
Mitteis is "extremely happy" to be at back at work.
"I really didn't think this would ever happen," Mitteis said. "When I first found out I was sick, I thought my career at the fire department was over. I really did."
Stutzman, a battalion chief, had his prostate removed.
It's hard to get a phone call telling you that you have cancer, Stutzman says. "You never think it's going to happen to you, and when you get that call it sends you to some dark places. You think the worst," he said.
In December 2017, Grand Island firefighter Jedd Bohlender, 49, died of pancreatic cancer.
"We just lost Jedd to cancer," Stutzman says. His co-workers "just watched him waste away. So you see that and you hear the word 'cancer' is in you," you're going to fear the worst, he said.
Stutzman is cancer-free now.
Still, the surgery was tough.
"It was four to six weeks of 'I don't ever want to do that again,'" he said.
Stutzman has been a Grand Island firefighter since May of 1985.
When he was fighting his battle, Mitteis received a huge amount of support from other firefighters.
He got cards from as far away as Germany and New Zealand. He also received many phone calls, texts and other messages from all over the country and Canada.
Those messages played a big role in helping Mitteis get through it.
"They were all positive, and that's what was driving me — almost to the point of if I hadn't returned, I would have felt guilty," he said. "Yeah. I didn't want to let them down."
Mitteis will celebrate 19 years as a Grand Island firefighter on Nov. 1.
Cancer is the leading cause of death among firefighters, Stutzman said. Bladder cancer is one of the most common killers.
The GIFD has about 70 employees. Since 1984, 13 to 15 firefighters have had some form of cancer, Stutzman said. Three of them have died — Bohlender, George Arnett and George Pontious.
Twenty or 30 years ago, houses were mostly built of wood and other natural products, Stutzman said. Now many of the materials are plastic and treated fabrics. Firefighters deal with a lot of carcinogens, he said.
When he started, "if you washed your clothes, you were made fun of," Stutzman said. The badge of honor went to "who had the dirtiest helmet." In retrospect, that was not good.
Stutzman is in charge of setting out specifications for a new GIFD fire truck. In the modern world of firefighting, gear is kept in separate compartments after firefighters extinguish a fire.
Firefighters use personal protective equipment that limits their exposure. Experts say that a person's body, when it heats up, absorbs toxins at four times the normal rate, Stutzman said.
Exhaust systems are being installed so that engine exhaust doesn't get into fire stations.
International firefighter unions are trying to help prevent cancer in firefighters.
But it's also up to individual firefighters, Stutzman said. They just try to minimize the risk as best they can.
"We're in that toxic atmosphere," he said.
Sign up for The World-Herald's afternoon updates
Receive a summary of the day's popular and trending stories from Omaha.com.