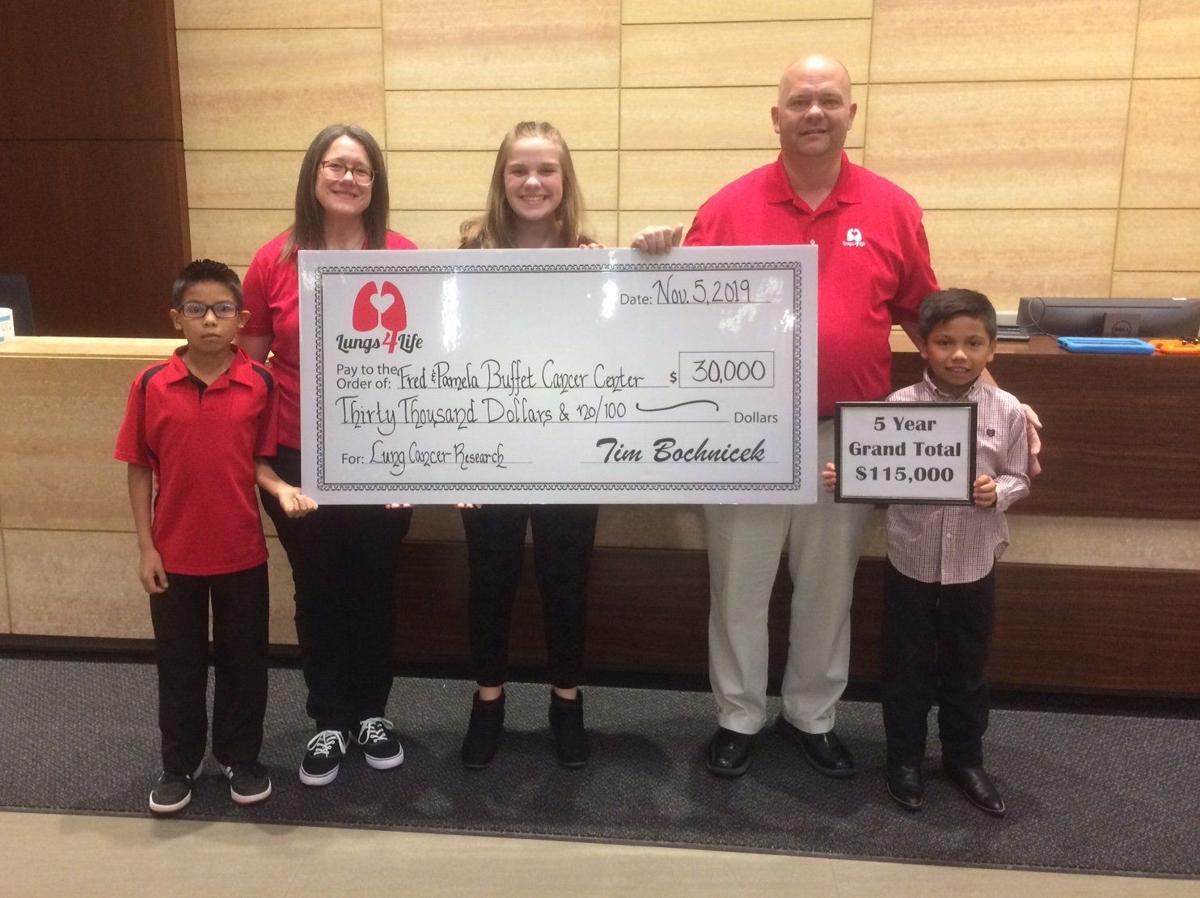 This week, the Lungs4Life Foundation, founded by Leah Bochnicek and her husband, Tim, marked a milestone in their fight against lung cancer.
They presented a check for $30,000 — their largest donation to date — to officials at the Fred & Pamela Buffett Cancer Center in Omaha, bringing their five-year total to $115,000. They'd earlier set a goal of $100,000.
Bochnicek is well aware there are bigger donors to the cause of cancer research.
"We're one of the more grassroots organizations," she said.
Bochnicek, who had never smoked or lived with anyone who smoked, was diagnosed in December 2013 with Stage 4 lung cancer.
Sign up for the Live Well Nebraska newsletter
Get the latest health headlines and inspiring stories straight to your inbox.
She was 42 and a mother of three — ages 2, 3 and 8 — with a full-time job. Two weeks later, she said, a test indicated that she had a lung cancer variation known as the ALK mutation. It's present in about 6% of people diagnosed with lung cancer. Lung cancer is the leading cause of cancer deaths in both men and women, according to the American Cancer Society.
The good news, she said, is that researchers have found a way to suppress that type of cancer. She's now past the five-year survival mark and her children are 8, 9 and 14.
Dr. Apar Ganti, a professor of oncology at the University of Nebraska Medical Center, said researchers have put the foundation's funds to work on lung cancer research over the past year and a half.
They've been studying whether a drug used in patients with Bochnicek's lung cancer variation also could work in the more common small cell lung cancer. The researchers have been studying the drug in cells, and they believe it has an effect. The next step would be to study the drug in animal models of that type of cancer to see whether it may translate to humans.
Bochnicek, now 48, said she'll continue to champion lung cancer research. The group also seeks to raise awareness that anyone can get lung cancer.
17 rare and unusual health stories out of Omaha
One rare disease left an Omaha doctor eating a shakelike formula to supplement her diet. A friend said it tasted like cat food. An Omaha man woke up after his family took him off life support. And a Lincoln teen is allergic to almost everything.
Check out the stories on their unusual ailments and sometimes equally unusual treatment plans.
Be the first to know
Get local news delivered to your inbox!