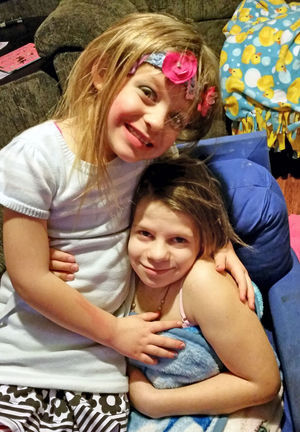 The Koesters family hopes to prove the healing power of hugs.
Through the Little Giants Foundation, the Gretna family has kicked off the social media campaign, #hugs2heal. The campaign's goal is to educate and raise awareness for the foundation and those with rare forms of dwarfism.
For foundation organizers Erin and Joe Koesters, the campaign is close to their hearts. Their 13-year-old daughter, Emily, was diagnosed with one of those rare forms of dwarfism, Schimke Immuno-ossesous Dysplasia, and battles its symptoms daily.
"Together we can do something extraordinary, for Emily and for others like her," Erin said.
The photo campaign kicked off Feb. 1 and will continue through Thursday, which is Nebraska Little Giants Day, as proclaimed by former Gov. Dave Heineman and the cities of Gretna and Springfield.
Those wishing to support the awareness campaign can do two things, Erin said. First, take photos of yourself giving hugs and tag them with #littlegiants and #hugs2heal on social media. She also asked that people wear red last week on Thursday to celebrate Little Giants Day.
"We want everyone to hug friends, family, classmates, co-workers and pets and share those photos," Erin said.
Emily is a sixth-grader at Gretna Middle School, though her attendance has been limited this school year after a health setback in August.
She currently is able to attend three days a week for about four hours, her mother said, and she also continues with several outpatient therapies three days a week.
After being found unresponsive in early August, Emily spent almost a month at Children's Hospital & Medical Center and several weeks at Madonna Rehabilitation Center in Lincoln, where she relearned to talk and function, her mom said.
"The fact that she is up walking, talking and functioning close to her old self again is nothing short of remarkable," Erin said.
Emily is one of four known people in the United States and one of 45 across the world diagnosed with SIOD, though her mom said more children might be affected by SIOD, but kidney failure, stroke or viruses claim their lives before they are diagnosed.
Researchers in British Columbia have made advances in their work on SIOD, and through the Little Giants Foundation, the Koesters family hopes to help raise the $3.5 million needed to continue the research and testing.
Since stepping in to direct the foundation in 2014, the Koesters family has worked to raise awareness and funds through different avenues, including an annual 5K trail run event.