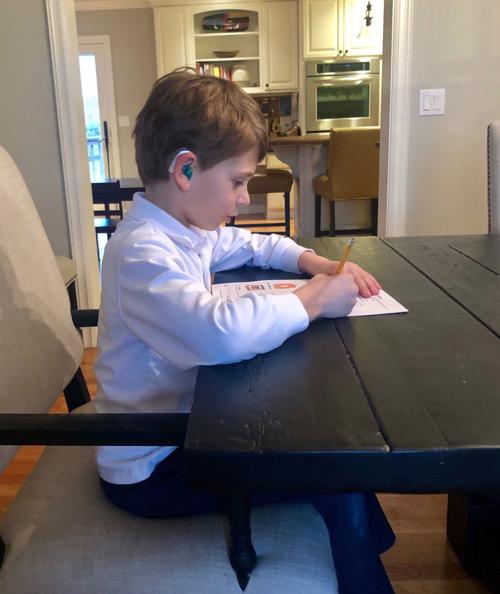 A senator who was deaf as a baby is getting closer to passing a law that would help families of children with hearing problems.
State Sen. Carol Blood of Bellevue introduced Legislative Bill 15, which would require that health insurance plans cover hearing aids and related services for people 18 and younger — up to $3,000 of coverage over four years.
The bill has 30 co-sponsors, enough support to pass the 49-member Legislature. It passed the Banking, Commerce and Insurance Committee almost unanimously, with only Sen. Andrew La Grone of Gretna abstaining. It was named one of Speaker of the Legislature Jim Scheer's priority bills.
The bill would exempt companies with 50 or fewer employees.
Most health insurance plans still consider hearing aids to be "cosmetic" or "elective," said Jeremy Fitzpatrick, an attorney who chairs the Nebraska Commission for the Deaf and Hard of Hearing. They're usually not covered by private insurance.
But hearing aids are a necessity, said Josh Sevier, an audiologist at the University of Nebraska-Lincoln who helped craft the legislation. And each set costs $2,000 to $6,000.
"When you're a kid, the way you learn language is you hear your parents talking ... you're mimicking language that you hear around you," Sevier said. "Without the ability to do that, it really puts you behind academically. ... Ultimately, it may hinder their ability to get a job."
Sign up for the Live Well Nebraska newsletter
Get the latest health headlines and inspiring stories straight to your inbox.
Fitzpatrick's 6-year-old son, Quinn, first got hearing aids when he was four months old.
"I was as surprised as most parents are when they tell you, 'Hey, your kid needs hearing aids ... and by the way, that isn't covered by insurance,' " Fitzpatrick said.
About 23 states require insurance companies to cover hearing aids for children, according to the American Speech-Language-Hearing Association.
Roughly three to five out of every 1,000 children need hearing aids, Sevier said. In 2017, 52 newborns were diagnosed as deaf or hard of hearing in Nebraska, according to a report by the State Department of Health and Human Services. Fitzpatrick said that might be a reason why it hasn't ended up in health insurance plans.
The Infant Hearing Act of 2000 requires newborns in Nebraska to be screened for hearing problems. Before that, just over a third of newborns had a hearing screening, according to HHS. That early detection has been key to mitigating negative effects on speech and language acquisition and social and emotional development, the report says.
In Blood's case, she said, her hearing problems resulted in a speech impediment as a child.
"I was deaf as an infant," Blood said. "So I took years of speech therapy — it's the taxpayers who pay for that."
The attached fiscal note estimates that the legislation would cost $176,000 in its first full year. Blood said it could save $400,000 over the lifetime of a deaf child. 
Blood said that because of her speech impediment, some thought her name was Carl or Carla, not Carol. She would give up trying to say her name.
"After two or three times, I'd be so embarrassed because I felt so uncomfortable with my impediment," Blood said. "So here's an opportunity for us to help children feel confident and give them every tool they possibly can get to be successful."
Photos: Day one of the 106th Legislature