The walls are all painted, with an ombre band of bright green running around the bottom. Front counters and displays have been installed, including the neon green lights framing the wall-mounted glass cases.
Saturday, the former restaurant — most recently a barbecue joint — just off Interstate 29 in Council Bluffs will reopen as Have A Heart Compassion Care, one of Iowa's five new medical marijuana dispensaries. The shops were authorized as part of a law approved last year by the Iowa Legislature; licenses were awarded earlier this year.
The opening of the dispensaries echoes the have versus have not relationship between Iowa and Nebraska that emerged decades ago with the launch of gambling in the Hawkeye State.
Sign up for World-Herald news alerts
Be the first to know when news happens. Get the latest breaking headlines sent straight to your inbox.
But there is one big difference: Nebraskans can't drive across the river to obtain medical marijuana products as they can to put quarters in slot machines or throw down a hand of poker.
Only Iowa residents who are certified by an Iowa-licensed physician as having a qualifying condition can apply for a special ID card to purchase three forms of medical cannabidiol: gel capsules, tinctures and creams. Qualifying conditions include untreatable pain, side effects of cancer, seizures and ALS, among others. Approved caregivers of such patients also can apply.
Nebraska does not have a law allowing the use of medical marijuana beyond one drug and one small study at the University of Nebraska Medical Center. A resolution this year to put legalization on the ballot did not advance in the Legislature. A state senator has said she plans to give lawmakers another chance in early 2019.
Charley Wells, a Have A Heart official who was working this week to set up the new dispensary, said the Bluffs location near Harrah's Casino will start with a soft opening today and have a grand opening on Dec. 8.
He said he expects a few people to come through once the dispensary opens to see what it's about and for traffic to increase over time.
"More and more, the stigma of the product is getting lifted and people are getting excited," he said.
As of mid-November, about 500 patients and caregivers had obtained registration cards, most in central Iowa. Of cards issued near the Nebraska border, 10 had been issued in Pottawattamie County, nine in Mills County and 17 in Woodbury County.
Sarah Reisetter, deputy director of the Iowa Department of Public Health, said the volume of applications has picked up as the Dec. 1 opening has approached.
Registration cards, which cost $100, are valid for a year, she said, so it makes sense that people are waiting until closer to the date to obtain them.
Most patients — 46 percent — cited untreatable pain as the reason they were seeking the compounds. Seventeen percent listed cancer-related effects: pain, nausea and vomiting or wasting. Next were seizures (12 percent) and multiple sclerosis (11 percent).
Reisetter said physicians don't prescribe or recommend the products. Instead, they certify that patients are eligible based on their qualifying medical conditions.
About 325 of the nearly 7,000 physicians who list Iowa work addresses had certified patients.
Some doctors have had qualms about certifying patients for the program. Despite the legalization trend in states, the federal government classifies marijuana as a controlled substance — in the same class as heroin, LSD and others — with no currently accepted medical use and a high potential for abuse. The Iowa Department of Public Health's guide for physicians notes that Iowa law protects physicians from the threat of criminal prosecution and from disciplinary action against their licenses as long as they follow the state's rules and regulations.
Some doctors also are uncomfortable that the marijuana products in most instances aren't backed by the type of scientific studies demonstrating their safety and effectiveness that most medications go through. Advocates, however, cite numerous cases in which they've worked, including relieving seizures and cancer pain and nausea.
Two large Omaha-area health systems — CHI Health and Methodist Health System — operate hospitals and clinics in Council Bluffs and western Iowa.
Dr. Randy Pritza, chief medical officer of CHI Health Clinic, said in an email that CHI is leaving the decision whether to certify patients to physicians.
But he and Methodist officials said in statements that their health system's policies are to follow federal law when it comes to the practice of medicine. Methodist officials said they would continue to study Iowa law.
Have A Heart CEO Ryan Kunkel and Lucas Nelson, general manager of MedPharm Iowa, said increasing those physician numbers can take time. MedPharm Iowa is opening a dispensary in Sioux City, another border town, and one in the Des Moines area.
"We see this in a lot of states," Nelson said. "It can be a bit slow in the beginning, but it does improve."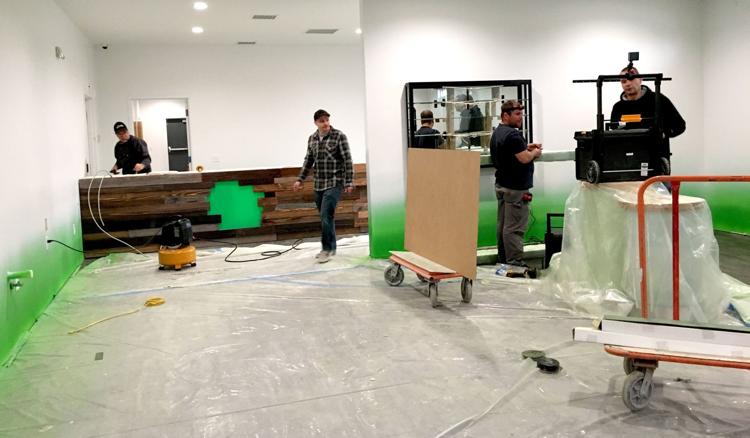 Nelson said people have been stopping by MedPharm's locations in the days leading up to the opening to see whether they qualify and to learn more. That's allowed staff to do some preliminary consultations with patients, although there haven't been any products on the shelves.
MedPharm currently is the only manufacturer of the products in Iowa, operating a plant in the Des Moines area where the marijuana is grown and the products manufactured, packaged and labeled.
Dosing recommendations will occur at the dispensaries. The products are not covered by insurance. Nelson said prices will range from $40 to $120 for a roughly 30-day supply, although individuals' use will vary.
Nelson said MedPharm's products were developed around the conditions approved in Iowa.
"When a patient walks in, they tell us about the condition and that will be the basis for making those recommendations, combined with what we know from the literature," he said.
One, called cannabidiol, or CBD, does not produce a high. CBD is the compound used in a medication called Epidiolex, which the U.S. Food and Drug Administration has approved for use in two rare seizure disorders. That's the drug used in the UNMC study, which involves patients with forms of epilepsy that don't respond to other treatments.
The other, THC, is known for producing a high. It's capped at 3 percent in medical marijuana products in Iowa.
Wells, the Have A Heart employee, said the company eventually will hold educational sessions in Council Bluffs and Davenport, where it has another location. Company officials know there are a lot of mixed views about the products, and they want to change some of them.
"We're here to help," he said. "We want to share what we've learned and what we know."
This report contains material from the Associated Press.
Be the first to know
Get local news delivered to your inbox!