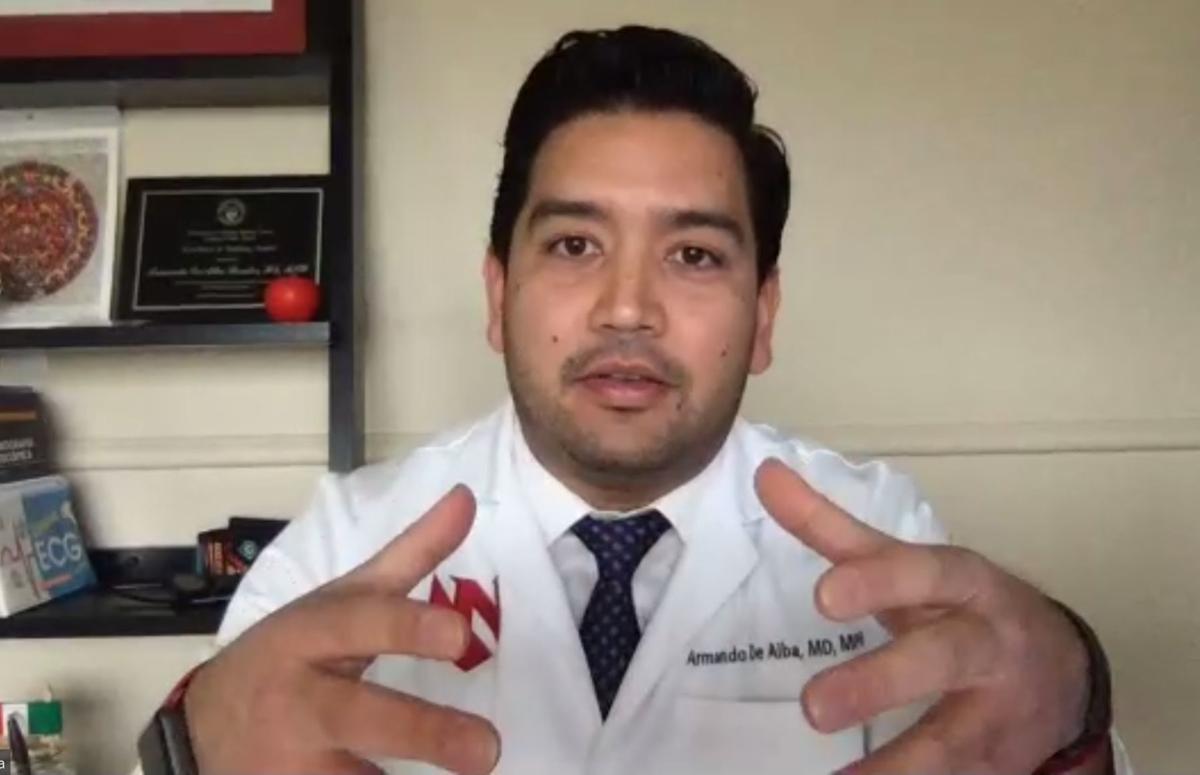 La lucha contra el coronavirus será una batalla — the fight against the coronavirus will be a battle.
That was the heart of the message Sunday night from local leaders and doctors on a video call — conducted entirely in Spanish — who sought to explain to the Hispanic community the importance of taking precautions to prevent the spread of the novel coronavirus.
"It's a battle that I am sure we are going to get through," said Dr. Armando De Alba from the University of Nebraska Medical Center. When De Alba said that, Omaha Public Schools Superintendent Cheryl Logan responded emphatically on the message chat, agreeing with him.
De Alba, Logan and five other leaders joined the virtual video conference call to reiterate public health and government messages about the danger of COVID-19, the disease caused by the virus. The chat was recorded and is posted on the Latino Center of the Midlands website, latinocenter.org, and in other Spanish-speaking media.
De Alba created a Spanish-language video he posted on YouTube on March 13 about what the coronavirus is, how it spreads and how to keep from getting the virus.
The Latino Center is also asking the public to fill out a short survey in order to know how to better serve the Latino community during the pandemic.
Albert Varas, the executive director of the Latino Center, said he has continued to see people and families at stores and businesses in South Omaha, but that needs to stop. He suggested having one person be the designated shopper for the family.
"We have to make a big effort for our families and community," he said. "Please, stay at home if it's possible."
He said while his organization's office is closed to the public, it is still offering services to help with food security, unemployment and financial support and conducting online classes. They are working on a social media campaign called "Stay at Home, Quédate en Casa."
Alexis Steele, a policy staff attorney at the Immigrant Legal Center, said Immigration and Customs Enforcement announced Wednesday that it has changed enforcement procedures temporarily to focus only on public safety risks. Steele said ICE will not be at clinics or hospitals, so if a person is sick and needs care, they should feel safe in seeking it without fear of arrest.
The Omaha Immigration Court is still open but will not allow anyone inside for hearings and also has halted in-person services, Steele said.
State Sen. Tony Vargas, who represents downtown and parts of South Omaha, explained what the Legislature was doing to provide support to Nebraskans during the pandemic. Everyone should take the contagious coronavirus seriously, he said.
"It's a serious risk that threatens the health of our community," he said.
Sergio Sosa, the executive director of the Heartland Workers Center, reminded everyone that while the year 2020 is being affected by the pandemic, it's also an election and census year. He said it's important to participate in both — for Latinos to be heard and counted for elected representatives and future funding.
"I understand that being in quarantine is difficult," he said. "And I also understand that the fear of the economy, jobs and family that we have in the countries we came from is so big."
De Alba reiterated that washing one's hands, staying at home and preventing contact with others will help decrease the load that hospitals and clinics will face in the near future.
"That's what we want to prevent," he said. "We all play a very important role."
Concerned about COVID-19?
Sign up now to get the most recent coronavirus headlines and other important local and national news sent to your email inbox daily.