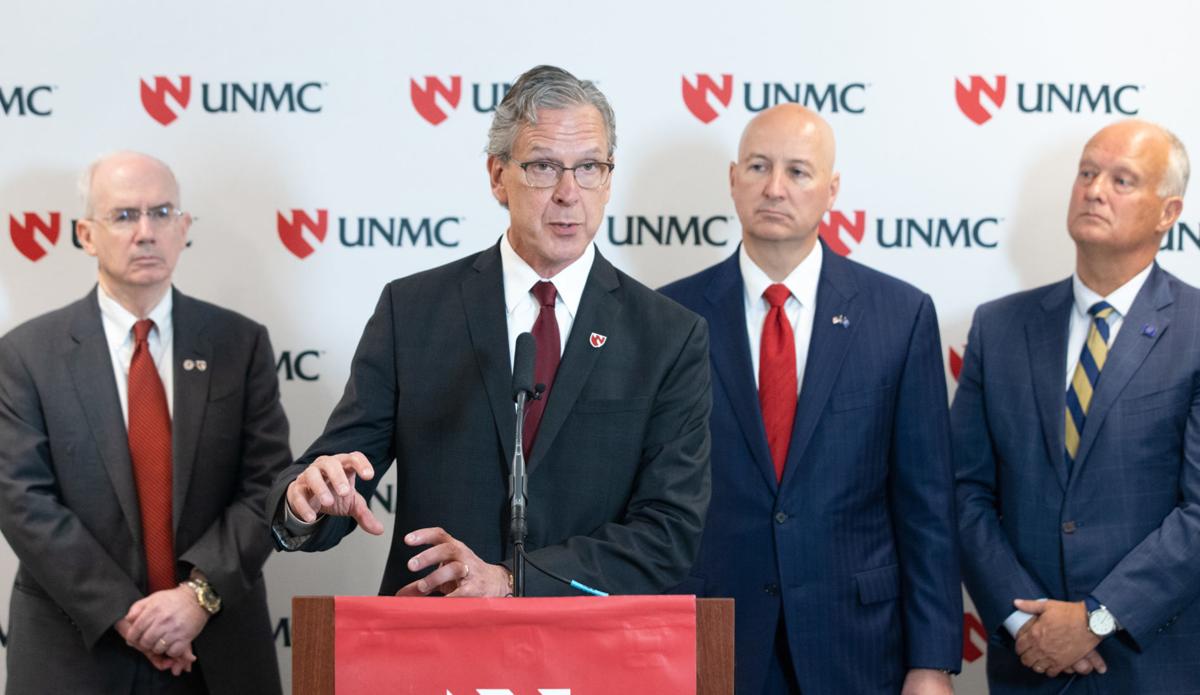 It causes untold pain, it's costly, and it kills.
Substance abuse and addiction — not just to opioids, but also to alcohol and nicotine — are taking a toll on Nebraskans' health and pocketbooks.
On Monday, Gov. Pete Ricketts announced a collaborative initiative aimed at combating addiction by providing specialized training to prepare more of the state's health care providers in the prevention, diagnosis and treatment of addiction.
The focus of Monday's announcement was the creation of a yearlong, nationally accredited addiction medicine fellowship at the University of Nebraska Medical Center.
The first fellow, Dr. Andrea Parde of Lincoln, will begin advanced training early next month.
Nebraska, Ricketts said, is the first state to put some of the federal funds it has received to combat the opioid epidemic toward training addiction medicine specialists.
Another piece is a one-month executive fellowship for primary care physicians, nurse practitioners and physician assistants to learn more about addiction medicine, including prescribing medications to treat opioid and alcohol addiction.
Fourteen executive fellows have completed that program since it began in November, and two more will do so soon.
Ricketts noted that almost a quarter of deaths in Nebraska, and in the nation, each year are related in some way to substance abuse and addiction.
Bolstering the state's addiction medicine workforce is intended to increase Nebraskans' access to such care.
Sign up for The World-Herald's afternoon updates
Receive a summary of the day's popular and trending stories from Omaha.com.
Currently, 15% of people with substance abuse disorder get treatment, said Sheri Dawson, director of the Nebraska Department of Health and Human Services' behavioral health division.
Signs that the efforts are succeeding would include an increase in the number of providers who can prescribe addiction medications and the number of people who get treatment, among others.
"Addressing substance abuse and addiction is a key part of how we continue to address health issues here in our country," Ricketts said. "It's important that we have a team effort here in Nebraska to do that."
Dr. Kenneth Zoucha, an assistant professor of psychiatry and director of the addiction division at UNMC, said health care providers often don't feel comfortable assessing and treating people with substance abuse problems and prescribing and managing addiction medications without additional training.
"We know that we have a critical shortage of these addiction treatment experts across our state," he said. "This is a huge step in the right direction to provide access to care (for) patients and families."
He and Dr. Jeffrey Gold, UNMC's chancellor, said the fellows who become board-certified in addiction medicine will not only be involved in treating patients but also in consulting with other providers, educating students and spreading that knowledge across the state.
The state has dedicated $600,000 of the initial $2 million it received from the federal Substance Abuse and Mental Health Services Administration for prevention, treatment and recovery toward the programs. The state continues to receive additional funds through the agency.
Monday's announcement builds on previous work by the Nebraska Coalition to Prevent Opioid Abuse, which launched in late 2016. Joining the governor were Gold and Nebraska Attorney General Doug Peterson, both of whom have been partners in the effort.
The coalition's previous efforts have included expanding access to and training in the use of naloxone, the opioid-reversal agent.
Recently, Gold said, emergency responders who had been trained just weeks before were called to a farmhouse in rural Nebraska where a five-year-old lay lifeless, nearly breathless. She had gotten into her grandparents' medications, including opioids. The responders administered the drug, and the girl is going to school this fall.
"If you ever needed a single realization that awareness and training, education and outreach make a difference, you just have to meet their family and understand the impact this had in rural Nebraska," he said.
17 rare and unusual health stories out of Omaha
One rare disease left an Omaha doctor eating a shakelike formula to supplement her diet. A friend said it tasted like cat food. An Omaha man woke up after his family took him off life support. And a Lincoln teen is allergic to almost everything.
Check out the stories on their unusual ailments and sometimes equally unusual treatment plans.
Be the first to know
Get local news delivered to your inbox!