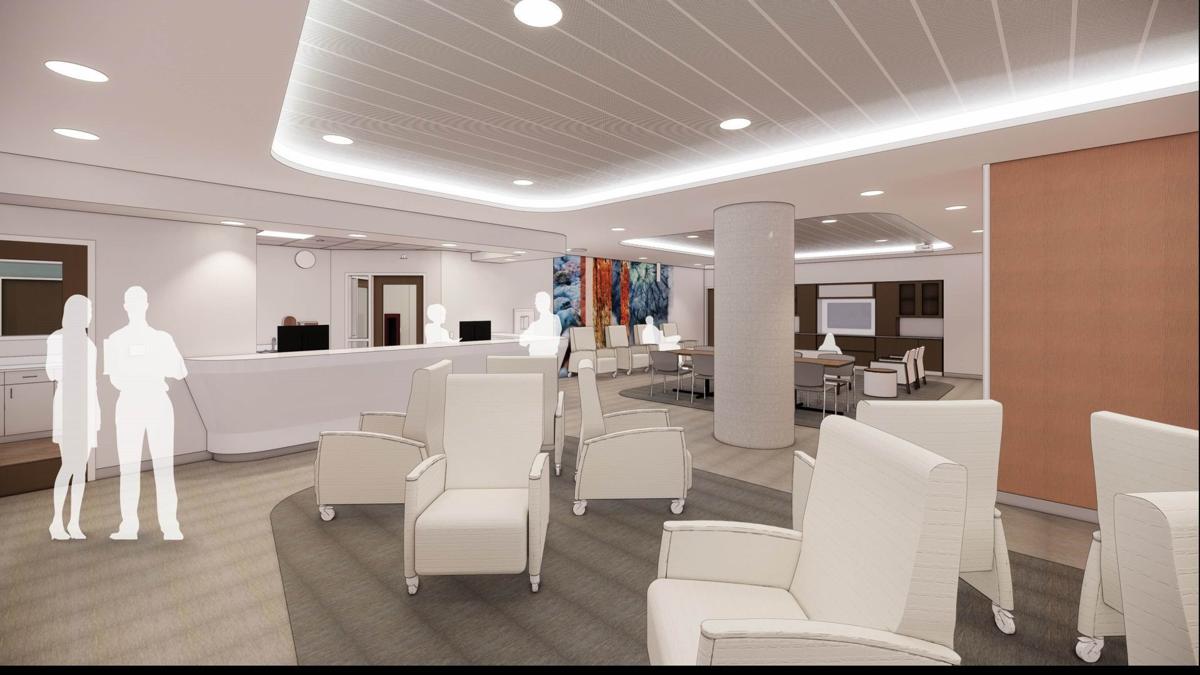 Omaha-area residents experiencing psychiatric or substance abuse issues soon will have a new emergency center geared to their needs.
Nebraska Medicine this fall will open a long-envisioned psychiatric emergency center for adults in renovated space on the ground floor of Clarkson Tower, which is near 42nd Street and Dewey Avenue.
Traditional emergency rooms don't always have such providers on staff, particularly overnight, which means patients may wait to start treatment.
Not only is the unit expected to relieve pressure on the emergency room, it's also anticipated that it will help keep some patients out of inpatient psychiatric beds in the community, for which there can be substantial wait times.
"The time is right to provide this service to our community," said Dr. Howard Liu, chairman of psychiatry at the University of Nebraska Medical Center.
Patti Jurjevich, administrator of Region 6 Behavioral Healthcare, said, "This is really new territory for us as well as Nebraska Medicine." Region 6 monitors gaps in mental health services in Douglas, Sarpy, Washington, Dodge and Cass Counties, and allocates government funds for those services.
"We're really excited about this," Jurjevich said.
Bryan Medical Center, in Lincoln, opened its mental health emergency department on the Bryan West campus in January 1993. It has been open since then.
Currently, one in eight visits to an emergency room in the United States involves a patient with a psychiatric or substance abuse problem. Nebraska Medicine alone has seen a nearly 80% increase in people with a psychiatric crisis in its ER from 2015 to 2019, with more than 3,000 such visits just last year.
Once in an ER, such patients may wait hours or even days for transfer to inpatient psychiatric facilities. The Nebraska Medical Center saw wait times increase from 16 hours in 2015 — interrupted by a slight dip to 14 hours in 2016 — to 24 hours in 2019.
David Cates, Nebraska Medicine's director of behavioral health, said the need for such a facility was identified some years ago by stakeholders in the community.
Dr. Ashish Sharma, a UNMC psychiatry professor who will be the unit's medical director, estimated that based on his research, about a dozen other such units have been set up across the country.
Liu and Cates stressed that the new center won't be able to manage every such emergency in the metro area. Other institutions in the community, including Immanuel Medical Center and Lasting Hope Recovery Center, will continue to provide mental health assessment and triage.
And Nebraska Medicine, which does not have its own inpatient psychiatric beds, is working closely with CHI Health, which operates Immanuel, and other providers in the community to make sure it can efficiently admit patients who need inpatient care, Liu said.
But because the new unit will be close to Nebraska Medicine's emergency room, it will be able to handle some patients those centers cannot, namely those with medical complications as well as psychiatric and substance abuse problems. That could include patients who have attempted suicide and people with substance abuse issues who are detoxing, Sharma said.
After patients are assessed and their treatment has begun, most patients would be transferred to the appropriate level of care.
But with rapid evaluation and treatment, Jurjevich said, some patients who may have required inpatient admission in the past may not need it. If a patient's condition can be stabilized, he or she could instead be connected with community-based resources.
Ultimately, Jurjevich said, the goal is that those who do need inpatient beds can get them more quickly.
Cates said the hospital's ER currently admits about half of patients who arrive needing behavioral health care to inpatient units. The other half go home.
With the addition of the emergency center, officials are hoping to discharge up to 80% of patients, cutting those requiring inpatient care to as low as 20%. "That helps the whole community if we're not sending patients who don't absolutely need it," he said.
Those who are discharged also will get a better hand-off to services in the community, Liu said. In many ERs, such patients might be handed a list of places in the community to contact for assistance. But it can be difficult for people in crisis to follow up.
Jennifer Sparrock, the new unit's manager, said staff members have been building alliances with organizations in the community that work with people with behavioral health problems so they can help patients make those connections.
The unit also will have trained and certified peer-support specialists on hand seven days a week, she said. Peer-support workers are people who have experienced mental health and substance abuse issues. They can be particularly helpful to first-time patients and those trying to get into recovery, as well as their families.
Liu credited Region 6 for carrying the torch regarding the need for the center. Nebraska Medicine's board approved the concept of the project in August.
The unit, which will be in space once occupied by the former Clarkson Hospital's ER, will feature four interview and triage rooms where patients can be assessed as well as an open observation area with capacity for 12 moderate-risk patients. Those could include patients with suicidal thoughts or manic symptoms from bipolar disorder.
In addition, the unit will include a secure-care area with six private rooms where providers can stabilize patients at high risk of harming themselves or others or who are too agitated to be around other patients while they await transfer to an appropriate facility.
Liu said the unit will provide a calm, compassionate environment away from the bustle of the main ER.
"We think this is going to be something that is going to improve the patient experience," he said.
This article has been updated to note that Bryan Medical Center in Lincoln opened a mental health emergency department in 1993.
---
Our best staff images from July 2020