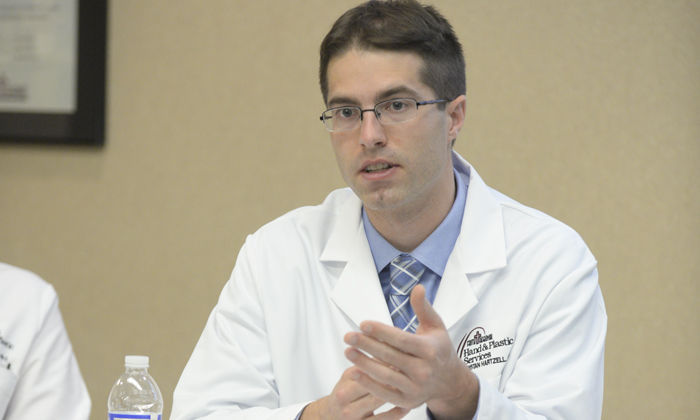 A severe industrial accident in July could have left a woman without any of the fingers on her right hand if not for the talents of a Norfolk, Nebraska, surgeon and his 13-member medical team.
Dr. Tristan Hartzell, a hand and upper extremity surgeon with Faith Regional Health Services, was previously involved in the second face transplant in the world as well as the first hand transplant in the western United States.
In this case, he performed what he called an "urban legend" replantation surgery — the reattachment of all five fingers on one hand.
At a Wednesday morning press conference at the hospital to discuss the operation, Hartzell said the patient — a woman in her 30s — had her fingers severed off her dominant hand in an industrial accident by a huge blade used to cut heavy items. The incident occurred between 7 and 8 a.m. on July 24.
Fortunately, the accident occurred relatively close to the hospital, so she arrived soon after — along with four of her five missing fingers.
The pinkie finger was found later and brought in, Hartzell said.
Hartzell and physician assistants Amy Jorgensen and Jordan Janssen immediately set to work under microscopes marking the nerves, vessels and tendons of the severed fingers while the patient was stabilized. The woman had lost a tremendous amount of blood — well over half of that normally in her body, Hartzell said.
The patient was brought into the operating room for surgery at about noon.
"At this point, you really have to suck it up. ... You're going to be sewing under a microscope for hours and hours," Hartzell said.
The bones and tendons are easy to reattach, he said, but the nerves and vessels take the most time and concentration. Some of those parts of the hand are as thin as 1 millimeter.
Veins were harvested from the patient's left hand, and skin grafts were taken from the patient's right arm. Hartzell said the surgery was unique in its difficulty, as compared to a full hand transplant or reattachment of a single finger.
"Technically, this is probably the most difficult case I've worked on," Hartzell said.
Once the surgery was completed, between 2 and 3 a.m. on July 25, the patient was taken to hospital's intensive care unit. She remained there longer than normal, and was intubated for a long period of time due to becoming sick from the massive blood loss, Hartzell said.
"(The patient) is a remarkable young woman who handled it with grace and courage. ... She is going home (Wednesday)," he said.
The road to recovery will be long, though, and it may include future surgeries to free tendons from scar tissue in order to give the patient more mobility. She will likely never have the fine motor skills she once had, but sensation will return "remarkably well," Hartzell said.
The patient will be able to open and close her hand and hold things like eating utensils, although she will have to work through a lot of physical therapy to get to that point.
Hartzell praised the anesthesiologists, physician assistants, nurses and surgical technicians who worked the marathon operation with him. He said the team has done a lot of replantations and partial hand operations at Faith Regional, but the end result is always gratifying.
"It's always exciting to see a hand turn pink (after surgery)," Hartzell said.