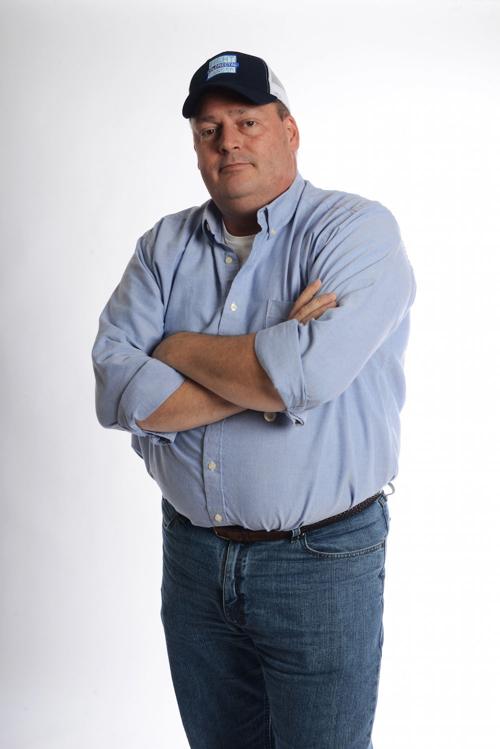 An Omaha man battling cancer is featured this month in a national health campaign displayed in Times Square.
Paul Shadle is one of 25 individuals in the campaign from the nonprofit Fight Colorectal Cancer.
The video campaign rotates among several others that play on the Nasdaq billboard in Times Square. The video shows a photo of Shadle, with his arms crossed and wearing a Fight Colorectal Cancer ball cap. Below him is the word "courage."
The campaign, dubbed One Million Strong, is designed to raise awareness of the disease by using survivors' stories and will run through the month of March.
"I want to share my story and do as much as I can to help," Shadle said. "I can reach out and hopefully inspire someone to take action. Listen to your body. Get things checked out and get it taken care of as soon as possible. That's my driving factor behind it. Hopefully nobody else has to go through the same experience as me."
Shadle, 45, was diagnosed with stage IV colorectal cancer in 2016 after noticing symptoms on a family vacation. He had dismissed prior feelings of fatigue and chalked it up to getting older. On vacation, he had bloating and cramping in his abdomen, later noticing blood in his stool.
"Nobody expects that diagnosis," Shadle said. "I thought it would be something small, and I'd get it taken care of. It was just a very shocking discovery."
When Shadle was diagnosed, the disease had spread to spots on his liver and lungs. Since then, he's undergone regular sessions of chemotherapy. The spots on his liver have gone away, and the spots on his lungs have shrunk considerably. He'll continue with the chemo treatments until doctors expect to remove the main tumor.
Shadle stumbled upon Fight Colorectal Cancer's ambassador program shortly after his diagnosis. Last summer, he applied and was selected to participate in the national campaign in New York City.
The campaign encourages individuals to get checked and learn more about the disease.
Shadle watched a livestream as the campaign was displayed for the first time last Wednesday. The video starts with a mosaic of the 25 ambassadors and then flashes through individual photos.
"It really takes up the whole building," Shadle said. "The audience we're hitting, in the middle of Times Square, is huge. Hopefully this message gets out to some people who need it."