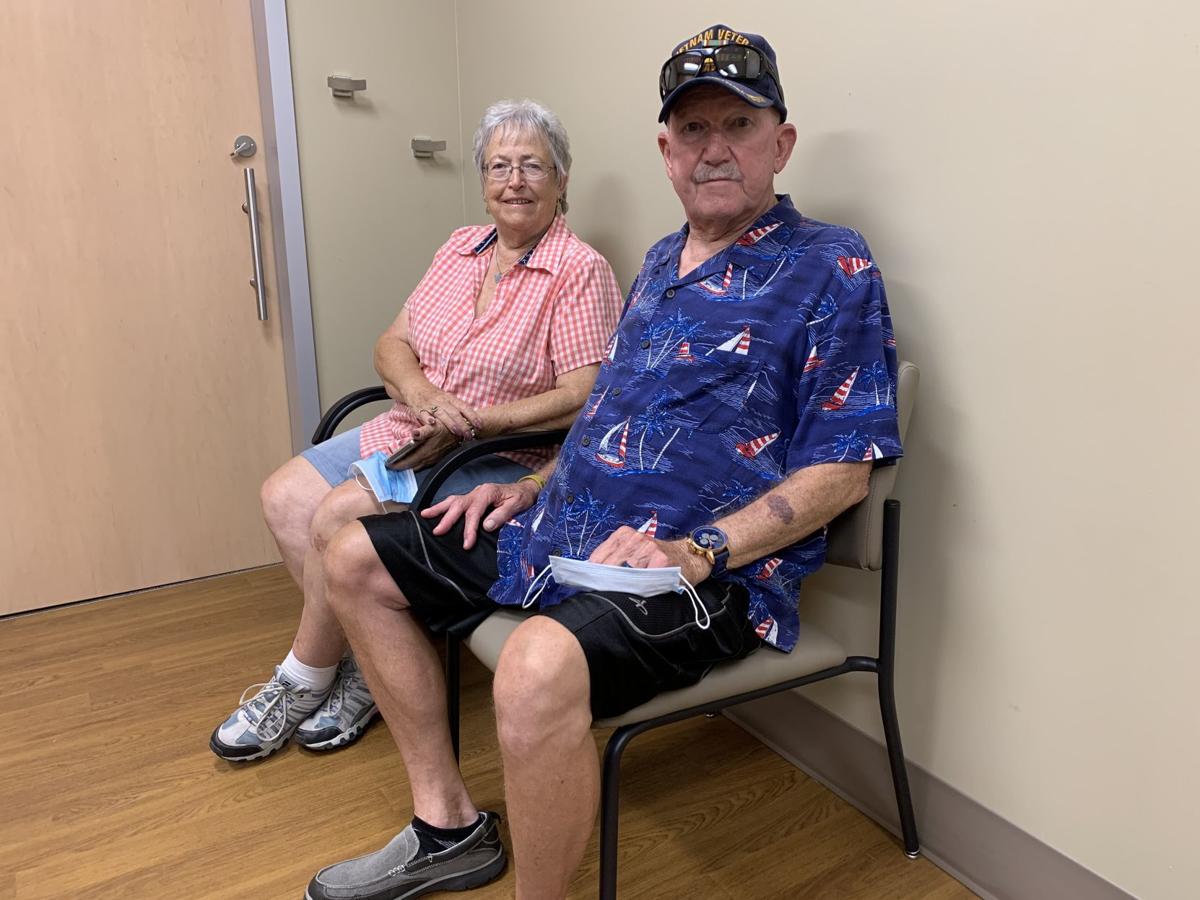 David Schulz got used to hearing "No."
Surgeon after surgeon told the California man that they couldn't repair his bowling ball-size hernia.
One surgeon took a glance and immediately tossed his hands in the air. He couldn't help.
Schulz, 74, had a complicated case because of the size of the hernia. He already had undergone several procedures, but none proved to be a long-term fix.
Schulz finally went to Creighton University Medical Center-Bergan Mercy in Omaha, where last month doctors were able to successfully repair the large hernia bulging near his waistline.
The vast majority of hernias are related to previous surgeries in which the incision or muscles don't heal properly, said Dr. Robert Fitzgibbons, a CHI Health surgeon. Hernias occur when tissue pushes through a weak spot in the abdominal muscles.
Fitzgibbons said he could understand why so many surgeons were reluctant to treat the hernia. But with newer techniques, he felt confident that he could help Schulz.
"We see case after case just like this," Fitzgibbons said.
During a six-hour surgery, Fitzgibbons separated Schulz's abdominal muscles and placed mesh between the layers. He then anchored the mesh to Schulz's hip bone and pubic bone to better hold it in place.
Before being treated at the Omaha hospital, Schulz had traveled to surgeons in California and Nevada. He underwent nine surgeries and bought braces and belts to help with the pain.
"This was a last resort," he said.
Schulz's first hernia surgery took place in his hometown of Bishop, California, in 2012. Doctors fixed that hernia, which was about the size of a walnut, when they performed gallbladder surgery on him.
Four months later, the hernia was back. This time, said Schulz's wife, Bonnie, it was about the size of an egg. As it got larger, Schulz was referred to a surgeon in Reno, Nevada.
That surgery proved to be another quick but short-lived fix. Again, a few months after surgery, the hernia reappeared.
The cycle continued. After one surgery, Schulz went into septic shock. He spent four days in the intensive care unit.
Schulz's niece learned of Fitzgibbons and his program at CUMC-Bergan through friends. She kept urging her aunt to make a call.
Bonnie Schulz said the choice was up to her husband.
Schulz didn't want to continue living with the large hernia. It kept him from picking up his great-grandchildren and roughhousing with them.
Schulz stopped taking his daily three-mile walks. If he tried to undertake the outings, he was left aching.
He swapped his jeans for shorts and pants with elastic waistbands. He stopped wearing T-shirts because of the way they clung to the hernia. He often wore jackets, even in the summer months, to cover it.
"I was embarrassed to go out in public," he said.
Bonnie Schulz finally called Fitzgibbons' office. She explained her husband's situation and mailed off a packet full of his medical history related to the hernia.
The couple met with Fitzgibbons for the first time in February. With the go-ahead for surgery, the Schulzes packed up their fifth-wheel camper in May and headed to Omaha. Schulz had the surgery in early June.
"It's been overwhelming and fabulous to see how good he feels," Bonnie Schulz said. "They've given David back his life."
Schulz and his wife plan to start the five-day drive home on Monday. Then, he'll focus on getting his life back to normal.
"It came out a success," Schulz said.
Schulz plans to fish, travel and get back to his walking routine.
But first, he's planning to buy a new pair of jean shorts.
17 rare and unusual health stories out of Omaha
One rare disease left an Omaha doctor eating a shakelike formula to supplement her diet. A friend said it tasted like cat food. An Omaha man woke up after his family took him off life support. And a Lincoln teen is allergic to almost everything.
Check out the stories on their unusual ailments and sometimes equally unusual treatment plans.
Be the first to know
Get local news delivered to your inbox!