Private donors and city taxpayers are investing nearly $300 million in three downtown Omaha parks.
But reshaping two of the parks, Lewis & Clark Landing and Heartland of America Park, requires extra care because of the riverfront's industrial past and related environmental problems.
Lewis & Clark Landing once held the nation's largest lead smelter and refinery, a plant that was operated by Asarco until 1997. Part of Heartland of America Park was home to a Gould lead battery disposal facility until 1982.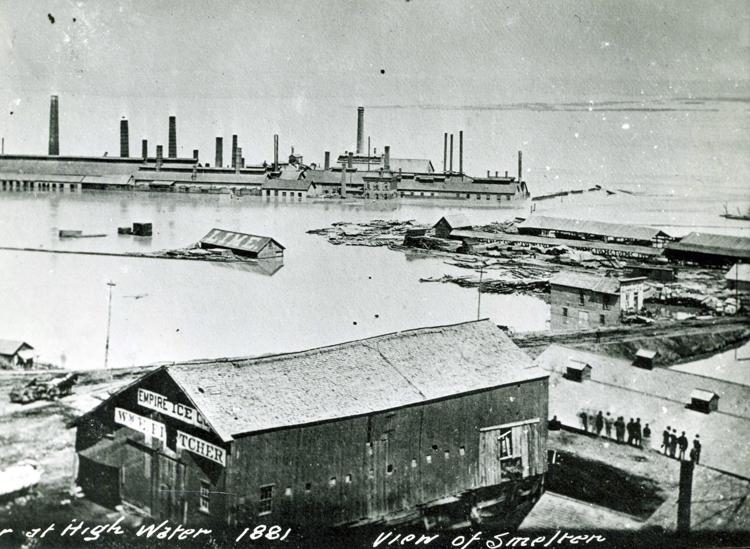 People like their parks the way they like their gasoline — unleaded. Lead carries serious health risks, experts say. Exposure can cause irritability, memory loss, anemia and even brain damage. The sites also faced other contaminants, including arsenic and cadmium.
That's why the managers and engineers steering nearly $300 million in renovations say they are designing their work at Lewis & Clark and Heartland of America to keep the contaminants buried. There are not similar concerns at the Gene Leahy Mall, which is also part of the project.
Much of the most contaminated soil at the site that became Lewis & Clark Landing was wrapped in a liner, a burrito of sorts that shouldn't let it surface. The lead burrito was covered in 3 to 6 feet of clean dirt, and the park was surfaced with concrete.
Less-contaminated pockets of tainted soil at the Heartland of America Park site were covered in concrete and buried, according to officials and documents.
"We know where the material is," said Chris Koenig, senior project manager for HDR Inc. "We have done additional investigation to verify where it's at. We are completing our design to avoid it entirely."
The parks are safe in their current form and will remain so for people and pets, say officials with the city, the Metropolitan Entertainment and Convention Authority and the Nebraska Department of Environment and Energy.
Among the steps being taken:
The city will provide state regulators with scientific and engineering evidence showing that renovation plans will not resurface contaminated soil, said Jim Theiler, assistant director of the Public Works Department.
The city is paying the state to monitor the sites for any construction that moves or disturbs contaminated soil and to make sure that any digging mistakes are properly repaired, said Daniel Ross, a state groundwater geologist for the environmental department.
HDR and the city have plans in place in case they encounter contaminated soil, including help from a scientist on site, protective gear for workers and 55-gallon drums for safe storage of contaminated soil, Koenig said.
The dirt being brought in to help form the parks and fill in part of the lake at Heartland of America Park is being tested for potential contamination, officials said.
"It all comes down to good engineering," Koenig said.
The goal is to make sure the integrity of previous lead mitigation efforts is maintained, said Mike Felix, the state's supervisor of waste remediation for the environmental department.
And if those steps are followed, people should feel confident that they can enjoy the parks without fear, said Shannon Bartelt-Hunt, professor and chair of civil and environmental engineering at the University of Nebraska-Lincoln.
"I don't have significant concerns," she said.
One example of a change that was made to avoid disturbing contaminated soil involves the slope of Douglas Street. The city is extending the street east to connect with Lewis & Clark Landing.
The street will stay level longer than road designers ideally prefer and slope more steeply as it approaches the railroad tracks near the riverfront to avoid digging too close to the lead-contaminated soil, Koenig said.
At Lewis & Clark Landing, workers will plant trees with roots that go no deeper than 3 feet. The former agreement on what could be built or planted at the site prohibited trees to protect the lead cap.
Mark Welsch was a member of the executive committee of the regional Sierra Club when the Asarco plant negotiated its handover of the land to the city. He said it sounds like the city and state are taking the necessary steps.
People visiting the parks should be fine, he said, as long as they don't take a dip in the Missouri River, which he said is probably still contaminated from the smelter and refinery, even all these years later.
Sign up for World-Herald news alerts
Be the first to know when news happens. Get the latest breaking headlines sent straight to your inbox.
But, he said, he's wary of planting trees above the Asarco cap.
"I would not trust a tree or a bush because they cannot monitor it if it just decides to find a weak spot in the cap and go through it," Welsch said, mentioning the potential risk to groundwater and soil.
City and project leaders said they would only use trees that their analysis shows can be planted safely. Lewis & Clark Landing has 5 to 6 feet of fill dirt above the contaminated soil, they say, providing a cushion for the roots.
Construction work at Heartland of America Park has begun and is expected to run through early 2023. Work on Lewis & Clark Landing is set to start in early 2021 and run through mid-2023.
Final amenities will be installed in both parks through 2024.
World-Herald researcher Sheritha Jones contributed to his report.
Be the first to know
Get local news delivered to your inbox!