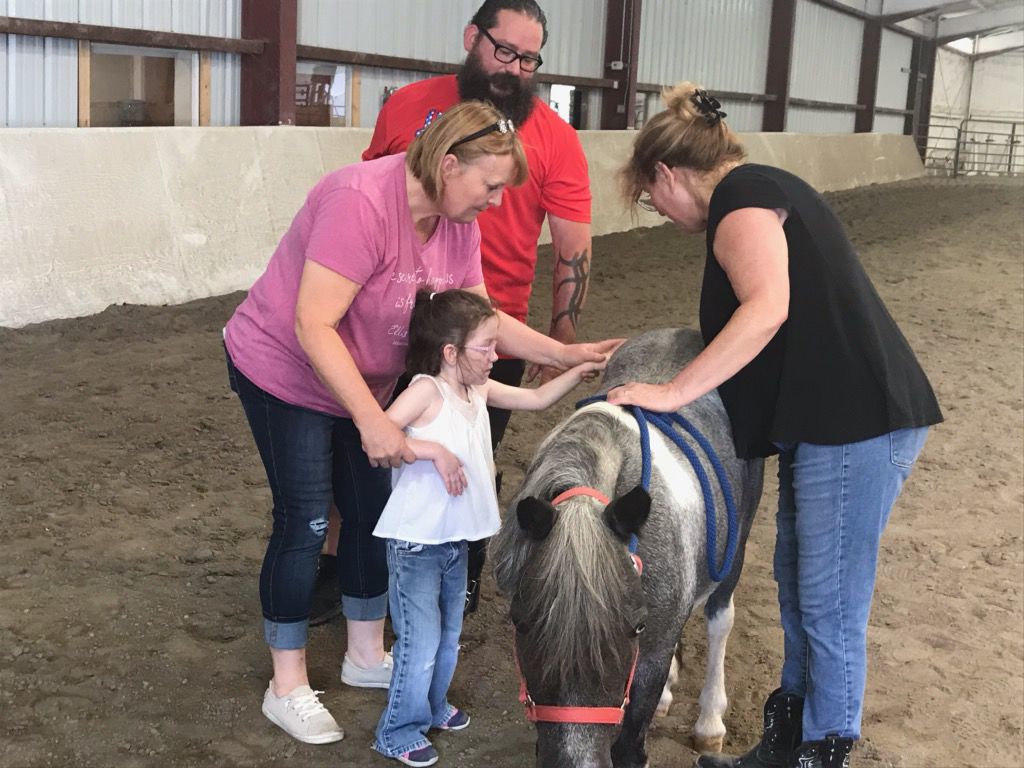 Steve Sutton and David Matlock sat with their families and quietly watched three horses at the Heartland Equestrian Therapeutic Riding Academy.
The group was learning about the horses' "herd dynamics" — Step 1 of the riding academy's veteran program, a free experience for veterans and their families that introduces horse grooming and riding as a form of therapy.
Sutton served in the Marines for four years and heard about the program through the Department of Veterans Affairs.
"I've worked with horses before and I'd definitely say it helps get you relaxed," Sutton said while watching his daughter pet a miniature horse.
Established in 2010, the Heartland Equine Therapeutic Riding Academy's veteran program began with funding assistance from the Wounded Warrior Project and the VA. Sutton and Matlock are two of 71 veterans who have participated in the program.
Caring for and being around horses is a relatively new approach to the healing process for veterans, but there are proven benefits, said Chris O'Callaghan, specialty program and facility coordinator.
"One of the best is that a person gets direct feedback in how they are calming themselves," he said. Horses pick up on feelings of anger and anxiety, he said, even if a person appears calm on the outside.
O'Callaghan said there are also physical benefits to equestrian therapeutic sessions, mostly through posture adjustments made when riding.
"The gait of an animal mirrors the gait of a human, so when they're on horseback, whether or not they're able to walk, the postural adjustments help reinstall the neural pathways in the brain that control that activity, so it can allow them to get closer to mobility," O'Callaghan said.
Matlock is actively serving in the Air Force. He said he decided to try the program because his daughter is interested in horses.
O'Callaghan said opening up the program for both veterans and their families provides a sense of support for the participants.
"They don't have to try it alone," he said.
O'Callaghan said he wouldn't describe the benefits of equestrian therapy as a cure-all, but a step toward "getting back to where they're more comfortable around our animals and around other people."
"If you can brighten their day just a little bit," he said, "that positivity spreads to their caretakers and their families."
Be the first to know
Get local news delivered to your inbox!