Teaira Homan settled three patients in chairs in a Methodist Hospital family room and began leading them through a series of gentle exercises, from simple shoulder rolls to the toughest — chair pushups.
The workout was not the kind intended to forge the next Crossfit champion.
But for the patients, all 65 or older, the goal was arguably more important: helping them head off the loss of strength and mobility that can occur during a hospital stay.
"If you don't use it, you lose it," said Harry Esch of Omaha, who'd been hospitalized with an infection, as he did a set of arm curls with light weights.
The exercise sessions, which Homan leads twice a week, are one of the special features of the hospital's Acute Care for Elders unit, a 32-bed ward that follows a national model aimed at preventing complications in seniors and helping them maintain independence.
For hospitals, balancing the need to keep patients safe from injurious falls while still preserving their mobility can be challenging.
If patients don't keep moving, they can get weaker. That's a particular problem with older patients, who may be weaker to start with. For every day an older adult is in a hospital bed, it can take them three to four days to get back to their previous condition.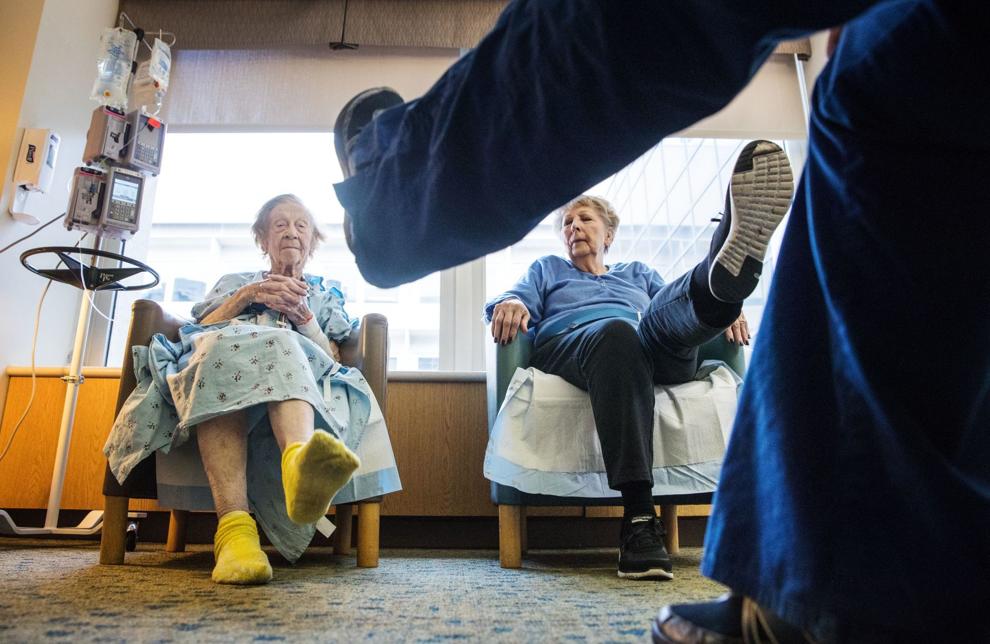 Yet hospitals, in addition to caring for patients, are tasked with keeping them safe. They can face financial penalties if patients fall and injure themselves. Some reports nationally indicate that efforts to prevent falls may be costing patients mobility.
"It's, 'how do you keep people safe while maximizing mobility?' " said Becky Jizba, the service leader for Methodist's ACE unit.
Indeed, area health systems all have systems and equipment in place to help strike that balance, including making physical therapy available to patients who need it and encouraging those who are able to get up and walk. They also use safety devices, including lowered beds and wrapping less steady patients in gait belts so staff can support them while walking if necessary.
The ACE unit puts a particular focus on mobility and has some extra resources — like Homan — to make it happen, Jizba said.
The ACE unit and two Methodist clinics also are the first in the state to pilot another national program aimed at improving care for older patients. It, too, addresses patients' physical and mental health and focuses on keeping patients moving.
Deborah Conley, Methodist Hospital's geriatrics service leader, said Methodist eventually plans to spread the age-friendly initiative it launched nearly a year ago throughout the health system. A handful of other hospitals nationwide pioneered the program, which launched in 2017.
Meantime, the Nebraska Hospital Association is launching the initiative in 10 other Nebraska hospitals, most smaller rural facilities stretched from Alliance to Tecumseh. Margaret Woeppel, the association's vice president for quality initiatives, said plans call for eventually extending it to all of the state's hospitals.
"We recognize that most of our population is 55 and older," Woeppel said, "and that we need to do a better job of addressing these specialized needs of that aging population and their wants."
The University of Nebraska Medical Center will be providing training to primary care physicians that will also will focus on the four elements. The university received a five-year, $3.7 million federal grant last summer as part of an effort to help cover a looming shortage of geriatricians, doctors who specialize in caring for older adults.
Jizba said getting surgical patients up and moving has become common practice, particularly when it comes to those who've had orthopedic procedures. Not only can surgical patients get weaker if they stay in bed, they also risk blood clots.
But medical patients, particularly older ones, tend to be sicker now when they're hospitalized. Keeping them active can take an extra push.
"They don't feel good, and they're tired, and the hospital is not a place typically where you get a lot of rest," she said. "So we have to push the mobility and the movement much more purposefully than we used to back in the day."
In addition to leading exercises, Homan walks with patients, clocking up to 983 laps around the unit a month, which works out to 61 miles. Known as a restorative aide, she's a nursing assistant with training in occupational, physical and respiratory therapy.
Esch could walk only about 15 feet when he started walking with Homan. Later in his stay, he was up to 200 feet. "We sit and take a few breaks," Homan said, "but we can do it."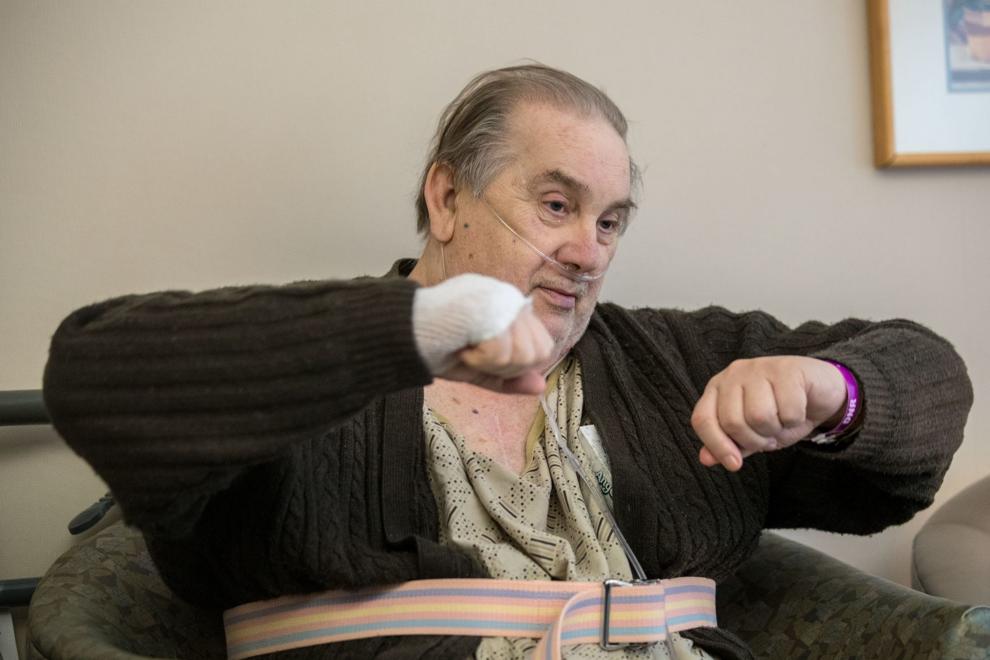 Said Esch, "She got me motivated."
For those who truly are bedbound, Homan may help them exercise there. Patients also have access to physical and occupational therapy services.
Teresa Hawlik, vice president of patient care services at Lakeside Hospital, said health care providers within the CHI Health system encourage movement. But they also teach patients that they need to call for help when they want to get up — and explain why.
While they're used to getting up to walk to the bathroom at home, the lighting and the footing are different in the hospital. Patients may be connected to intravenous lines or monitors, and they may not be used to walking in a floppy hospital gown.
To get ahead of the kind of needs that might cause them to make trips alone, the system has implemented what it calls purposeful hourly rounding. Staff members check to make sure patients' pain is managed, that personal items like cellphones are at hand and bathroom needs are met, among other things.
Jizba said older adults also are at risk of delirium, a type of confusion that can come with things like altered sleep, infection and anesthesia. Delirium can have long-lasting effects even after patients recover, such as making them more forgetful.
Making sure patients don't feel isolated while hospitalized is important in preventing delirium. The unit has its own therapeutic recreationist trained to make sure patients engage in activities such as games or puzzles, either in their rooms or in groups. Homan mixed her exercises with small talk about music and the weather.
"This class is not just about exercise but about having a little social conversation," she said.
Unit staff and others also conduct what are known as 4M rounds that focus on the elements of the age-friendly initiative. That includes having a pharmacist review medications daily, looking specifically at those that can be problematic for older patients.
Since implementing the 4M model in early 2018 and launching those rounds, the unit has cut injurious falls in half, from 12 to 6, between 2017 and 2018, Jizba said.
The hospital also has a number of other programs focused on older patients, including having a geriatric nurse in its emergency room. A Hospital Elder Life Program brings volunteer health professions and gerontology students to the ACE unit to spend time with patients. That one is aimed at preventing delirium.
Woeppel, the hospital association official, said hospitals across the state have been using many of the M's, such as checking patients' medications on admission. But they may not have been focusing on how the four elements can affect one another. Certain medications, for instance, may make older patients too sleepy to be mobile and lead to delirium.
Asking patients what matters to them also is important. A patient may not want to live another 10 years. But it might be important to attend a granddaughter's graduation.
"It's really important we're asking patients what they want out of health care," she said.
Sign up for The World-Herald's afternoon updates
Receive a summary of the day's popular and trending stories from Omaha.com.
17 rare and unusual health stories out of Omaha
One rare disease left an Omaha doctor eating a shakelike formula to supplement her diet. A friend said it tasted like cat food. An Omaha man woke up after his family took him off life support. And a Lincoln teen is allergic to almost everything.
Check out the stories on their unusual ailments and sometimes equally unusual treatment plans.