Josephine Kassube crossed the finish line of her first triathlon feeling a little disappointed in her time, but she was grateful to have finished the race — especially since she did it with two broken arms.
Kassube, 19, signed up for the Papillion Mayor's Triathlon to get some cross-training in before an upcoming half-marathon in Sioux Falls, South Dakota. But she broke both her arms during the biking portion of last month's triathlon. She opted to keep going, and finished the race in a little more than 2 hours.
The 500-meter swim went well for Kassube, who's been swimming for 14 years.
But three miles into the bike portion, she was clipped by another cyclist. They were both going pretty fast and had come off of a hill, she said. The impact sent Kassube flying off her bike. She pushed both hands out — almost like she were diving into a swimming pool — to break her fall. Her chin skidded across the ground, too.
Sign up for The World-Herald's afternoon updates
Receive a summary of the day's popular and trending stories from Omaha.com.
The other cyclist flagged down help and volunteers called for medics. They looked Kassube over and, despite no visible signs of a break, they encouraged her to sit out the rest of the race.
"I trained for it. I couldn't imagine quitting," said Kassube, who grew up in the Beaver Lake area. "I would have been so disappointed to sit it out."
After a 15-minute break, they helped Kassube back on her bike. She rested her hands on the handlebars and used her core strength to power through the remaining 10 miles. It was an awkward pose to hold, and each time she had to shift gears, she felt pain coursing through her arms.
At the transition area, Kassube hopped off her bike and flagged down a volunteer to help her lift it onto a rack. The volunteer also helped Kassube put on her running jersey. She couldn't lift her arms above her chest.
Kassube couldn't hold proper form or rhythm during the 3.1-mile run. Her sides were cramping and every step hurt.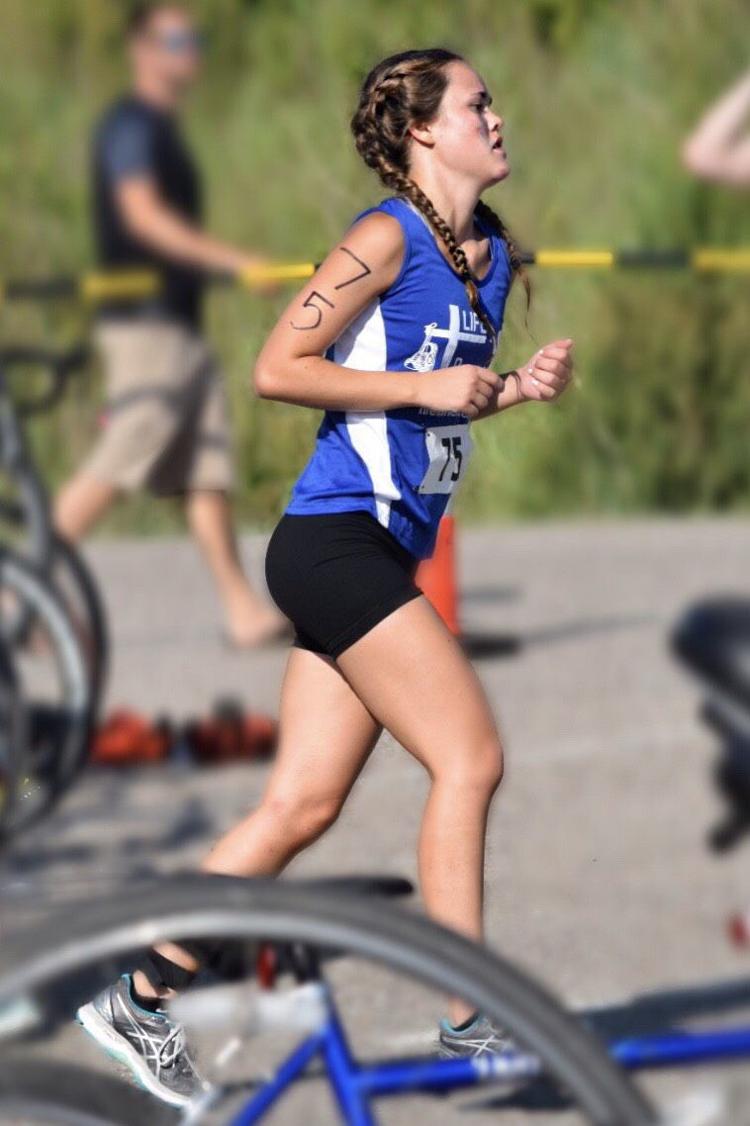 "Every step lit up my arms, and it radiated," Kassube said. "I knew it was just a 5K. I knew there were ice packs and a loving family on the other side of the race."
After the race, Kassube visited the medic station for some ice packs. Then her parents and boyfriend took her to the hospital.
X-rays showed that Kassube broke her radial heads, which sit at the top of the radius bone, just below the elbow. One was cracked and the other was chipped. Doctors put her in slings so she can keep other joints and muscles moving in her arms.
Her doctor said continuing to race didn't worsen her injury, but he would advise against it in the future, Kassube said.
She'll spend six weeks recovering. The first week home, she couldn't move her arms at all. Now she can handle small movements, like feeding herself, lifting her phone and reading a book.
The injury put her next race, the Sioux Falls Half Marathon, on hold. But Kassube, who will be a sophomore at Augustana University in Sioux Falls, said she'll be up and running soon. She's considering the Lincoln Half Marathon in the spring. And she isn't ruling out getting back on the bike.
"I've never had a major injury, so I think I was definitely in denial during my race," she said. "I just really honed in on my perseverance. With the adrenaline that kicked in, and how far I'd come mentally and physically in training, I learned a lot about my grit and willingness to finish something that I start."
17 rare and unusual health stories out of Omaha
One rare disease left an Omaha doctor eating a shakelike formula to supplement her diet. A friend said it tasted like cat food. An Omaha man woke up after his family took him off life support. And a Lincoln teen is allergic to almost everything.
Check out the stories on their unusual ailments and sometimes equally unusual treatment plans.
Be the first to know
Get local news delivered to your inbox!