Malik Paulson didn't believe his friends.
They'd dipped their feet in the lake and said it was cold. So Malik ran in, stopping when the water hit his rib cage. Then the teen dove out across the lake.
It was a motion he's made plenty of times before. Only this time, he was wearing a hat.
The bill snagged on the water. The resistance — and the angle of his head — snapped his neck.
Paulson, then 18, floated beneath the surface. Through the water's green tinge, he saw sticks and pebbles resting on the sandy floor. Paulson tried paddling his arms and kicking his feet. When he realized he was motionless, panic set in.
"I just stopped," Paulson said. "I closed my eyes and said a prayer because I thought this was going to be the end."
His friends dragged him to shore and called for help. Paulson's body was tingling. He couldn't feel his friends poking and prodding him. He struggled to breathe and had a terrible pain in his neck.
Paulson, who lives in Sioux Falls, South Dakota, was taken to the nearest hospital and rushed into surgery. When he woke up days later, he was on a ventilator. He was paralyzed from the shoulders down. Because of the ventilator, Paulson couldn't speak and without the use of his arms, he couldn't write or motion.
"I felt super helpless," he said. "I didn't feel like living at that time."
In September 2018, about a month after the accident, Paulson arrived at Madonna Rehabilitation Hospitals' Lincoln campus. Paulson was still on a ventilator, but doctors put in a valve that allowed him to speak.
Paulson's fitness level and age put him ahead of the curve in his recovery, particularly in getting off the ventilator, said Dr. Adam Kafka, who treated Paulson at Madonna.
Paulson started working with doctors and therapists immediately at the Lincoln hospital. They started simple with things like stretching his arms and legs. He also worked on coughing, breathing and sitting upright.
Once he was off the ventilator, Paulson had to learn to eat again. Learning to swallow bigger pieces of food was tough. The hardest food to swallow: peanut butter. PB&Js were a summertime staple for Paulson.
"I'm not all the way there yet, but when I get there, I'm sure going to eat a lot of peanut butter," he said.
Later Paulson learned to drive his own wheelchair. He's able to maneuver the chair using a special headrest.
Paulson said he realized what he was capable of once he got to Madonna.
"I didn't think I was going to be able to drive my own wheelchair or be able to live a normal life or be able to graduate and go across the stage," Paulson said. "But I still have the chance to have all that."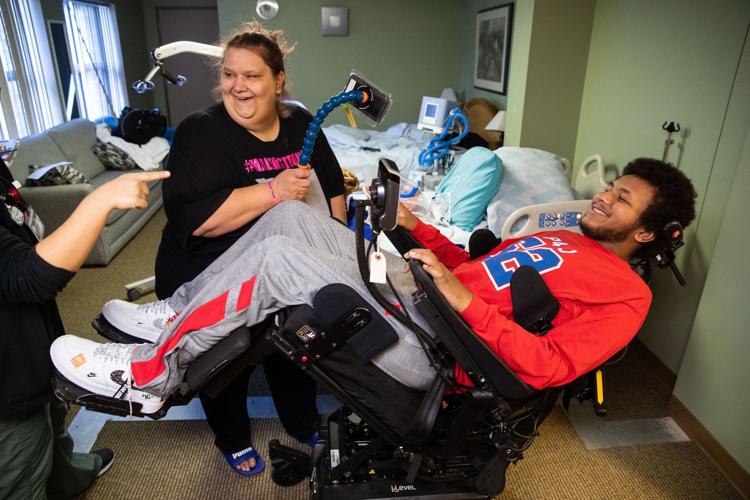 Before the accident, Paulson was enjoying newfound independence. He had a part-time job, lived on his own and was saving up for college. Now he needs help to get dressed, eat, open doors and get in and out of his wheelchair.
His doctor described the dramatic shift this way: "It was a devastating injury and you're trying to figure out 'Why me?' and what you envisioned your future looking like is now very different... When (Paulson) makes those goals, you see him taking pride in what he's doing."
Paulson kept a sense of humor at the Lincoln hospital. When Kafka would drop by, he'd turn down the music on Paulson's speaker. Paulson would turn it up. Kafka might switch to a country song. Paulson wouldn't miss a beat in changing it back to rap.
Paulson's daily routine at Madonna included physical and occupational therapies as well as school sessions. He uses two sticks, placed in his mouth, to press buttons on his phone, turn pages in books and to press elevator buttons.
He did homework by wearing a headset and giving voice commands to the computer. Paulson said he isn't quite at the same place as his peers, but he's not as far behind as he expected.
During his high school career, Paulson dabbled in wrestling and track. But his focus was on football.
His big dream was to play as a Husker.
It was tough coming to terms with the fact that he won't play football again. Family and friends reminded him that football wasn't everything.
"There are more things to worry about," Paulson said. "There are more things that I can do in my life than just play football."
Husker football players echoed that message when they visited the Lincoln hospital. And Paulson, now 19, might still become a Husker of sorts. He hopes to enroll at the University of Nebraska-Lincoln to study engineering in the fall.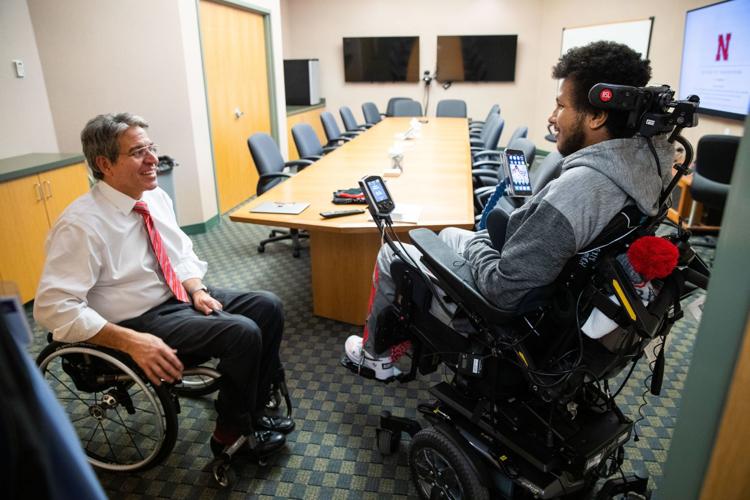 Shortly before Christmas, Paulson returned to South Dakota. His family will help provide his care. He'll continue with outpatient therapy.
Paulson was "ecstatic" to go home and see his friends.
"What changed my attitude was seeing all the stuff I can do," he said. "And my family and friends supporting me and just getting back to doing what I wanted to do."
LeRon Rupert, Paulson's brother, said he tries to keep up the teen's spirits. His advice: "Just because you can't run with me or hug me right now, that doesn't mean you're not valuable to us."
At the end of the day, Rupert said he finds motivation in his younger brother.
"I'm 32 and I'm looking up to my (19-year-old) brother for strength," Rupert said.
A roundup of inspirational stories from Midlanders with heart
There's the woman with MS who runs despite her diagnosis. The 7-year-old born without his left hand who plays baseball just like the other kids his age. The refugee who turned to Zumba to help her recover from cancer treatments. Check out their inspiring stories and others below.
Be the first to know
Get local news delivered to your inbox!