Robin Keller was tired of hearing the word "weird."
She heard it from the radiologist.
She heard it from the pediatrician.
She heard it from the orthopedic specialist.
Keller wanted an answer. Why was her then-3-year-old daughter Charlotte in so much pain?
Then they got the diagnosis. Charlotte had an inflammatory bone disease called chronic recurrent multifocal osteomyelitis, or CRMO.
Now 7, the Bellevue girl regularly goes to the University of Iowa Stead Family Children's Hospital to see a specialist. This football season, she'll be featured as an honorary Kid Captain for the Iowa-Nebraska game. The Hawkeye program is a way to honor and celebrate pediatric patients.
Despite living in Nebraska, Charlotte has become a Hawkeye fan.
But, should she land tickets to the Iowa-Nebraska game on Nov. 29, she thinks she'll be able to cheer for both teams. She's got a game day outfit planned just in case. She'll sport her Hawkeye jersey and will ask to borrow one of grandpa's Husker hats.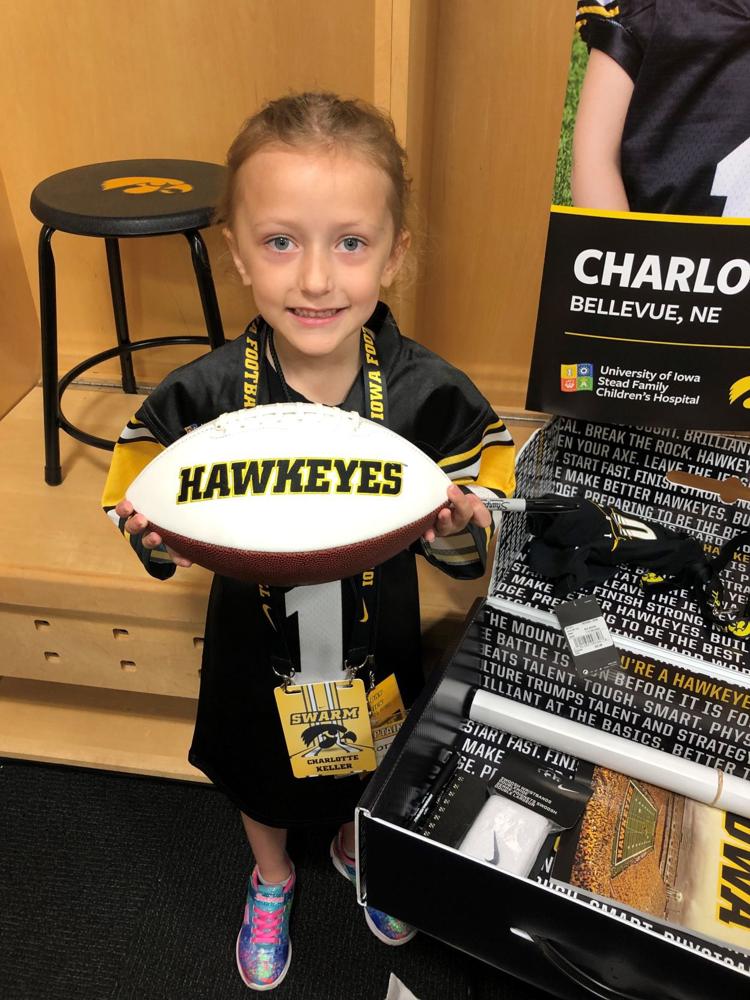 Charlotte had come home from preschool and promptly told her parents that her leg hurt.
Keller and her husband, Spyder, didn't see anything wrong with their daughter's leg. She probably bumped it, they thought.
But Charlotte's complaints continued. As she ran through the Bellevue family's home one day, she stopped abruptly and grabbed her leg.
Three days later, the pain woke Charlotte in the middle of the night. The next morning, Keller took her daughter to urgent care. She expected to see a hairline fracture on the X-ray.
Keller got referral after referral, and she kept hearing that the results were "weird." The X-ray showed lesions on her pelvis and right hip bone.
"It looked like little feather tips coming off her bones," Keller said. "The pain was radiating from her pelvis and her hip."
Charlotte had a bone fragment and bone marrow biopsy at the hospital. She underwent aggressive antibiotic treatments. Doctors had ruled out a number of diseases, including leukemia.
After her bone disease diagnosis, doctors in the Omaha area started Charlotte on high doses of medications to manage her pain. But the disease can flare up at any time, especially when she gets sick or has a growth spurt.
"That natural inflammation for you or I might make us a little achy," Keller said. "It's a million times magnified for her."
Sign up for the Live Well Nebraska newsletter
Get the latest health headlines and inspiring stories straight to your inbox.
More than a year after diagnosis, doctors referred Charlotte to a specialist at the University of Iowa Stead Family Children's Hospital.
"The vast majority of people have never heard of it and will never see (a case)," said Dr. Polly Ferguson, who treats Charlotte.
CRMO isn't an infection. Instead, the immune system is activated and thinks something's wrong, like a foreign invader, Ferguson said. The main symptom is bone inflammation, and some days it flares up worse than others.
Charlotte's symptoms vary day to day. Sometimes she runs high fevers. Other days, the pain is so excruciating that her family can't touch her.
Charlotte rates the pain on her own scale from bugs to lobsters. If it feels like bugs are biting her bones, it's a pretty normal day. The pain escalates when it feels like her bones are on fire. Bad days are lobsters.
"It feels like a lobster's pinching me," she said.
Charlotte is the only Nebraska kid to be a Hawkeye Kid Captain. Most of the others are from Iowa, including Jackson Tijerina, an 8-year-old from Council Bluffs. Tijerina will be the captain at the Iowa-Rutgers game on Sept. 7.
At home games, Kid Captains attend the game, greet coaches and players, and are introduced on the field before kickoff. Away game captains are invited to one Hawkeye home game.
As part of the gig, Charlotte got a behind-the-scenes tour of Kinnick Stadium and met some Hawkeye players.
"It's just such a cool opportunity for her to get to do it in the first place," Keller said. "Then for the Husker game and being (from) Nebraska, it's really cool."
A roundup of inspirational stories from Midlanders with heart
There's the woman with MS who runs despite her diagnosis. The 7-year-old born without his left hand who plays baseball just like the other kids his age. The refugee who turned to Zumba to help her recover from cancer treatments. Check out their inspiring stories and others below.
Be the first to know
Get local news delivered to your inbox!