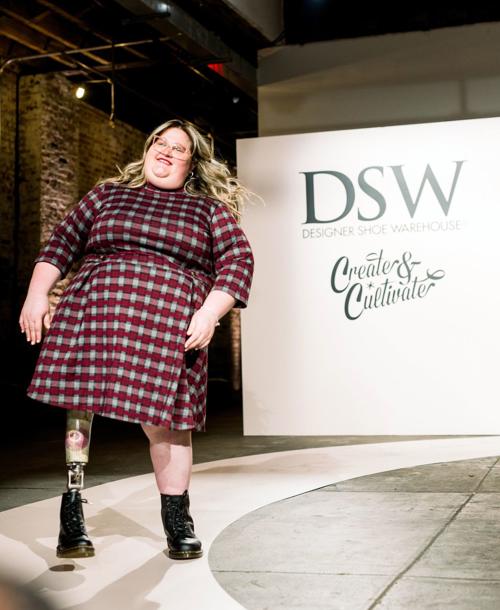 A Bellevue woman was chosen from more than 4,000 submissions to participate in an all-inclusive runway show in New York City.
Toni Furmanski was one of 10 women selected to attend the DSW Runway Redone fashion show in September .
Furmanski, a Bellevue West High School graduate and amputee, said the fashion show was important to her to showcase women from all backgrounds.
The Tuesday when Furmanski arrived, the women had a workshop with model Hunter McGrady and Kechi Okwuchi, a musician.
"They chatted with us a little bit not only on body positivity, but their experiences with the fashion industry, their experiences with how they became confident and stay confident," Furmanski said.
"It was a lot of fun. I didn't know what to expect at a fashion show, but I feel it was very relaxed."
Furmanski was born without a femur bone, and had her right foot amputated when she was 13 months old.
Sign up for the Live Well Nebraska newsletter
Get the latest health headlines and inspiring stories straight to your inbox.
Though she once struggled with her disability, Furmanski now embraces it and is positive about her experience.
"Now, I'm so comfortable with being an amputee, and it took a long time," she said. "That's one of the things I want to push for, is normalizing disabilities and see more people who have a disability in media, whether that's in movies or in print, anything, just living an everyday life."
To promote body positivity and talk about her disability, Furmanski runs an Instagram page with more than 8,000 followers and a lifestyle blog, anneandkathleen.com.
"To me, body positivity isn't just about feeling good about yourself — that's more self-love," she said. "To me, the body positivity movement is just talking about respect for people's bodies who are different than the norm and what society has said is beautiful.
"It's speaking out and saying that all bodies are beautiful no matter what."
Anne and Kathleen was named after Furmanski's grandmothers, who have always been her biggest inspirations.
"Both of my grandmothers are very strong women — my grandma Kathleen is one of my best friends and she grounds me, and whenever I have issues, I go to her," she said. "My grandma Anne passed away when I was younger, so I don't have as much personal experience, but stories I've heard about her, she just was strong and did what she needed to do for her family.
"I have people in my family who have done strong things, and it makes me continue to do those things."
One of the most memorable moments from the fashion show was when she and the other participants talked about fitting in and participating in a fashion show.
"It was impactful to hear that from different women," she said. "It was an absolutely beautiful experience sitting with other winners from different backgrounds.
"It's something I don't know if I'll ever forget."
Furmanski said the biggest message she hopes to send to people who view her blog or social media is kindness.
"No matter if you're talking about disabilities, body positivity, if you're talking about societal standards, I just feel like people just need to be kind," she said.
"I may have a disability, but it doesn't mean I'm doing anything different from anyone else. I live a relatively normal life, and I think there's a misconception that somebody who has a disability is living life completely different than somebody who doesn't."
A roundup of inspirational stories from Midlanders with heart
There's the woman with MS who runs despite her diagnosis. The 7-year-old born without his left hand who plays baseball just like the other kids his age. The refugee who turned to Zumba to help her recover from cancer treatments. Check out their inspiring stories and others below.