Randy Woodward will stand out in the crowd of runners during the Nebraska Marathon.
He'll be the one carrying an oversize American flag on an 11-foot pole. For all 26.2 miles.
The veteran, who lives in Tennessee, is trying to carry the flag in one marathon in all 50 states.
The Nebraska race on Sunday is state No. 31 with the flag.
The flag is a way for him to show patriotism. He's seen other runners carry smaller flags on race courses. But Woodward said he also hopes the flag can help bridge a divide and remind people what it means to be an American.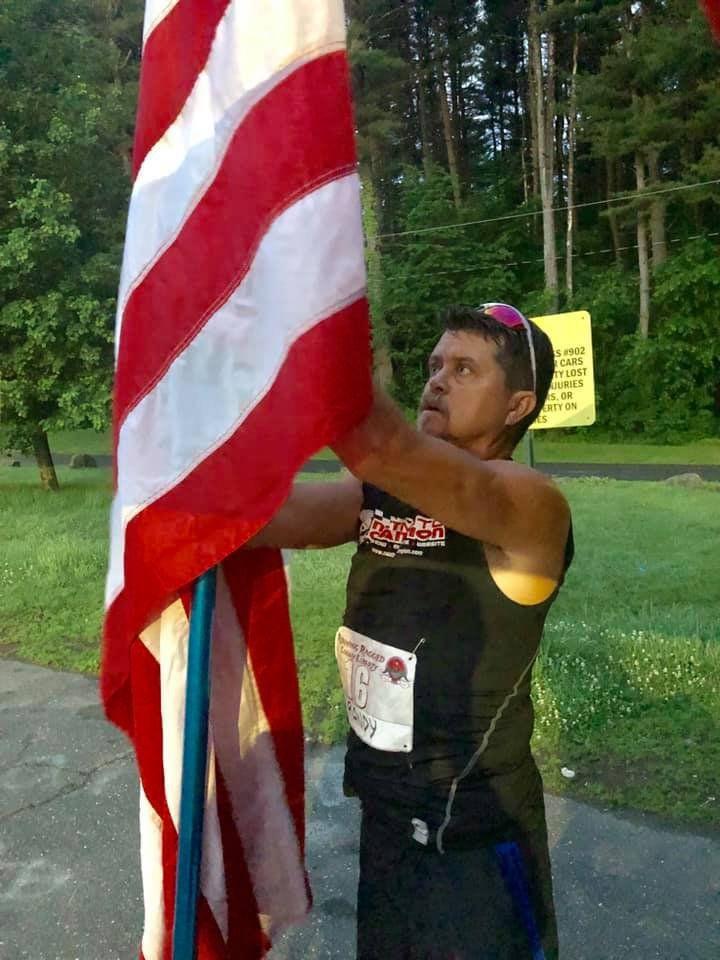 The flag and pole weigh about 5 pounds, but it starts feeling a lot heavier when you're carrying it for a long distance. He's noticed the weight set in as early as 200 yards in. Rain makes it feel even heavier. Any sort of wind — headwind, tailwind or from the sides — adds a lot of resistance.
It takes Woodward an average of 5 hours to complete a marathon. He slows and chats with other runners.
"People want to say hi. They want to ask the story. They want to tell me what an inspiration the flag is," said Woodward, 54.
Woodward started running on his high school cross-country team. He kept running as a hobby, tackling the occasional 5K or 10K to relax.
In 2004, after his first deployment with the Navy's construction battalion, Woodward completed his first marathon.
The next year, he was deployed to Iraq again. He was hit by a roadside bomb. Woodward spent nine months in the hospital recovering. Doctors told him that he wouldn't run again.
Five years later, Woodward decided to see if he could do it, anyway. He finished his second marathon in 2010.
He still grapples with herniated discs, scarring, knee pain and a constant headache.
"It's tough to do, but I like doing it," Woodward said.
For the next eight years, he ran one marathon a year in the Nashville area. In October of last year, he decided to ramp up his efforts. What if he ran two marathons in one weekend?
Then he decided to run a marathon in all 50 states, all while carrying an 8-by-5-foot American flag.
Sometimes he hears from runners who say the flag motivated them to keep going when they wanted to stop running or didn't think they could tackle the big hill.
Next month, Woodward hopes to have completed marathons in 37 states all while carrying the same flag. He has no set timeline, but would like to finish the remaining 13 states in 2020.
Woodward will run a marathon in Tulsa, Oklahoma, on Saturday, before the Nebraska Marathon on Sunday. He runs back-to-back marathons often, and it's taxing.
"I won't lie. It's rough," Woodward said. "It's as mentally exhausting as it is physically. But you lick your wounds, bandage yourself up and go out and do it again."
A roundup of inspirational stories from Midlanders with heart
There's the woman with MS who runs despite her diagnosis. The 7-year-old born without his left hand who plays baseball just like the other kids his age. The refugee who turned to Zumba to help her recover from cancer treatments. Check out their inspiring stories and others below.
Be the first to know
Get local news delivered to your inbox!