Dominik Walters was itching to show off his new cannonballing skills in the lake.
The 4-year-old Papillion boy waited patiently all day, sitting through meals and an afternoon boat ride.
Finally, it was time to jump off the dock.
Dominik, who was wearing a life jacket, jumped into the nearly 4-foot-deep water of the Minnesota lake. Dad Ryan Walters stood in the lake, catching Dominik and placing him back on the dock. Mom Tiffany took videos from the dock.
"He was absolutely on cloud nine," Ryan Walters said.
On his seventh jump, Dominik was smiling from ear to ear. But as he reached his father's arms, Dominik went limp. He wasn't breathing.
Ryan Walters put his son on the dock, and Tiffany Walters started CPR.
Dominik died nearly two weeks after suffering cardiac arrest while visiting family in Minnesota.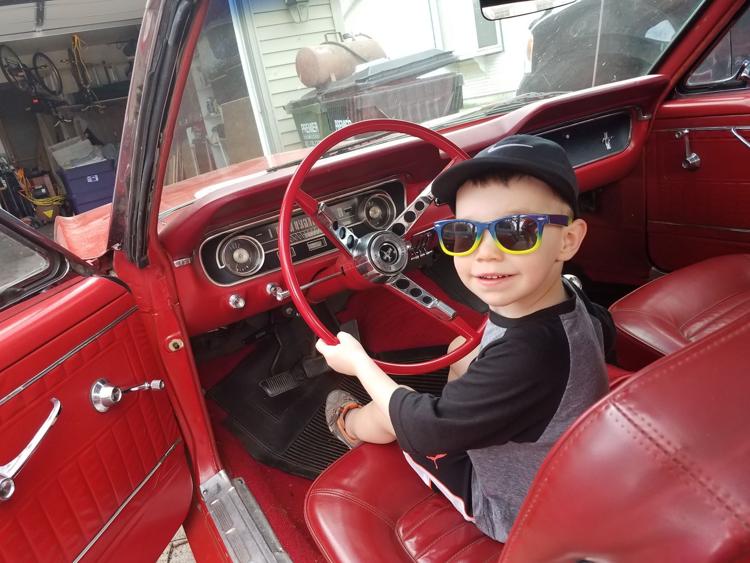 His parents operated in a fog in the months after his death. They went through the motions of daily life, making sure daughter Nora, then 5 months old, was taken care of.
"Life is just kind of gray," Tiffany Walters said. "The unimaginable thing is trying to have to live life without your child. We just take it each day, each second at a time. That's really all we can do."
The Walters family wanted to do something with donations they received after their son's death. They looked into nonprofits that researched cardiac death in children, but nothing stood out.
Then they remembered one of Dominik's favorite activities: playing at the park. They settled on purchasing a single piece of playground equipment in Dominik's name.
But those initial plans grew, and now the family has launched a fundraising campaign to install a new playground at Chalco Hills Recreation Area, near 154th Avenue and Giles Road.
"It would be an incredible thing, not only for Dom, but for the community and all the people who use that park," Tiffany Walters said.
The Papillion family visited Chalco Hills almost every Sunday. Ryan and Tiffany Walters would run through the wooded area, pushing Dominik in a jogging stroller. After a picnic lunch, they would let him zip around the playground.
The proposed playground includes slides, a bouncy bridge, swings and climbing areas. It also includes a nod to younger sister Nora, whom Dominik dubbed "Boon." The playground will include themes of space and cars, two things Dominik was fascinated by, his parents said.
The estimated cost of the park is more than $265,000. A vendor is discounting the cost by about $74,000.
Ryan Walters said they have raised between $40,000 and $50,000 of the goal of nearly $192,000. Funds are being collected through the Midlands Community Foundation. Through Jan. 6, the organization is matching donations.
There is no official timeline for starting work on the playground, but they would like to see it completed by fall 2020. They won't break ground until all money is raised, Ryan Walters said.
"It's hard to put into words what it would mean," he said. "The reality is, we can't build this by ourselves. The fact that people are donating absolutely blows our mind. It's humbling. It's amazing. It's emotional."
The timing of the donation works out well for Chalco Hills, which is managed by the Papio-Missouri River Natural Resources District. The current playground equipment is more than 20 years old, said John Winkler, general manager of the NRD.
Winkler said the NRD would contribute to the purchase and installation of the playground.
"I couldn't think of a better way not only to honor the memory of their son, but to create a public amenity hundreds and thousands of kids can enjoy for a very long time," Winkler said.
A roundup of inspirational stories from Midlanders with heart
There's the woman with MS who runs despite her diagnosis. The 7-year-old born without his left hand who plays baseball just like the other kids his age. The refugee who turned to Zumba to help her recover from cancer treatments. Check out their inspiring stories and others below.