The only thing Jacob Oswald heard when he answered the phone was "match."
The happily married man assumed his buddies were playing a prank, setting him up with a Match.com dating profile.
But Oswald was wrong. And luckily, the caller was persistent.
It turned out that Oswald, who had signed up to be a bone marrow donor years earlier, was a potential match for a patient in need.
The Dubuque, Iowa, man went through with the procedure last year in February and donated marrow to a Nebraska baby.
And on Friday, he met the little girl he helped save.
Sign up for the Live Well Nebraska newsletter
Get the latest health headlines and inspiring stories straight to your inbox.
Oswald, with his wife, Kendra, and two daughters, met Alle Jilg and her family as they descended the escalators in the Fred & Pamela Buffett Cancer Center's lobby.
It was a bashful introduction between Alle and Oswald's daughters, Hailey, 3, and Emma, 1. But Alle warmed up quickly.
Sporting a pink T-shirt reading "My donor is forever my hero," the little girl gave Oswald a fistbump. Then she set up shop on a table to open a gift from her donor. The families circled around Alle as she ripped out pink tissue paper and tugged a pink elephant from the bag.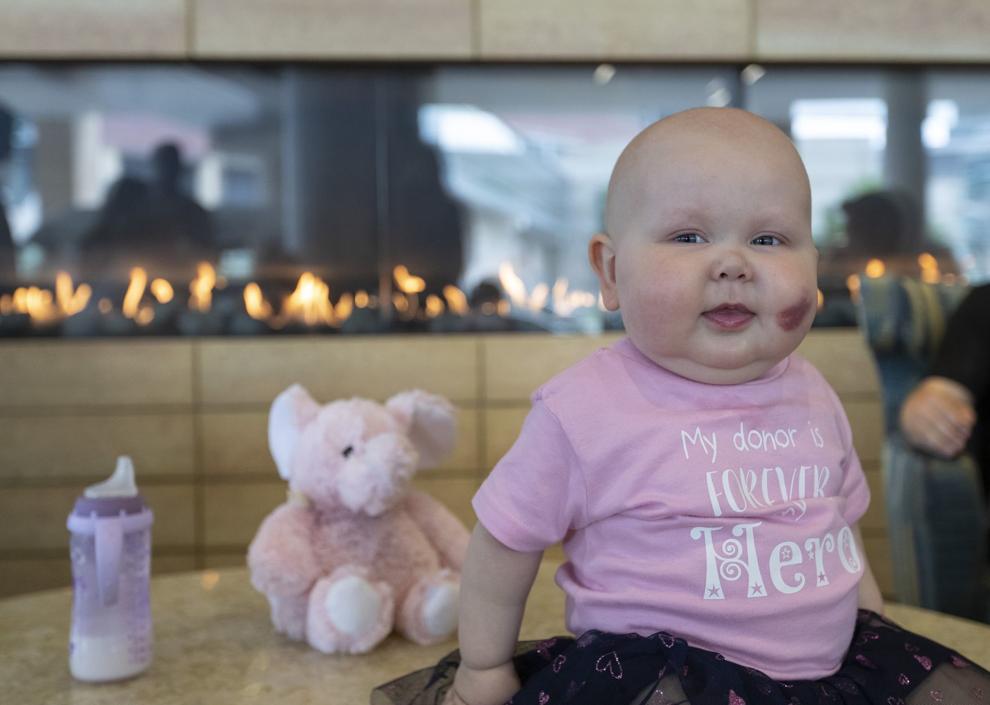 The two couples swapped stories about car rides and nap schedules. And Alle's parents, Tia and Mike Jilg, expressed their gratitude.
"We don't know how to thank you enough," Tia Jilg said. "Without you, we wouldn't have her."
Seeing Alle in person brought the journey full circle for Oswald. She cruised the lobby, growling and squawking.
"For me to spare a three- to four-hour procedure for somebody who's got a lifetime, it's easy," Oswald said. "Being a dad myself, it pulls the (heart)strings quite a bit. It's hard to really put into words."
Alle, now 19 months, was diagnosed with severe combined immunodeficiency, or SCID, when she was seven days old. The rare disorder means that Alle was born without key components of her immune system. That makes her more prone to illness and infection, said Dr. Sachit Patel, a pediatric bone marrow transplant physician with Nebraska Medicine. A common cold, bacteria, mold or fungus could prove fatal for Alle.
"Most of us could wash our hands and be done with it," said Patel, who treats Alle.
Shortly after she was born, the Jilg family left its Broken Bow, Nebraska, home to take Alle to the Nebraska Medical Center. The baby had to be in complete isolation. To be around their newborn, mom and dad had to suit up in masks, gloves and gowns. Alle, born in November 2017, stayed at the Omaha hospital until Christmas.
Alle's bedroom was scrubbed and bleached before she came home. They installed air purifiers and put up signs saying they weren't accepting visitors. It was key that Alle stayed healthy before a transplant.
Alle didn't have a match in her family, so she was put on the transplant list. In early February, the family learned about a possible match.
Oswald, 31, signed up to be a donor about eight years ago at a booth in college. It was a simple process. He filled out some papers, submitted a cheek swab and went on his way.
In December 2017, he got the call saying he and a handful of other donors were possible matches.
After preliminary tests, Oswald learned that he was the best match. At the time, he had a 1-year-old daughter and his wife was pregnant with a second. Would side effects from the procedure hang him up? Would he still be able to play with his little girl?
Then he learned that the donation was for a baby.
"I couldn't imagine being in their shoes, going through these struggles and somebody not helping. To be able to give that gift, as a dad, it was second to none," Oswald said.
Oswald was in and out of the hospital in less than a day for the procedure. He was put under general anesthesia while doctors extracted bone marrow from the crest of his hip bones. He felt a dull, achy pain for about a month.
It was about nine months before he learned that the transplant was a success. In April, more than a year after the transplant, Oswald heard from the Jilg family via social media.
"(Oswald) will forever be in our family. We cannot thank him enough," Tia Jilg said.
Alle's doing well after the transplant, but mom said there could still be bumps in the road.
Alle's body can fight off germs now, but she still misses out on some typical kid activities, like playing in grass, sand or dirt. A nurse visits the family's home every couple of weeks to check Alle's blood counts, and Alle has monthly checkups at the Nebraska Medical Center.
"She gets to play at home like a healthy kid, but you've still got to remember that she could get sick," mom said.
Doctors hope that Alle won't need future transplants. They also hope to wean her off some immune suppression medications in coming months.
"She's got everything ahead of her. School and no boys until she's 35," Patel said. "The point of this is not to buy her time. It's to give her a wonderful life."